KATHRYN GRAYSON (1922 – 2010)                              
Kathryn arrived in this world as Zelma Hedrick in Winston-Salem, North Carolina in 1922. The family moved to California when she was fifteen and already focused on becoming an opera singer, having begun training as a coloratura soprano at the age of twelve. Her solos at school and at church in Los Angeles convinced Art Rush at RCA Records to sign her to a recording contract. In 1939, Sam Katz, the executive in charge of musicals at MGM was seeking a rival to Universal's hugely popular songbird Deanna Durbin and decided Kathryn could fill that bill. She wanted a career in opera, not in movies, and repeatedly turned him down. But in the end he wore her down and the 5'2" (1.57m) songstress signed on.
Kathryn and husband #1 John Shelton
In 1941, following an eighteen-month courtship, she eloped to Las Vegas and wed actor John Shelton, but he moved into an apartment alone one year later and the marriage ended in divorce in 1946 after Kathryn charged him with mental cruelty. The following year she married again, this time to actor/singer Johnnie Johnston. They had a child together (Patricia), but separated in 1950 and divorced in 1951. Esther Williams wrote in her autobiography in 1999 that Johnston liked to read aloud his wife's love letters to the girls in his fan club, including 'the all-too-graphic details concerning what she liked about his love-making.' As Kathryn described him, rather kindly, 'He was too much of a golf fiend and party man'. She was a home-body.
Kathryn & Mario Lanza in The Toast of New Orleans (1950)
Her first screen appearance was in a Mickey Rooney vehicle, Andy Hardy's Private Secretary (1941).  During the war she was cast as a lead performer in films such as Thousands Cheer (1943) and Anchors Aweigh (1945). In the fifties she starred opposite Howard Keel in Showboat (1951), Lovely To Look At (1952) and Kiss Me Kate (1953). Keel was heard to describe her as the most beautiful woman in the history of movies! Her career miraculously survived the appalling 1948 Sinatra bomb The Kissing Bandit.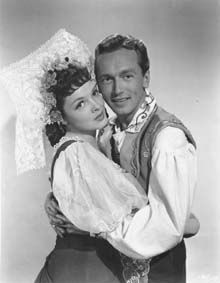 Kate & husband #2 Johnnie Johnston
MGM quickly partnered her with Mario Lanza in That Midnight Kiss (1949), then followed up by pairing them again in The Toast of New Orleans a year later. During the 'Madame Butterfly' scene, Lanza kept French kissing her, much to Kathryn's disgust, especially as he was consuming a lot of garlic before each take. She went to the costume designer, Helen Rose, and had her sew pieces of brass into Kathryn's gloves. The next time Lanza attempted to push his tongue down her throat, she hauled off and punched him in the groin! Despite not getting along with him, it was Kathryn who took his wife, Betty, and their children into her home for a time after his unexpected death in 1959.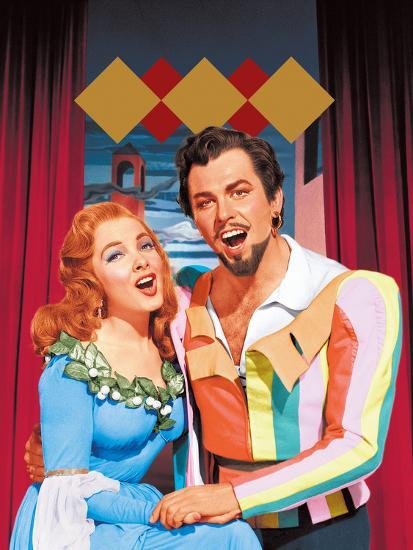 With Howard Keel in Kiss Me Kate (1953)
During the fifties, following her divorce from the rather ungallant Mr. Johnston, Kathryn was engaged to billionaire Howard Hughes for a time. They were in a relationship for eight years (1951-59) although, given Hughes' track record, it is difficult to imagine his side of the romance being monogamous. It seems he was also involved with Terry Moore at the same time. He sent her roses every day while she was filming Showboat, and the word was Hughes became very jealous of her co-star Howard Keel who may or may not have been in a relationship with her. Throughout her involvement with Hughes he showered her with upwards of $2 million worth of jewellery, all of which she returned to him. Even though she came close to marrying him on three occasions. There were no further serious romances for Miss Grayson following her retirement from films in 1956 after leaving MGM and making The Vagabond King for Paramount. She occasionally guested on TV series after that. According to her secretary, Kathryn passed away in her sleep at her home in Los Angeles in February 2010, aged 88.
JANE GREER (1924 – 2001)                                  
Jane hailed from Washington DC. As a teenager she began vocalizing with big bands, most notably Enrique Madriguera's orchestra in Latin Club Del Rio in DC, singing phonetically in Spanish. She was eighteen when she met Howard Hughes after he spotted her picture in Life Magazine, modelling army uniforms for women and wasted no time in signing her to a seven-year contract. The billionaire was crazy about the teenaged beauty and kept her a virtual prisoner for the first few months of her contract. 'Howard Hughes was obsessed with me', she said later, 'but at first it seemed as if he were offering me a superb career opportunity.'
Jane Greer weds Rudy Vallee 1943
Jane was enjoying a singing stint on the radio when she met crooner Rudy Vallee and married him in December 1943, more or less to escape Hughes' clutches. She had recently turned 19. By July '44 the couple's divorce had been finalised. Pressure applied by the incredibly jealous Hughes had ruined her marriage. Once Rudy was out of the picture, he made a second run at Jane and they were soon lovers. Their trysting took place in his headquarters suites at the Town House Hotel and in an apartment above Sunset Boulevard. Eventually, she tired of his obsessive behaviour and ended their relationship. He was furious.
Jane & second husband Edward Lasker
Hughes was beside himself with rage when she ended their affair and vowed to end Jane's career by placing her in The Big Steal (1949) opposite Robert Mitchum, who had just been busted for smoking marijuana. Hughes expected Jane to be tainted by association but the public could not care less. Neither her career nor Mitchum's was damaged in any way. The two of them had previously co-starred in Out of the Past (1947) and were rumoured to have had a three-month affair in late '46.
With Robert Mitchum in Out of the Past (1947)
In August 1947, Jane married Edward Lasker, a Los Angeles lawyer and businessman, and they had three sons together. One of them, Lawrence, would go on to write the screenplays for War Games (1983) and Sneakers (1992). Jane and Edward divorced in 1967. Actor and dialogue coach Frank London became her domestic partner in 1965 and remained so until his death in 2001. Jane joined him in death just six months later when she succumbed to cancer at the age of 76.