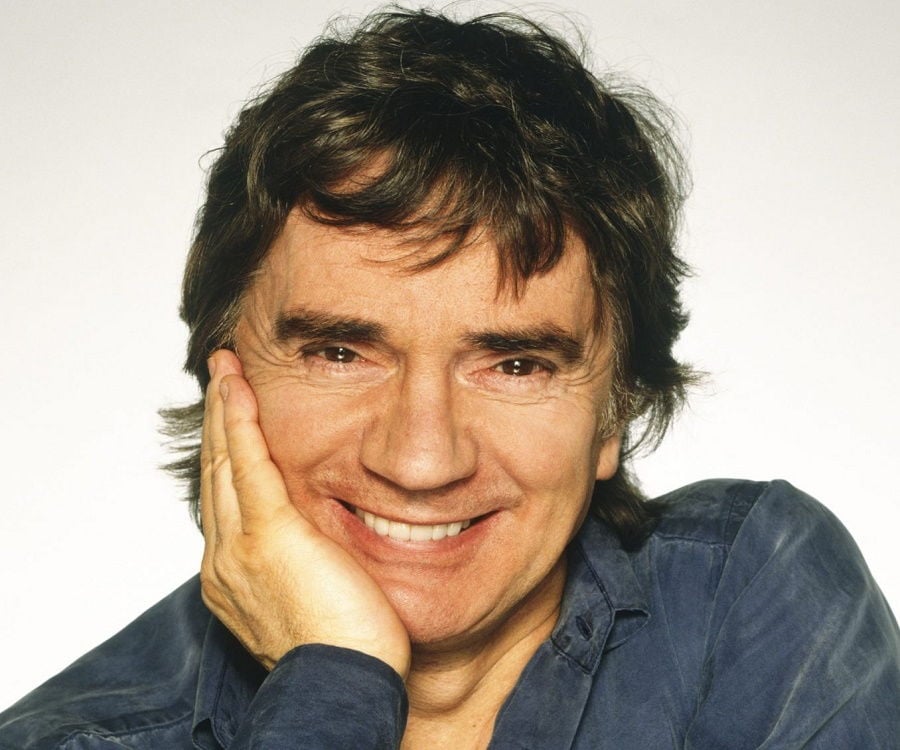 Dudley Moore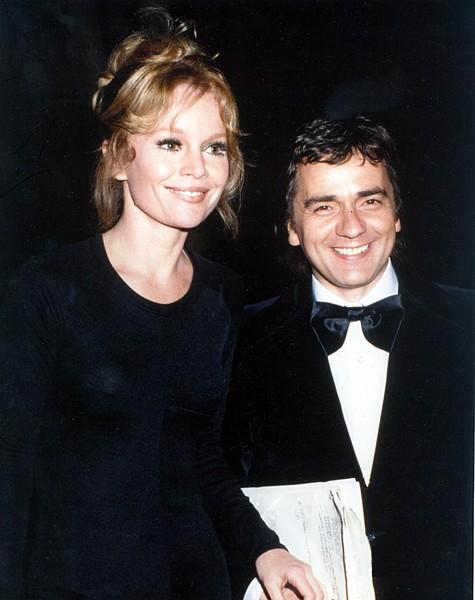 Dudley & wife Tuesday Weld
British comedian/musician Dudley Moore was only 5'2" tall (1.57m) and a most unlikely movie heartthrob when some wag nicknamed him 'The Sex Thimble'. And for quite some time that description seemed apt. Women adored him. He married (and divorced) four of them in his life but romanced many more. His first wife was British actress Suzy Kendall (1968-72). Fans of 1967's To Sir, with Love will probably recall her playing teacher Gillian Blanchard. Wife #2 was the sexy actress Tuesday Weld (1975-80). Their marriage was anything but placid and they separated twenty or so times during their five years together before finally calling it a day. Both Suzy and Tuesday, however, remained on friendly terms with Dudley for the rest of his life. So did wife #3, Brogan Lane (1988-91), but this was not the case with his fourth and final spouse, Nicole Rothschild (1994-8). She claimed he smoked and ate considerable quantities of crystal meth during their four-year marriage. Their feuding resulted in Dudley expressly forbidding her to attend his funeral. The lady probably had no intention of doing so anyway. Pneumonia claimed 'The Sex Thimble' in March 2002, at the age of 66.
Bela Lugosi as Count Dracula
Bela Lugosi was 47 years old when he married wealthy San Francisco widow Beatrice Weeks in 1929. The union lasted all of three days. Their divorce caused a media sensation when actress Clara Bow was named as 'the other woman'. Bela struggled with his dependency on morphine, a drug prescribed to ease the pain he experienced on a daily basis because of the wounds he suffered during the First World War. The man was not a drug addict as has often been stated. During the war he served as a captain in the Austro-Hungarian Army on ski patrol where he was wounded in combat. Contrary to popular belief, Bela only appeared as Count Dracula in two films – Dracula (1931) and Abbott & Costello Meet Frankenstein (1948). Of course, he played vampires in many other films but none of them was actually named Count Dracula. In 2011, his son attempted to auction off his Dracula cape, but the starting bid was simply too high, (in excess of a million dollars in fact, and there were no takers. Following Bela's death, Johnny Depp purchased his Los Angeles home after portraying his good friend, director Edward Wood in the film Ed Wood (1994).
John Le Mesurier
John & wife Hattie Jacques
The much-loved English actor John Le Mesurier portrayed Sergeant Wilson in the great British television comedy series Dad's Army (1968-77). Unfortunately, he did not have much luck in his marriages. From 1949 until 1965 he was wed to 'Carry On' star Hattie Jacques, until he learned she was having an affair with her driver. In typical Le Mesurier fashion he agreed to take the blame in their divorce case, so as not to damage Hattie's reputation or career. He was that kind of guy. A few months into his next marriage (to Joan Malin), she up and left him for his best friend, comedian Tony Hancock. A year later, having found Hancock to be a violent alcoholic and quite impossible to live with, Joan opted to return to John. He was most forgiving and defended her reputation for the rest of his life until his death in 1983. He asked her to place the following death notice in The Times: 'John Le Mesurier wishes it to be known that he conked out on November 15th. He sadly misses his family and friends.' A class act to the very end.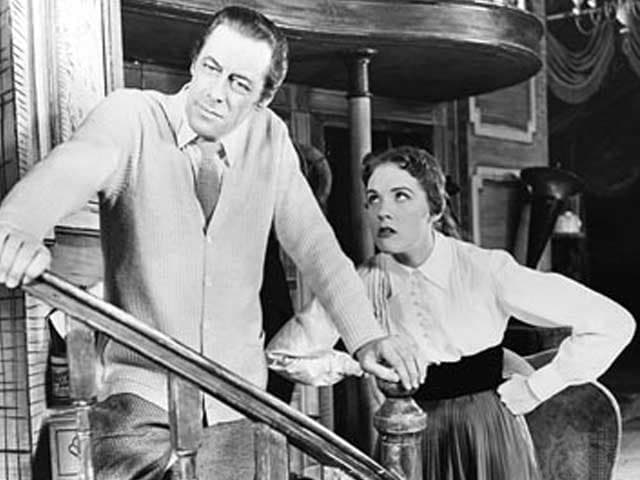 Rex Harrison & Julie Andrews on stage in My Fair Lady
Julie Andrews and Rex Harrison co-starred in the stage version of My Fair Lady for hundreds of performances. Julie confessed that on more than one occasion she was reduced to helpless laughter, because every time she opened her mouth to speak – Harrison farted! The man had a constant problem with flatulence (Whoopi Goldberg was another). A particular line in 'Without You' that went – 'No, my reverberated friend, you are not the beginning and the end' – was particularly difficult for Ms Andrews to sing without breaking up.
Margaret Livingstone
Margaret Livingstone was born in Salt Lake City, Utah in 1895. No doubt, she caused quite a stir in her hometown when she left her fiancée stranded at the altar and sent a note home. It read: 'I am not going to get married. I am going to be in the movies.' She appeared in her first picture (a silent short) in 1916. Evidently, she made up her mind about her future after meeting Charlie Chaplin's leading lady, Edna Purviance, in a shop and watched her purchase a bottle of perfume for eighteen dollars! That was a week's wages for Margaret. She had no idea acting paid so well and promptly decided to find out for herself.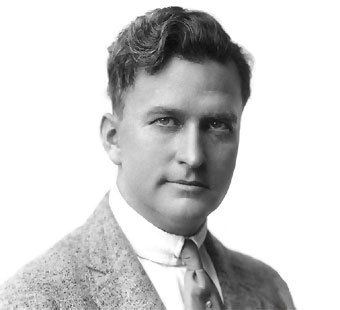 Thomas H. Ince
In 1924, she was aboard William Randolph Hearst's yacht 'Oneida' as the mistress of the married producer Thomas H. Ince when he was either shot or 'taken ill with indigestion', (depending on which story you believe), two days before he mysteriously died. None of the guests on the cruise ever spoke about the incident in their lives and the Ince family have steadfastly maintained his death was from natural causes. Margaret retired from the movies in the mid-thirties and concentrated on her marriage to bandleader Paul Whiteman, and to co-author a book about her overweight husband, entitled 'Whiteman's Burden'. She became increasingly senile in her eighties and had to be institutionalized until her death at 89.
Charles Laughton & Elsa Lanchester
Elsa Lanchester and Charles Laughton met in 1927 and married two years later. They remained husband and wife until his death in 1962. In 1983, Elsa released her autobiography titled Elsa Lanchester Herself and asserted that the couple never had children because Laughton was a homosexual. That was hardly a revelation, but Laughton's friend Maureen O'Hara disputed this as the reason for the couple's childless marriage. She claimed Charles told her that he and Elsa never had children because of a botched abortion his wife had undergone in her burlesque days. In her autobiography, Elsa readily admitted having had two abortions in her youth, but it is unclear if either one left her incapable of conceiving. To complicate things further, her biographer Charles Higham claimed the reason she had no children was because neither she nor her husband wanted any. More than likely, all three factors contributed to the childless union.