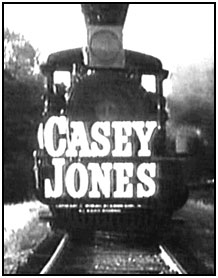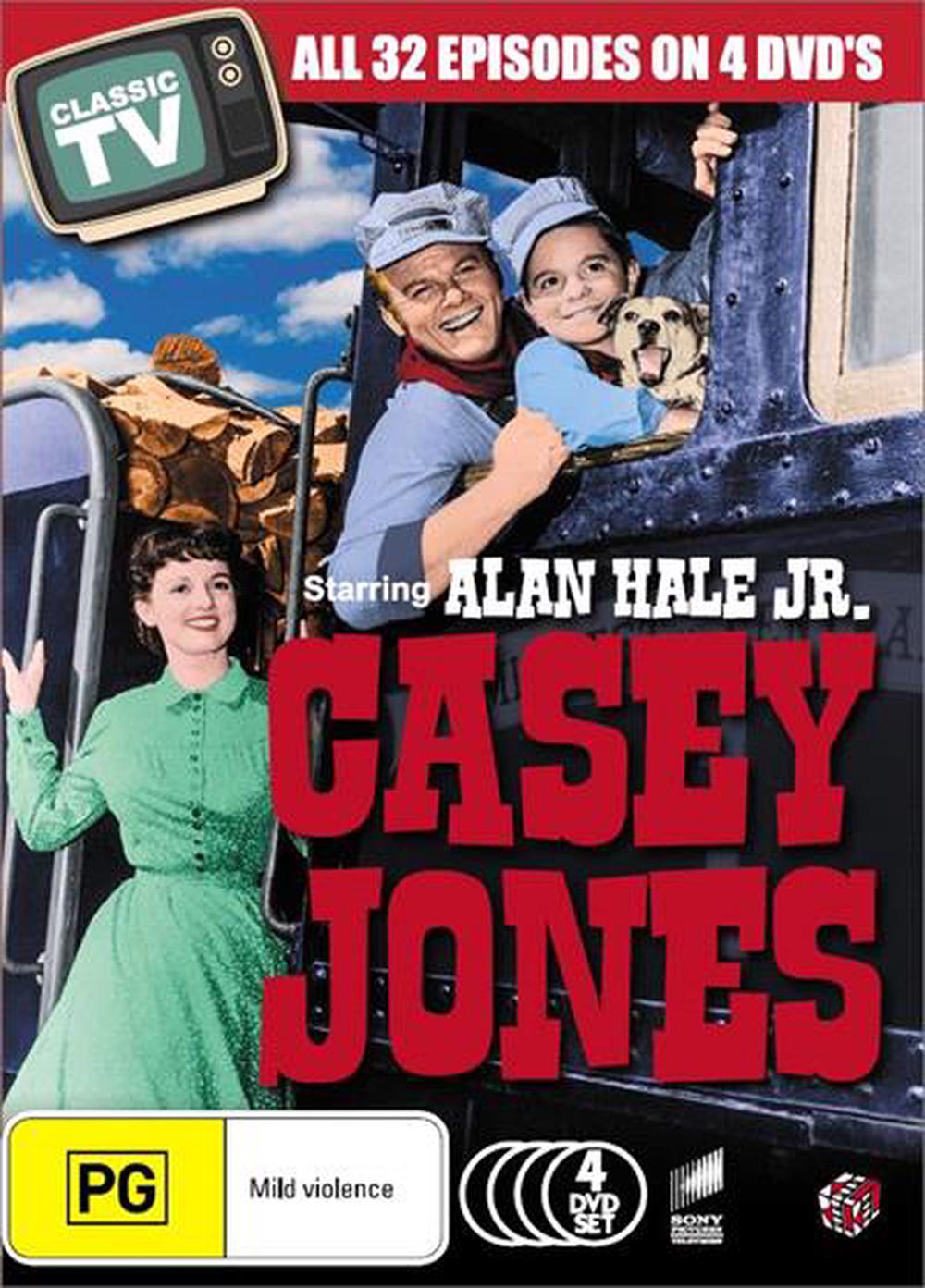 CASEY JONES (1957-8) 32 EPISODES              
Casey Jones was a short-lived western series loosely based on the real-life railroad engineer of that name who worked on the Illinois Central Railroad in the late 19th century and drove 'The Cannonball Express'. Alan Hale Jr played Casey with Dub Taylor as fireman Wallie Sims and Eddy Waller portrayed conductor Redrock Smith. The Sims character was a conflation of two men, Wallace Saunders and real-life fireman Simeon Webb, both of whom were African-Americans. Waller's major claim to screen fame was playing the sidekick to Allan 'Rocky' Lane's character in almost every B-western he churned out for Republic.
Alan Hale Jr as Casey
The series only lasted for 32 episodes, partly because its star Alan Hale Jr was often required on the set of The Texan, another western show that starred Rory Calhoun. It would be another seven years before he hit it big as 'The Skipper' in TV's Gilligan's Island. Twelve year-old actor Bobby Clarke was chosen to play Casey Jr and Mary Lawrence portrayed his mother. Of course, the stories in the series were fictional ones involving the usual western fare of train hold-ups, vandalism etc. None of them resembled the real Casey Jones's life in any way.
The real Casey Jones (1873-1900)
Jonathan Luther 'Casey' Jones lived from 1873 until 1900. Born near Cayce, Kentucky, he acquired the nickname 'Cayce', but preferred to spell it as 'Casey'. He lost his life in a collision between his locomotive and another train that was stalled on the tracks ahead. Legend has it that he chose to stay with his train on seeing that a collision was inevitable, determined to save his passengers from injury if possible, thus immortalizing him as a folk hero. He was just 37.
CENTENNIAL (1978-9) 12 EPISODES   
This fine mini-series brings to the small screen James A. Michener's novel about the economic and cultural growth of the fictional town of Centennial, Colorado through two centuries – from the mid-1700s to the late 1970s – by following the paths of numerous people who came into the region for various reasons over that time-span. Obviously, the series is not entirely set in the American West, but enough of the almost twenty-one hours of screen time is devoted to those days to enable us to envision, in particular, the bigoted treatment of Native Americans at the hands of the advancing colonists, and the violent range wars and mayhem that followed. As a kind of added continual theme, the storyline contains a murder that takes over one hundred years to solve.
Richard Chamberlain in Centennial
The cast gathered together for Centennial is of the highest quality. A dozen of these actors and actresses grace all twelve episodes – Raymond Burr, Barbara Carrera, Richard Chamberlain, Robert Conrad, Donald Pleasance, Chad Everett, Richard Crenna, Brian Keith, Lynn Redgrave, Sally Kellerman, Dennis Weaver and Alex Karras – and they are supported by a host of stars such as David Janssen, Timothy Dalton, Andy Griffith, Robert Vaughn, Anthony Zerbe and Lois Nettleton, to name but a few. Even a young George Clooney appears in episode one as an extra at an Indian village in his TV debut.
Barbara Carrera & Robert Conrad in Centennial
The city of Centennial, Colorado, founded in 2001, is not based on the novel nor the movie. Several characters in the series, however, have historical basis. The character of the Indian-hating, religious fanatic Colonel Skimmerhorn appears to be loosely based on the equally appalling Colonel John Chivington, the man who perpetrated the horrendous Sand Creek massacre in Kiowa County, Colorado in 1864. The range war depicted in Centennial seems to borrow from the 1892 Johnson County War, and a lynching bears strong similarity to the lynching of 29 year-old of Ellen 'Cattle Kate' Watson in Wyoming in 1889. Clearly, Michener drew on local history for his novel, for there are several other identifiable characters. Centennial was released on DVD in 2008.
CHEYENNE (1955-63) 108 EPISODES               
Cheyenne was one of the most watched western series that has ever appeared on television. Its popularity was due almost entirely on the appeal of its star Clint Walker. Contrary to popular belief, however, he did not remove his shirt in every one of the 108 episodes. He only went bare-chested in twenty-five of them! There is, however, no doubt that Walker and Cheyenne were responsible for kicking off the western as a popular genre on US television. Cheyenne was also the first western to run for one hour per episode, and it ended up running for seven seasons, making it the longest-running of all of Warner Brothers' western series.
Clint Walker as Cheyenne Bodie
Clint was born Norman Eugene Walker in Hartford, Illinois in 1927. At seventeen he joined the US Merchant Marine in the last months of World War Two. After the war he worked at several jobs (doorman, bouncer, sheet metal worker, to name but three), before Hollywood agent Henry Willson took him on board and briefly changed his name to Jett Norman. Walker did not like it much and soon settled on Clint as his Christian name. Cecil B. DeMille liked the look of him and cast him as a Sardinian captain in The Ten Commandments (1956). A few bit parts later saw the 6'6" actor with the 48" chest catch the eye of a Warner Bros scout who asked him to audition for an upcoming series the studio was planning. It would be about Cheyenne Bodie, a roaming cowboy hero, formerly raised by the same Cheyennes who had killed his parents and kidnapped him as a child. Cheyenne would make Clint Walker a household name.
The Ten Commandments (1956) – Clint at centre back.
Early in the series Clint became embroiled in a contract dispute with Warner Brothers which led to him briefly leaving the show. He resented the terms in his contract that gave 50% of his personal appearance fees to the studio. It was also written into his contract that he could only record music under the Warner Brothers label. Walker occasionally sang in an episode of Cheyenne and he took his music seriously, insisting he should be able to sign with any record company he chose. A deal was eventually hammered out and he returned to work. His enormous popularity had placed him in a powerful bargaining position.
Clint in his last years
In May 1971, he narrowly escaped death in a skiing accident at Mammoth Mountain, California, after he fell from a ski lift and one of his ski poles pierced his heart! Taken to hospital, he was actually pronounced dead, until one of the doctors detected faint signs of life and rushed him into surgery. His damaged heart was repaired and within two months he was back working again. Walker would live on for another forty-seven years before he died from congestive heart failure in 2018, nine days short of his ninety-first birthday.