It is generally conceded that Orson Welles' 1941 classic Citizen Kane is loosely based on the career of newspaper magnate William Randolph Hearst. What is not so generally known is that a sub-plot in which Susan Kane has an extra-marital affair was deleted late in the day by Welles himself. The affair was supposed to mirror the suspected affair of Hearst's mistress Marion Davies with Charles Chaplin, an affair Hearst was only too aware of. Years later, Orson told director Peter Bogdanovich that Hearst had caught Marion and Chaplin having sex aboard his yacht and had fired a shot at the comedian, a shot that struck another guest aboard the vessel, director Thomas Ince, and that the man had died of his wound. The whole tragic incident was covered up, said Welles, the other guests on board (including columnist Louella Parsons) being bribed and sworn to secrecy. Bogdanovich later used the story as basis for his 2001 film The Cat's Meow. It should be stressed, however, that the Ince family, even today, vigorously refute the story in its entirety, vowing that Thomas died at home in his bed.
Henry Fonda as Tom Joad
Jimmy Stewart always felt he did not deserve his Oscar for The Philadelphia Story (1940), that it was a kind of deferred payment for him missing out with Mr. Smith Goes to Washington the year before. He believed his good friend Henry Fonda should have won in 1940 for The Grapes of Wrath and a lot of people would agree with him. Henry was not yet a big star when he was offered the part of Tom Joad in The Grapes of Wrath. He knew it was the role of a lifetime, but he was still trying to avoid being signed as a contract player by 20th Century Fox. Darryl Zanuck knew this and let it be known that he would be offering the role to Tyrone Power. Fonda begged him to reconsider. He then landed the part, but only after he agreed to an eight-year contract with Fox. Stewart was right, too. Fonda deserved the Oscar more than Jimmy did for The Philadelphia Story. Not for the first time (nor the last) the statuette went to the wrong recipient.
When John Ford made My Darling Clementine in 1946, he told the tale that his interpretation of the gunfight at the OK Corral was based on actual conversations he had with the legendary Wyatt Earp twenty years earlier. Either Earp was a liar or Ford was, for the famous fight was over in an instant and was nothing like the drawn out battle depicted in Ford's movie. It is historical fact that the confrontation between the Earp brothers (accompanied by Doc Holliday) and members of the Clanton gang lasted approximately 30 seconds in total. When questioned about this by a historian, Ford was unapologetic. 'Did you like the movie?' he asked. The historian said it was one of his favourites. 'Then what more do you want?' snapped Ford. In short, John Ford was a great movie maker but a lousy historian. Fair enough.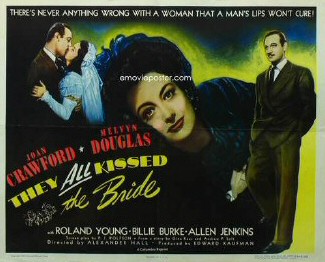 After Carole Lombard was killed in a wartime air crash, Joan Crawford was asked to replace her in They All Kissed the Bride (1942). She agreed to do so, but insisted that her salary all go to the Red Cross whose people had recovered Carole's body from the crash site. And she insisted that the donation be made in Carole's name, not in the name of Joan Crawford. Appalled to learn that her agent had first taken his standard 10% before forwarding the balance to the Red Cross, she fired him on the spot. If you watched this movie during the Second World War, you might recall a famous line uttered by her: 'When I want a sneak, I'll hire the best and get a Jap', she says in one scene. Prints of the picture in today's politically correct climate no longer contain the line. It is now deemed offensive.
   Susan Peters
Susan Peters was billed fourth in Random Harvest (1942) for her role as Kitty. Just three years after this picture was released she was duck-hunting with her husband and friends when a rifle she attempted to retrieve accidentally discharged. The bullet lodged near her spine and she was permanently paralysed from the waist down. Constantly racked with pain she would ultimately suffer from acute depression, kidney problems and lose the will to live. Anorexia nervosa eventually brought on pneumonia and she passed away in 1951 at the age of 31.
   Spencer Tracy
Dr Jekyll & Mr Hyde (1941)  
Spencer Tracy's performance in Dr Jekyll and Mr. Hyde (1941) was so bad that he thought his career was over. When author W. Somerset Maugham turned up on the set during filming, he is said to have enquired somewhat sardonically, 'Which one is he now, Jekyll or Hyde?' Oddly enough, Tracy was not intended to be offered the picture in the first place. Robert Donat was all set for the role which was to be filmed in England, but World War Two intervened and the production shifted to America with American stars. Vivien Leigh chose to play the title role in That Hamilton Woman (1941) and not the part that ultimately went to Ingrid Bergman. In order to get both Lana Turner and Ingrid Bergman to weep in certain scenes, director Victor Fleming personally slapped their faces!
   The Philadelphia Story (1940)
Cary Grant, Kate Hepburn & James Stewart
On the set of The Philadelphia Story (1940) it was pretty much a game of ring-a-ring-a-rosy. The director George Cukor fancied James Stewart but knew he never had a chance with him. Cary Grant actually put the hard word on Jimmy, but was unceremoniously rebuffed. Stewart was heterosexual right down to his socks, so it was left to Kate Hepburn to go after and snare the greatly in demand star.  As actor Wendell Corey was quick to say about him, 'There was a whopping big ego underneath that allegedly shy, stuttering, bumbling persona.' Kate's billionaire lover Howard Hughes secretly purchased the rights to The Philadelphia Story and gifted them to her. It had already been a hit on Broadway with her in the lead, so it was not difficult for her to get a studio interested in turning it into a movie. Of course, only Kate herself could even be contemplated for the leading female role of Tracy Lord.