Like a great many actors, Jack Nicholson spent the first decade or so of his professional life in the wilderness, waiting for calls to work that did not come. When fame eventually found him, more or less overnight, he did what scores of stars had done before him. He clung tenaciously to his good fortune, afraid that it all might vanish just as quickly.
Jack was born in April 1937, so he is now 80 years old. It is no secret that for several decades he was labeled a womanizer and that he and his buddy Warren Beatty used to have competitions to see who could sleep with the most beautiful actresses or models. Not that Jack was ever in the same 'desirable' league as his pal. For the last few decades he has been a balding, 5'9", ordinary-looking guy tending to be overweight more often than not. Fair to say that he has never been the handsomest of movie stars, but he has had a couple of things going for him for most of his adult life; his undeniable fame and his close association with chick magnet Beatty. Consequently, there has been no shortage of women in his life. And this has led to his base reputation with the feminists of America. Of course, it could be argued that the old adage, 'it takes two to tango', does not seem to mean an awful lot to feminists. As I said, it 'could be argued'. But not by me.
Jack with Michelle Phillips                                          and with Anjelica Huston
In 1989 the tabloids and chat shows were awash with the revelations of an actress/model named Karen Mayo-Chandler who delighted in discussing details of her intimate relationship with Nicholson. When asked what she liked most about him, she replied: 'What I want is a guaranteed non-stop sex machine and that's exactly what I got with Jack. He's into fun and games in bed, all the horny things that I get off on like spankings and Polaroid pictures. Now, that's a man to die for!' All this was too much for Jack's regular steady girlfriend Anjelica Huston who at last decided to end their relationship. One 'tell-all' too many, it would seem.
Jack was 38 years old when he learned that the lady he thought was his mother was, in fact, his grandmother and that the lady he thought was his sister, June, was in reality his mother! Both women were deceased by then and only they knew the identity of his father. The secret seemingly died with them. A magazine reporter had been doing background research on Jack and came across birth certificates that confirmed June as the 17 year-old who gave birth to him back in 1937. The guy promptly rang Jack and told him.
At 17, Jack acquired a job as a mail boy at MGM. The studio needed an assistant to help handle the huge volume of fan mail for two of its biggest stars – the cartoon characters Tom & Jerry. The job paid just $30 a week, but it enabled him to get his foot in the door of the legendary MGM. He even talked his way into a screen test. It was unsuccessful but 'he showed promise', they said, so he immediately enrolled in the Ring Theatre Group to develop his skills. While he was there, honing his craft, three of his colleagues were plucked from the group and soon hit it big. 'Michael Landon was grabbed to play Little Joe Cartwright in the TV series 'Bonanza', Ed Byrnes was chosen for '77 Sunset Strip' and immortality as 'Kookie', and Bob Fuller landed the lead in 'Laramie'.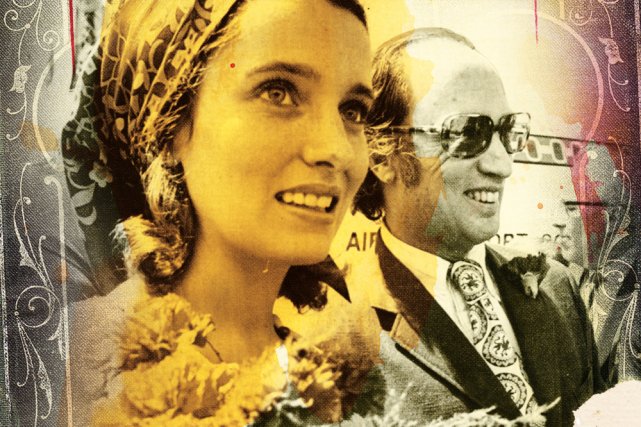 Margaret and Pierre Trudeau
By the time 1967 rolled around, 30 year-old Jack was beginning to feel fame had passed him by. His pal Beatty had secured some percentage points from the backers of his hit movie, Bonnie & Clyde and was already a millionaire and famous. Steve McQueen had made The Magnificent Seven in 1960, The Great Escape three years later, and was riding the crest of a popularity wave. Even Dustin Hoffman had recently leapt from obscurity with The Graduate. As for Jack, he landed a solitary line consisting of just twelve words in 1967's The St. Valentine's Day Massacre and slid by un-noticed. In 1968 he wrote an odd screenplay for The Monkees when they starred in the mish-mash feature film Head. Few liked this psychedelic monstrosity and it sank without trace. Jack reckoned it was good, or so he said. 'I saw it a thousand and one times', he mused, 'and I loved it! It was the best rock 'n' roll picture ever made because it was anti-rock 'n' roll.' Uh – huh.
As we now know, everything changed with the release of Easy Rider in 1969. Its three unlikely stars, Peter Fonda, Dennis Hopper and Jack became overnight celebrities and 'in demand' actors. They also became very rich. In 1970, Hopper very briefly married Michelle Phillips of the pop group The Mamas & the Papas. She at once dashed off to reignite her singing career, then called her husband eight days later to let him know she would not be returning. 'I just can't live with you any longer', she told him. Well, if you don't know after eight days you'll never know, I suppose! Before long she moved in with Jack and stayed for two years or so. It was mutually agreed that each partner was free to have other relationships if they wished. When they ultimately parted company Michelle soon moved in with Jack's buddy, Warren Beatty. 'Michelle, being the lady that she is', recalled Jack, 'took the trouble to call and ask if I had any feelings about them going together, which I did have – I thought it was fabulous because I am fond of them both. Michelle is a real stand-up lady, incapable of anything dishonorable.'
Veronica Cartwright                                             Jack and Lara Flynn Boyle
Five years later, Jack began his lengthy relationship with Anjelica during the shooting of Chinatown, a relationship that would last for around 17 years (off and on). Their first major bust-up took place in 1977 when Anjelica, tired of Jack's screwing around, decided that, what was good for the goose is good for the gander and took off for London with the ever-randy Ryan O'Neal. He was another of Jack's so-called buddies. In the summer she reunited with Jack, but his dallying with Catherine Deneuve and Bryan Ferry's girlfriend Jerry Hall peeved her and she ran off with O'Neal again. Then, when he went to Holland to shoot A Bridge Too Far, she returned to Jack and his home in Mulholland Drive. Ryan was stunned. 'I really loved her', he said. 'Even Tatum liked her.' One day, someone should sit down with these people and explain to them the difference between love and lust.
While Jack was relaxing in Aspen, Colorado, his neighbor Roman Polanski borrowed his home for a couple of hours where he raped and sodomized a 13 year-old girl. Anjelica arrived home from shopping soon afterwards and was arrested and charged with possession of cocaine. Jack kept a low profile until Polanski had fled to Europe to avoid sentencing. Anjelica's lawyers did a deal on her behalf.
Jack at 70 still living the high life
Filming on The Shining started in London in 1978 with Stanley Kubrick. Jack accepted $1.25 million plus a slice of the gross for his role in it. The producers also provided him with a mini-mansion on the Chelsea Embankment, complete with Daimler and chauffeur for his 18-month stay in the capital. At a party he met Margaret Trudeau, the ex-wife of Canadian Prime Minister Pierre Trudeau. She had hit the headlines when she walked out on her family to go jet-setting with a string of rock stars that included the Rolling Stones. Heavily involved with the sleazy world of drugs and sex, the lady latched onto Jack and 'accommodated' him in the back seat of his Daimler. That was her story anyway. Jack denied it, but it happened. Anjelica turned up and Margaret was sent packing. Margaret next found her way into the bed of – you guessed it – Ryan O'Neal!
Over forty years have slid by since those halcyon days. Jack's list of conquests since then is pretty impressive. In the eighties he was briefly linked with Janice Dickinson, Bebe Buell, Rachel Ward and Christina Onassis. Lengthier relationships saw the likes of Winnie Holman, Veronica Cartwright and Miss Mayo-Chandler warm his bed on a regular basis. Tracy Richman, Rebecca Broussard and Cynthia Basinet all thought they might be 'the one' during the nineties, but eventually each fell by the wayside. Maybe the plethora of one night stands had something to do with that. Kate Moss and Lara Flynn Boyle came along in the new century, but they didn't last either. At eighty one imagines that he has slowed down considerably. His pal Beatty appears to have finally called it a day. As for Jack – who knows?