Biographers have tried for years to figure out the relationship between singers Nelson Eddy and Jeanette MacDonald. Most have given up. On the one hand we have Eddy, lifelong 'sissy', tied to his mother's apron-strings, a bisexual man who definitely preferred male lovers to female ones, but who seemed to (from time to time) fall head over heels for MacDonald. Jeanette MacDonald, by comparison, was street-wise and entirely heterosexual. In fact, pretty, 'butter wouldn't melt in her mouth' Jeanette was once a call girl in New York City (back in the twenties), before she hit it big in movies. Her letters to Eddy actually discuss this. She also regularly slept with her boss, Louis B Mayer, in order to fast-track her  career once she reached MGM. She slept with director Ernst Lubitsch as well, and for the same reason, although she was frigid and never liked sex much at all. It was a means to an end, nothing more. Mayer slept with hundreds of his actresses, but he only ever fell in love with two of them – Macdonald and Greer Garson. What he saw in either of them is a mystery, for neither was overly popular with her peers.
Jeanette in pre-fame days                            Ernst Lubitsch
MacDonald was born in Philadelphia, Pennsylvania in 1903. Her sister would one day (1964) play Grand Mamma in The Addams Family TV series, under her married name, Blossom Rock. Jeanette's talent as a singer became apparent at an early age, but it took until she was 25 before she landed a contract with Paramount Pictures. Director Ernst Lubitsch met her, bedded her, and signed her. She made The Love Parade opposite Maurice Chevalier in 1929, but musicals went out of favour soon afterwards, so Paramount let her go in 1931.
Her sister, Blossom Rock, as Grand Mamma
in The Addams Family (1964)
When Irving Thalberg convinced her to come over to MGM in 1933, it may well have been at LB Mayer's insistence, for she was soon sleeping with her 50 year-old boss on a regular basis as she climbed the stairway to cinema success. In 1935 she hit pay-dirt when the studio paired her with Nelson Eddy in Naughty Marietta, the first of eight musicals 'America's Singing Sweethearts' would make together. They were a sensation. They were also, occasionally, intimate.
MGM boss – Louis B Mayer
Early in 1935, Jeanette began dating actor Gene Raymond. Before long she was pregnant, but the question was – to whom? The child could have been Eddy's, Raymond's or Mayer's. Not that it mattered in the long run. MGM arranged an abortion and the problem no longer existed. Eddy's sexuality was an enigma. He was bisexual and had affairs with lots of women, but invariably returned to men. At least three abortions and one illegitimate child have been attributed to him. It would appear that Maybelle Marston had his child in 1934.
Bisexual Nelson Eddy
Raymond had recently been picked up by MGM (nobody seems to know why), when RKO 'let him go', after being forced to pay off the family of a young teenage boy whom Raymond had been seducing. Mayer was often kept in the dark about the homosexuals he employed, simply because he was homophobic and would have fired them on the spot. Thalberg, Mayer's second in command, was more business-like in his approach to the issue. If they made a profit for the studio they stayed. Nevertheless, Raymond would be troublesome.
Gene Raymond
By 1937, Eddy and MacDonald were established superstars. As well as Naughty Marietta, they had punched out Rose Marie and Maytime together, and Jeanette had scored another big success with San Francisco, playing opposite none other than Clark Gable. Oddly enough, Gable told friends that he only ever disliked two actresses in Hollywood – Macdonald and Greer Garson – the same two that Mayer was nuts about. For her part, Jeanette complained that Clark stank of garlic and booze in their love scenes. There was certainly no love lost there.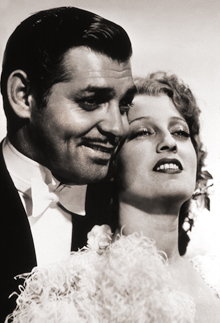 In San Francisco (1936)
MGM fixers, Howard Strickling and Eddie Mannix, were instructed by Mayer to promote talk of a budding romance between his two songbirds. It would boost ticket sales. Items began to appear in papers and magazines about Jeanette and Nelson being totally smitten with each other, and the public lapped it up. Macdonald was still servicing Mayer in his office on a weekly basis, and Eddy was still 'searching' for a true love, preferably one wearing a suit and tie. The concocted romantic fairy tale only lasted for so long. Soon, the tabloids were again questioning Eddy's lack of female companions. He had no girlfriends at all, whereas Jeanette had too many boyfriends altogether. Mayer decided it was in everyone's interest if both his stars got themselves married. Jeanette was told to tie the knot with Raymond.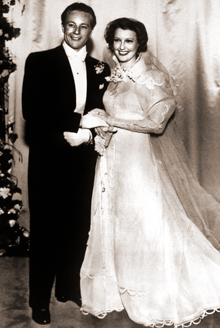 Mr & Mrs Raymond
By then bisexual Nelson was starting to get 'hot' about his singing partner. Perhaps, he was beginning to believe the tabloids. Part of the mystery surrounding their relationship lies in both Nelson and Jeanette having periods when they were actually quite strongly attracted to one another. However, it seems that their feelings never really coordinated. When Mayer insisted Eddy sing at Jeanette's wedding to Raymond, he did so, then sobbed throughout the entire ceremony. It appears he was a creature of extremes and not really sure what he wanted in the love department.
On her honeymoon, Jeanette found out that her new husband was gay. She returned home the next day – six weeks early. In January, Raymond was arrested on 'a morals charge' during a raid on a homosexual club. Jeanette coughed up $1,000 bribe money and got the charges dropped, and the police records altered. They survive today, changed to read, 'Miss Gene Raymond's arrest for prostitution'. Soon afterwards, to demonstrate his gratitude, sleazy Gene beat Jeanette pretty badly. She arrived at a party that evening alone, badly bruised and battered; and Eddy tore around to her home and bashed her husband unconscious in his own driveway.
MGM's 'fixer' – Howard Strickling
By spring of 1938 Raymond had moved out of their home and was sharing a house with a 19 year-old gay actor. Everyone knew. Once again, however, Jeanette was pregnant, either to Eddy or her husband. Strickling booked her into a hospital for an 'ear infection', an abortion was performed, and the press were informed that she had fallen down a flight of stairs and lost her husband's baby. Very sad. Mayer then told the couple to 'get back together again' or their careers would be over. So, of course, they did.
Mr & Mrs Eddy
Eddy, too, was ordered to 'find a bride', one who was not sexually demanding and would remain tight-lipped about his sexuality. Matronly, older Ann Franklin, ex-wife of director Sydney Franklin, met the requirements and was selected. The couple eloped to Vegas in January 1939, much to the astonishment of everyone except Mayer and Strickling. Jeanette broke down when told of the marriage. Once again, she displayed feelings for Eddy (briefly), but their entire relationship was weird, fragmented, and inconsistent.
MGM's attempt to create a romance between Eddy and MacDonald, just to increase ticket sales, never worked. They were just too different. He was a lifelong 'sissy', tied to his mother's apron-strings (in fact, he lived with her), and more prone to sleeping with men than women. Jeanette was heterosexual, but promiscuous and ambitious, and confused about her feelings for Eddy and about love in general.
In 1942, both stars would leave MGM forever. In 1943, just to show she was as mixed up as ever, Jeanette was quoted as saying of her marriage: 'I can't believe how blessed I am! I'm married to the most wonderful man, Gene Raymond, whom I'm deeply in love with, and my career is right where I want it to be. I can live like this forever!' Then, in the 50s, when asked by Samuel Griffin, why she married Gene Raymond instead of Nelson Eddy, she replied: 'I must have had rocks in my head.' She still couldn't make up her mind.
She and Raymond remained married until her death in 1965. Eddy remained married to Franklin until his death in 1967. 'I don't know why people still want to believe that Jeanette Macdonald and I were a couple off the set,' he said in 1957. 'There's no truth to that rumour, at all. She's happily married to Gene Raymond and I'm happily married to Anne.' Maybe, they finally were. Time can work wonders.