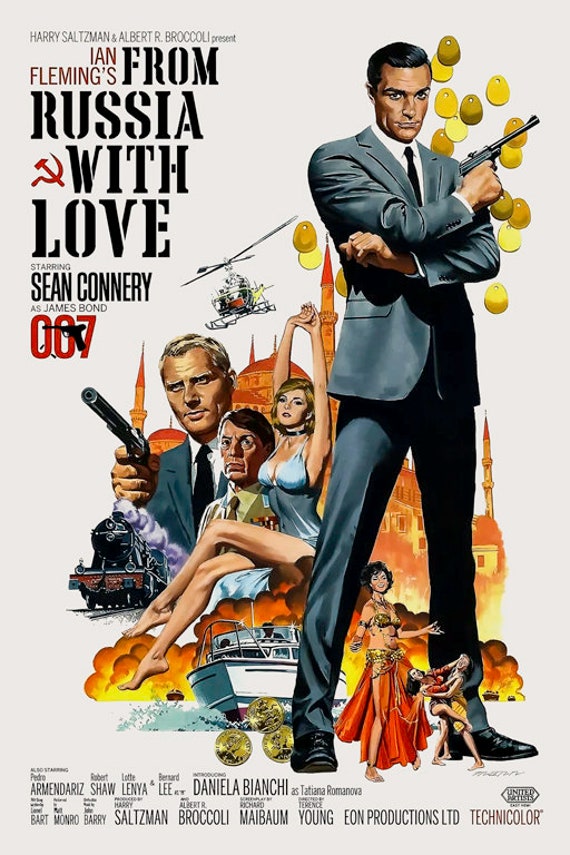 FROM RUSSIA WITH LOVE (1963)                      
Of all the featured players in this movie, the one that launched Sean Connery as a superstar a year after he played James Bond in Dr. No, only Italian actress Daniela Bianchi (who played Tatiana Romanova in the film) is still living. Daniela, now in her eighties, retired early from the screen, married, and raised a family. Surprisingly, director Terence Young disliked the shape of her legs, so he used a stand-in for the scene where Bond spies on the Russian embassy in Istanbul with a periscope. Daniela's voice was dubbed throughout the movie to hide her thick Italian accent.
Daniela Bianchi as Tatiana Romanova
Pedro Armendariz who portrayed Kerim Bey committed suicide in hospital shortly after completion of his dialogue requirements. He had been diagnosed with inoperable cancer, probably the result of his participation in the movie The Conqueror (1956), a film shot in the Utah desert near a US nuclear test site. A gun was smuggled into his Los Angeles hospital room and he shot himself at the age of fifty-one in 1963.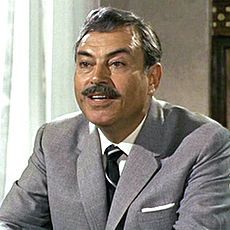 Pedro Armendariz as Kerim Bey
Robert Shaw was selected to play Quint in Spielberg's feature film Jaws (1975), based on his performance as Bond's nemesis, Red Grant, in From Russia with Love. He, too, perished at fifty-one (in 1978) when he suffered a heart attack whilst driving home with his wife. He had experienced chest pains while playing golf earlier in the day. When these recurred, he stopped the car and attempted to walk off the pain. Sadly, he collapsed and was found to be dead on arrival at Mayo General Hospital in Castlebar, Ireland a short time later. Shaw, incidentally, introduced Connery to the game of golf while they were filming this picture.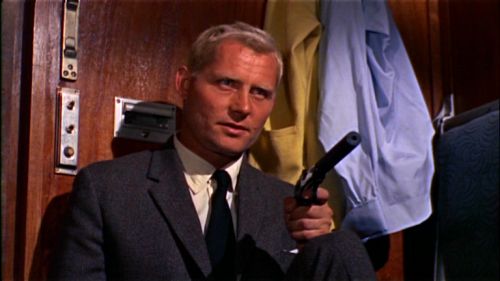 Robert Shaw as Red Grant
Austrian actress Lotte Lenya escaped the rise of Nazism in 1933 when she and her husband Kurt Weill moved to the USA that year. Weill is best-known for writing the song 'Mack the Knife', hence it contains the line: 'Look out for Lotte Lenya…'. In this film Lotte memorably played Rosa Klebb, a Colonel in Smersh but recruited by the crime organization known as S.P.E.C.T.R.E.  Incidentally, the poisonous knife concealed in the toe of her shoe was once a bona fide KGB weapon. Lotte died of cancer in New York City at the age of eighty-three in 1981.
Lotte Lenya as Rosa Klebb
British actor Bernard Lee became known world-wide for his portrayal of 'M', the head of the British Secret Service, in a total of ten 007 films, appearing alongside Sean Connery, George Lazenby and Roger Moore. Fans of the Connery films probably consider him to be the definitive 'M', just as they consider Connery to be the definitive James Bond. Stomach cancer claimed Lee at seventy-three, in the same year it claimed Lotte Lenya.
Bernard Lee as 'M'
German-born Walter Gotell portrayed one of Bond's adversaries, Morzeny, in From Russia with Love. Between 1977 and 1987 he also played the role of General Gogol in several James Bond pictures. What is less-known is that he was selected for that role primarily because he was a look-alike for the former head of the Soviet secret police, Lavrenti Beria! Gotell is the only Bond adversary to play in seven 007 films, featuring opposite Connery, Roger Moore and Timothy Dalton. Cancer took him in 1987, aged seventy-three.
Walter Gotell as Morzeny
Vladek Sheybal as chess master Kronsteen
Another noteworthy performance in this film was that of Polish actor Vladek Sheybal as the chess-master Kronsteen. A former member of the Polish underground during WW2, he was sent to a concentration camp twice yet managed to escape both times! He shared a dressing room with Roman Polanski in Warsaw after the war, eventually emerging as one of Poland's major acting talents, speaking French, German and Italian, before ever learning to speak any English. An aneurysm unexpectedly took him at sixty-nine in London in 1992.
Desmond Llewelyn as 'Q'
Welshman Desmond Llewelyn played the gadget-man 'Q' in no fewer than seventeen Bond films, including this one. In all, he was only on-screen for a total of around thirty minutes as 'Q' in his entire career. He was driving home from a book signing in 1999 when the eighty-five year old actor was involved in a head-on collision that cost him his life. As a Royal Welsh Fusilier during WW2, he was captured by the Germans in France in 1940, and spent five years as a prisoner-of-war.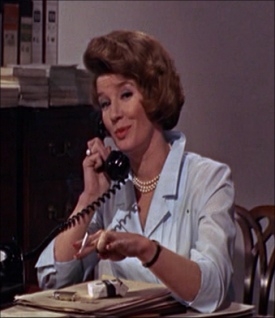 Lois Maxwell as Miss Moneypenny
Lois Maxwell was a Canadian actress who portrayed Miss Moneypenny in fourteen Bond films until she felt it was becoming ridiculous for her to pretend to be a romantic interest for Bond as she aged. She visited her son in Western Australia in 2001, suffered a medical scare whilst there, and lived out the remaining six years of her life in Perth before succumbing to bowel cancer in Fremantle Hospital, aged eighty, in 2007.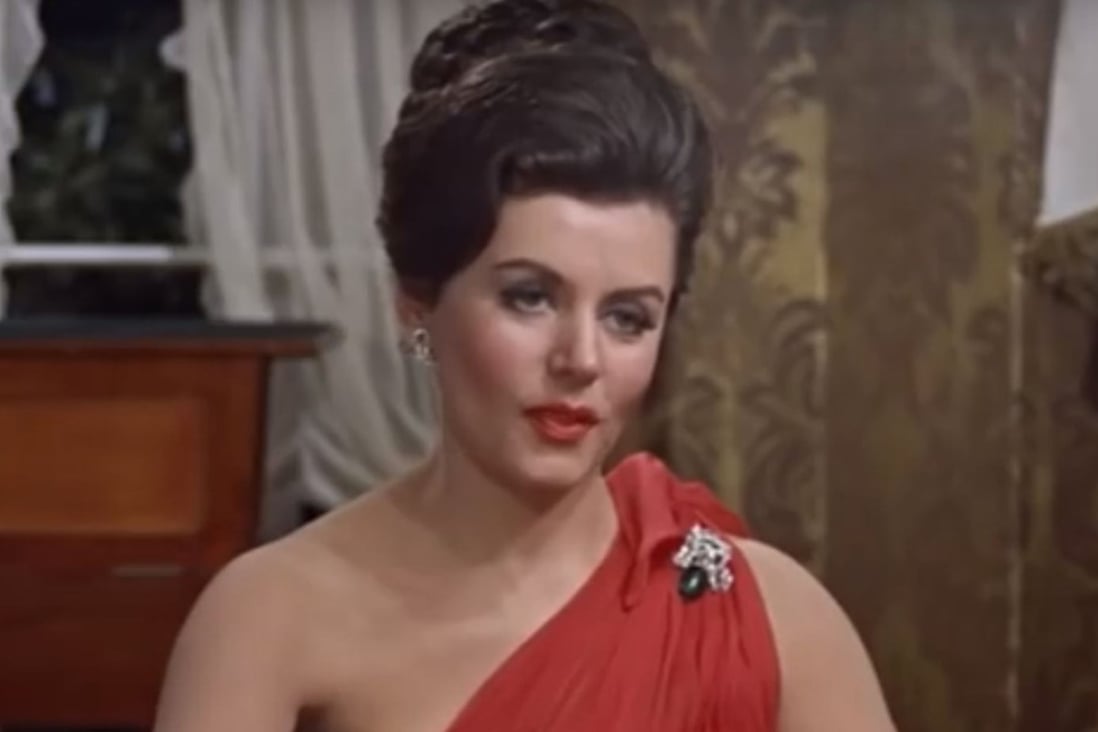 Eunice Gayson as Sylvia Trench (in Dr. No)
Eunice Gayson was an English actress who achieved the rare double of being James Bond's girlfriend in two 007 films. It was she who found herself on the receiving end of Sean Connery's 'Bond, James Bond', introduction at the gaming table in Dr. No (1962). In From Russia with Love she played the same character, (Sylvia Trench), and was again in Bond's arms. It was originally intended for her to be Bond's regular girlfriend who appears in every 007 film, but the producers changed their minds. Eunice died from an undisclosed illness in 2018, aged ninety.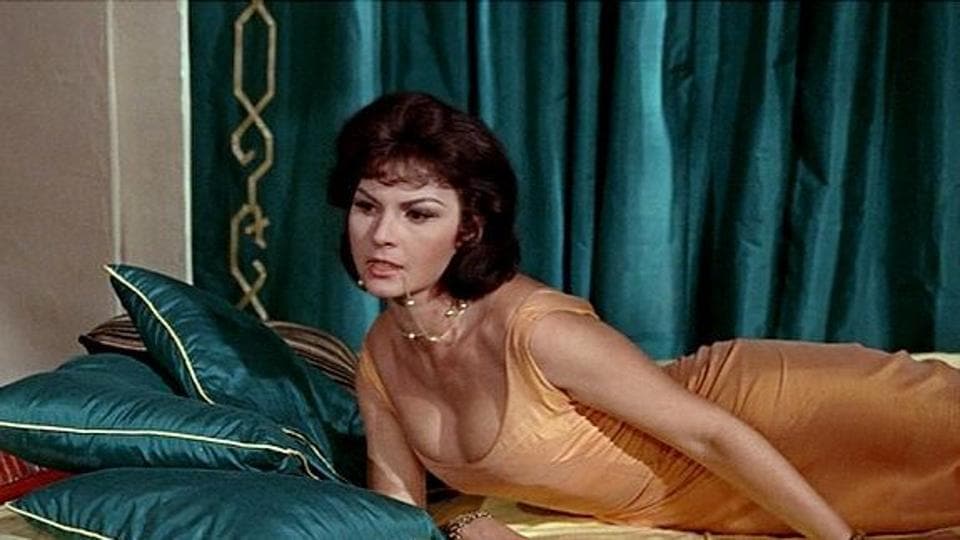 Nadja Regin in From Russia with Love
Nadja Regin also appeared in two Bond films, but as separate characters. She was Kerim Bey's girlfriend in From Russia with Love and played the double-crossing belly dancer, Bonita, in the pre-title sequence from Goldfinger (1964. Unfortunately for her character Bond sees the reflection of his assailant in her eyes and spins her around to receive the man's blow intended for 007. She died in London, aged ninety, in 2019.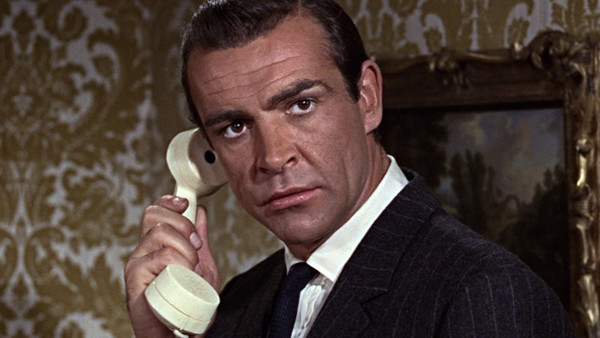 Sean Connery as 007 in From Russia with Love
It is probably fitting that the player to live longest of the cast should be Sean Connery. He was, after all, the almost indestructible James Bond. Between 1962 and 1983, he starred in a total of seven films in the franchise, commencing with Dr. No and concluding with Never Say Never Again. He was in his ninetieth year when respiratory failure took him in Nassau, The Bahamas in 2020.
Several years earlier, Sir Alfred Hitchcock was seriously considered to direct From Russia with Love. Cary Grant was to portray Bond and Grace Kelly was to be Tatiana Romanov, but the failure of Vertigo (1958) at the box office brought about the collapse of the idea. The gypsy girls preparing to fight to the death were played by 22 year-old Aliza Gur (a former Miss Israel) and 21 year-old Martine Beswick (a former Miss Jamaica). Martine returned as Paula in Thunderball (1965). Daniela Bianchi, by the way, was Miss Italy, and finished first runner-up in the Miss Universe pageant of 1960.