THE LITTLE COLONEL (1935)                
This was the first of four films in which African-American dancer Bill 'Bojangles' Robinson partnered the child superstar Shirley Temple in dance routines on the big screen; the other three being The Littlest Rebel (1935), Rebecca of Sunnybrook Farm (1938), and Just Around the Corner (1938). At the peak of his tap-dancing career, Robinson was being paid $6,500 a week in vaudeville; billed as 'The World's Greatest Tap Dancer' and headlining at New York's vaunted Palace Theatre, the top vaudeville house at the time. He was a brilliant dancer who raised the art of tap dancing to a whole new level. Billy was also an extraordinary athlete and often talked about the Olympic Games tryouts in which he ran one hundred yards in fourteen seconds – running backwards!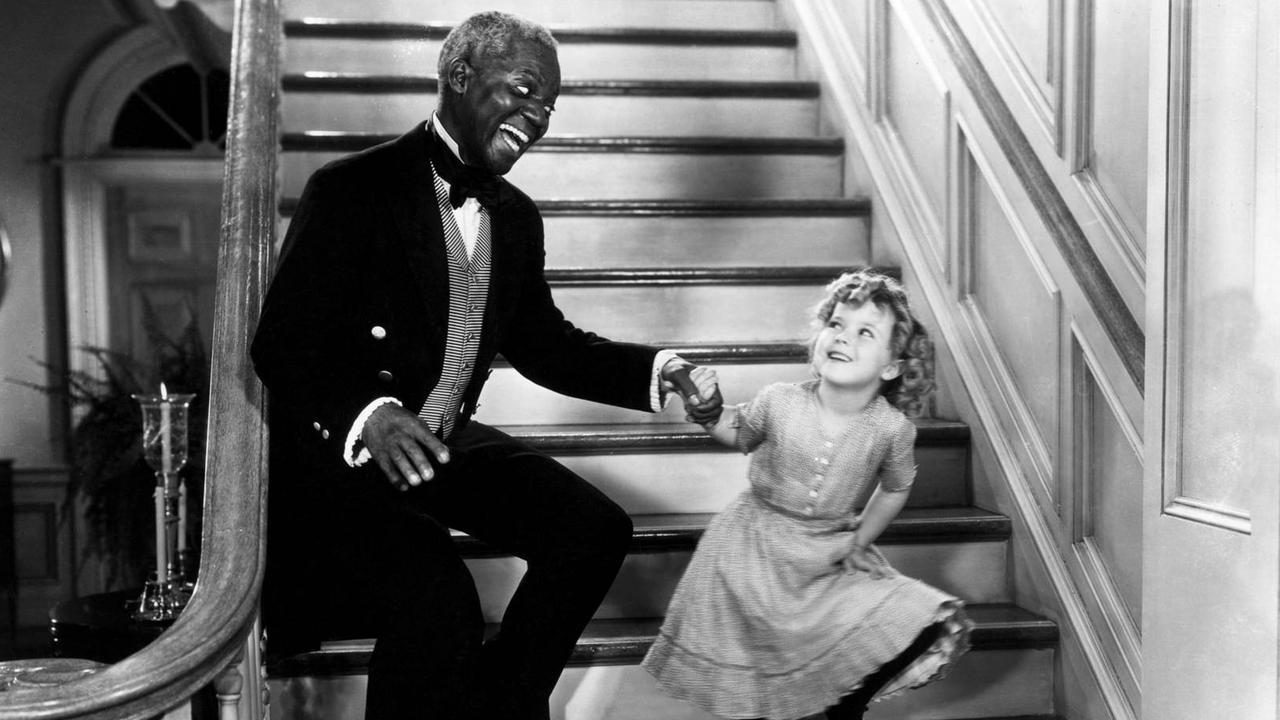 Uncle Billy & Shirley dancing on the stairs
During their time performing together, he called Shirley "darlin' ", and she referred to him as "Uncle Billy". Although The Little Colonel was a huge box-office triumph, Fox carefully made adjustments to the copies of the picture that were screened in America's Deep South. In the famous 'staircase sequence', during which Shirley and Bill tap-danced together, the two had touched fingers. Fox made very sure that any scenes showing any physical contact between the white actress and the black dancer were removed from those prints in order to avoid social offense to southerners! Their dance sequences in this film signalled the first time inter-racial dancing was shown in American movie history.
Lionel Barrymore and Shirley in The Little Colonel
As was always her way, Shirley not only memorized her own lines but also everyone else's in her pictures. In that way, if it was decided to shoot out of sequence, she would immediately recognize her cues from the other actors and react accordingly. In one scene her co-star Lionel Barrymore forgot his line and when seven year-old Shirley prompted him, he flew into a rage and stormed off to his dressing-room. 'From the start Barrymore seemed weak on his lines', she wrote in her autobiography fifty or so years later. 'I mistakenly considered us both confederates acting in concert, not boiling up to our own civil war. One time, having as usual learned everyone's lines, I prompted him. 'Dammit!' he exploded. 'I'm thirty years in this business!' Barrymore threatened to walk off the picture. 'He's complaining she made him look ridiculous', explained the director to Shirley and her mother.
It was agreed that Shirley should apologize to him in person – alone. So she knocked on his dressing-room door and was admitted. 'Uncle Lionel, I know you're the best actor in the world', she said after a preamble of compliments. 'May I have your autograph?' He had calmed down considerably by then, shrugged his shoulders and sighed. Then he wrote, 'To my favourite little niece – Your Uncle Lionel.' And the problem was resolved, work resumed, and Barrymore and Temple became firm friends for many years.
At the end of the movie there was a party scene that was shot in Technicolor. This was the first time that Shirley appeared on the big screen in colour, so it was also the first time she was ever required to wear make-up. By now her salary had been bumped up from $150 a week to $1,000 a week! She was given a monthly allowance of $6.50, while an equal amount was deposited into a bank account for her future! In the meantime, entrepreneurs everywhere were making a fortune hawking her image on all kinds of items ranging from cigar bands, to lunch boxes, dishware, cut-out books, sewing sets, sheet music, playing cards, anklets, pocket mirrors, candy, breakfast cereals and a myriad other novelties. The Ideal Novelty & Toy Company sold six different sizes of Shirley Temple dolls and, by 1941, the American public would invest a staggering $45 million in them alone!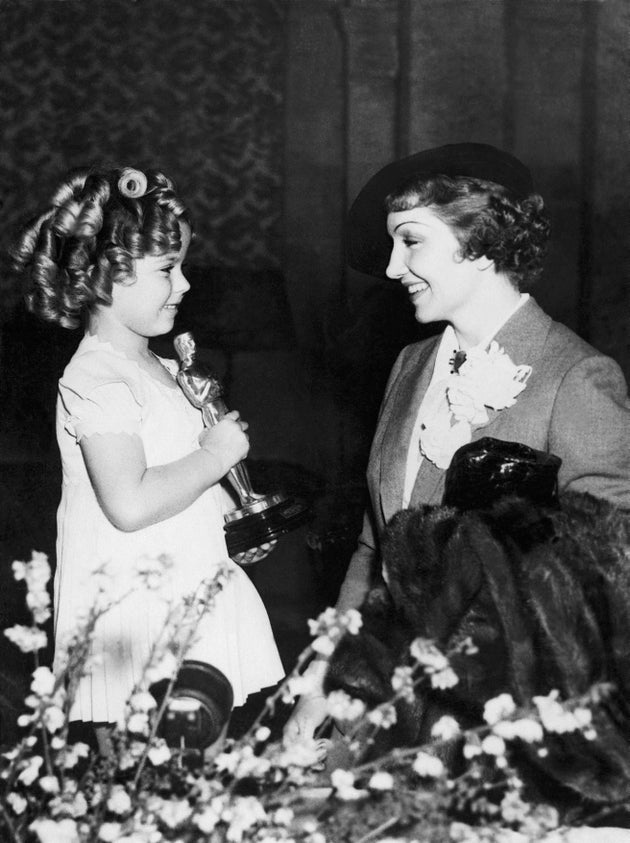 Shirley & Claudette Colbert 1935
Shirley and her parents were invited to attend the 1935 Academy Awards ceremony at the Biltmore Hotel in Los Angeles. Write-in campaigns had been threatened after both Myrna Loy (for The Thin Man) and Bette Davis (for Of Human Bondage) had been ignored in the nominations, and odds-makers had Shirley almost a certainty to win. It was ultimately decided not to nominate the seven year-old, but to award her a miniature Honorary Oscar instead. No doubt, this would have pleased French critic Maurice Debache, who had written in L'Echo de Paris that '… Shirley Temple is amusing, but her precocity leaves me sad.' It appears that not everyone was enamoured of the little super-star. As far as the Best Actress Oscar was concerned, Claudette Colbert was a surprise recipient for her performance in It Happened One Night. After a slight hesitation (for dramatic effect), she said, as she began her acceptance speech, 'I'm afraid I'm going to be foolish and cry!' – And then didn't. Shirley was almost asleep when her own name was called to accept the Honorary Oscar. 'Thank you all very much', she said, before turning to her mother. 'Mommy, can we go home now?'
David Wark Griffith
It is, perhaps, ironic that the famed director David Wark Griffith, a man universally labelled as a racist and bigot following the release of his ground-breaking The Birth of a Nation in 1915, came to executives of Fox with the idea of having a black man and a white girl dancing together on-screen. 'There is nothing, absolutely nothing', he wrote, 'calculated to raise the goose-flesh on the back of an audience more than that of a white girl in relation to Negroes.' Fox executives must have found merit in his idea, for they soon signed Bill Robinson to an acting contract. Griffith was a Kentuckian, the son of a Confederate colonel from the Civil War. Consequently, he was steeped in the romantic and chivalrous folklore surrounding the Deep South's 'la la land' interpretation of the institution of slavery. Curiously, in 1911, Griffith produced and directed a Biograph film titled The Rose of Kentucky, in which the Ku Klux Klan was depicted as villainous, a sharp contrast to its portrayal as a band of 'heroic knights to the rescue' in The Birth of a Nation just four years later.