Bob Hope in the 1930s
In 1938, Bob Hope landed his own radio show, The Bob Hope Pepsodent Show, for which he was paid $2,500 a week! The season ran for 39 weeks and that presented him with a problem, for now he had to come up with thirty-nine times as many jokes as he had been using in a whole year of vaudeville. His solution was to hire the best writers he could find. Initially, there were eight of them, each paid out of Hope's pocket. It was a unique situation, but he knew that the key to success were the jokes. It was money well spent. It was also necessary, Bob believed, to have material that was currently topical, right up to airtime. The process for selecting the best jokes from his eight gag-writers was simplicity itself. Each man would read his own jokes aloud to the others, and if he could get laughs from the others, (whose very jobs might depend on them keeping a straight face), the joke went into the show. The bragging, blustery coward was Bob's own creation. In short, he made cowardice likeable.
Adorable Shirley Temple at her peak in the 1930s
If you have ever wondered about the ingredients present in the non-alcoholic cocktail, 'The Shirley Temple', which was created in the curly-topped little actress's honour, here they are: It consists of ginger ale (or 7-Up), grenadine and orange juice, topped with a maraschino cherry and a slice of lemon. Incidentally, by 1950, Shirley had earned $3.21 million (adjusted for inflation, the equivalent of $32,423,155 in 2017), yet she only received a paltry $44,000 in her trust (plus the deed to her $45,000 dollhouse after she stopped acting.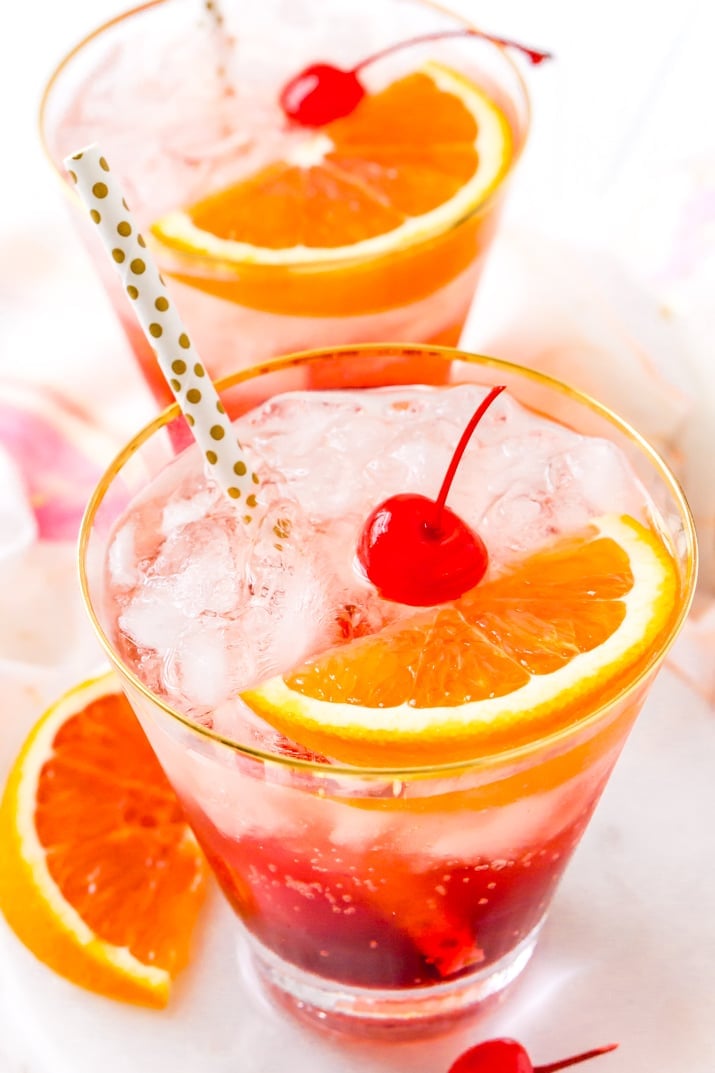 A classic 'Shirley Temple'
According to her autobiography, when Shirley sought her mother's permission to marry her first husband, actor John Agar, (because she believed herself to be underage, Temple was shocked to discover that her parents and 20th Century Fox had lied about her true age for years. She was actually two years older than the public believed her to be. This discovery caused a rift in the Temple family that was never resolved. Shirley's image was always meticulously controlled. Throughout her adult life, for instance, she was a chain smoker, although she generally avoided being seen smoking in public.
Judith & former husband, actor William Campbell
Judy Campbell was a vivacious 25 year-old Irish brunette when she met Frank Sinatra in 1959. He invited her to join him on a trip to Hawaii and their affair began in Honolulu on November 10. She called off the romance when he expected her to join him in a ménage a trois at his Beverly Hills home with another woman. The two remained friends, however, and in Vegas Frank introduced her to Presidential candidate JFK. On the night before the New Hampshire primary she and Kennedy began their sexual affair. When Judy mentioned she knew mobster Sam Giancana, Kennedy asked her to arrange a meeting. 'I think I may need his help in the campaign', the candidate explained. The mobster and the future US President met at the Fontainebleu Hotel in Miami Beach and soon afterwards Kennedy beat Hubert Humphries in West Virginia, thus ending the man's candidacy. Jack's affair with Judy ended for precisely the same reason her affair with Sinatra had ended. He wanted her to engage in a threesome and she refused.
Mobster Mickey Cohen
Puccini was a popular restaurant in Los Angeles, at least it was until the evening in 1961 when mobster Mickey Cohen walked in and spotted comedian Red Skelton's manager dining with actor George Raft. Cohen and Skelton were very good friends and it had been rumoured around town for some time that Red's manager was having an affair with the comedian's wife. Cohen walked over to the table, jumped up on the booth, and started kicking the man. When Raft attempted to object, Cohen turned on him. 'You shut up, Raft, or you know what you're gonna get.' George shut up. The manager wound up in hospital and the confrontation made the newspapers. Suddenly, Puccini was filled with undercover cops each night and clientele dropped off sharply. Nobody wanted to eat there anymore.
The 1940 version of Waterloo Bridge, starring Robert Taylor and Vivien Leigh, is a tear-jerker of the first water that struck a chord with audiences around the world. Oddly enough, Vivien only agreed to make it because her real life lover, Laurence Olivier, was expected to play the role of Roy Cronin opposite her. However, Larry was belatedly signed to play Mr. Darcy in Pride and Prejudice, a role he only agreed to because he thought Vivien was going to play the Lizzie Bennett role opposite him! So, in the final wash-up, Olivier and Greer Garson co-starred in Pride and Prejudice and Leigh and Taylor graced Waterloo Bridge as its love-struck leads. Even stranger, (despite her disappointment in the casting), Vivien regarded this as the best picture of her entire career, ahead of even Gone with the Wind (1939). It was Taylor's favourite film as well. Incidentally, the film was not shot on location in London as most fans assumed, but on the MGM backlot in California.
Meg Ryan
Most successful actors and actresses have made some poor judgment calls in their careers, turning down plum roles that succeeded for someone else. Meg Ryan is no exception. In 1990 she was offered two important roles and turned both of them down. One was the Molly Jensen character in Ghost, which subsequently went to Demi Moore. The other was the Vivian Ward character in Pretty Woman, the role that saw Julia Roberts nominated (albeit unsuccessfully) for a Best Actress Academy Award. In 1991, Meg declined the Clarice Starling role in The Silence of the Lambs and Jodie Foster collected a Best Actress Oscar for that one. On a slightly lesser note, Meg turned down the lead in To Die For (1995), Nicole Kidman was cast instead and picked up a Golden Globe for her terrific performance in the role.
Sharon Stone
Sharon Stone was formerly married to Phil Bronstein (1998-2004), one of the editors of the San Francisco Examiner. She once arranged a private tour of the Los Angeles Zoo for him as a 2001 Father's Day gift. Phil had always wanted to see a Komodo dragon up close and was escorted into the Indonesian lizard's enclosure where he unadvisedly removed his white shoes in its presence and was suddenly attacked. Zoo-keepers later speculated the five-foot long lizard may have mistaken Phil's shoes for the white rats it ate regularly. He underwent foot surgery to repair the damage.