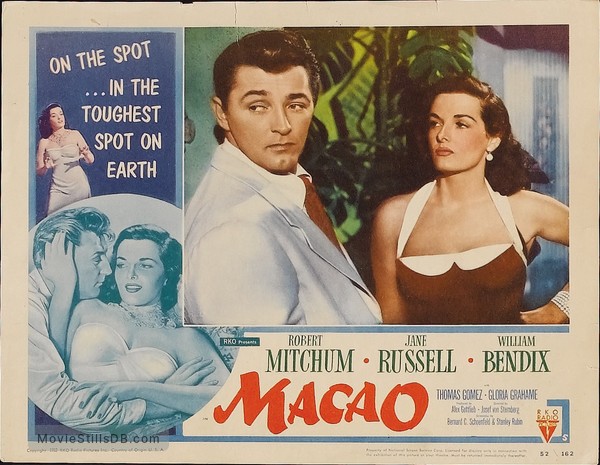 MACAO (1952)                     
Macao was supposed to be an 'edge of your seat' thriller set in the seedy underworld of the then Portuguese colony of Macao, situated some thirty-five miles out of Hong Kong. It was supposed to be a thriller but it failed to deliver on several levels. First of all, the story was threadbare; second, the directors (four were involved) appeared to permit the star, Robert Mitchum, to sleepwalk his way towards collecting his fee, and third, the casting in general was sub-standard and performed as such. I am a Mitchum fan but his effort here is as dull as dishwater. He looks bored and simply going through the motions. His co-star, the much-over-rated Jane Russell, is about as sexy as a pair of army socks; the villain, Brad Dexter, has no screen presence (and never did have), and supporting players William Bendix and Gloria Grahame were their usual selves – mediocre beyond belief.
William Bendix & Robert Mitchum in Macao (1952)
Josef von Sternberg started directing this rubbish, although it was completed by Nicholas Ray after both Mel Ferrer and Robert Stevenson had contributed their ten cents' worth. Only von Sternberg received a screen credit which, I imagine, was a relief to the other three. Mitchum and von Sternberg did not get along on the set; the director even threatened to fire his star if he did not cooperate more fully. As it turned out, von Sternberg, not Mitch, was replaced. Miss Russell had her problems with the director as well. She was less than enamoured on hearing him exclaim to a cameraman: 'What are we going to do with this beautiful, stupid girl?' He also alienated the crew when he banned the eating of any food whatsoever on the set. From time to time Mitchum would sneak in baskets of delicacies for the technicians just to spite him.
Gloria Grahame in Macao
As for Gloria Grahame, she did not want to even be in the picture right from the beginning. When she asked RKO boss Howard Hughes if she could be loaned out to make George Stevens' A Place in the Sun (1951), he emphatically turned her down and forced her to make Macao instead. Years later, she told an interviewer that she deliberately over-acted in her scenes out of hatred for Hughes. Frankly, this writer was unable to detect any difference in her performance at all. In fairness to the lady, she was on the brink of divorcing Nicholas Ray who had suddenly become the director of the movie, so it could not have been a happy situation for her. Their divorce became final in August 1952. Eight years later, she would create a Hollywood scandal by marrying his twenty-three year old son Anthony.
Jane Russell
I have always held a grudge against directors who make basic, senseless mistakes in their films. For example, tyres squealing on sand; Red Indians massacring whites and leaving behind arrows, (even lances and tomahawks), buried in their victims, items they had probably taken months to make; hand grenades that create a foxhole for half a dozen grateful GIs to jump into when they explode, and so on. In Macao there are two chases that culminate in a murder. Each time a thug hurls a knife into the back of his victim. The blade only penetrates an inch or so, yet both times the victim is immediately killed! What did these guys die of? It certainly was not loss of blood. The first man was dead as he hit the water, instantaneously. The second, because he had to deliver a dying warning to the hero, succumbed about thirty seconds after being hit. I am no doctor but that kind of scenario is ridiculous. I remember in DeMille's Unconquered (1947), a trapper dying instantly from an arrow wound in his stomach! Movie-makers must think the average cinema-goer is an idiot.
Director Nicholas Ray
These stupid scenes in Macao actually paled into insignificance, however, when Jane, attempting to defend herself from Mitch in one scene, picked up a portable fan and advanced towards him brandishing it! Quick as a flash, Mitch grabbed a pillow and shoved it into the fan. Feathers flew in all directions and he was saved from being cut to pieces (no doubt) by his quick thinking. It was a near run thing. How such a lame scene could possibly survive editing is beyond me. The entire movie is a 'non-event', in fact, and its box-office returns showed the public thought so, too. According to studio records, RKO lost about $700,000 on it, making the picture a sizeable flop by 1952 standards.
THE LETTER (1940)                       
The Letter is a terrific movie, brilliantly directed by William Wyler and based on a W. Somerset Maugham novel adapted for the screen by Howard Koch. It has the services of a fine cast headed by Bette Davis, yet hers is not the standout performance in the picture. That honour goes to the greatly under-rated (and all but forgotten) English actor James Stephenson who portrays the defence lawyer Howard Joyce. I first saw him in the Gary Cooper version of Beau Geste (1939), when he played Major Henri de Beaujolais. He was good in that wonderful film and even better in this one. Although he did not win, he received his only Oscar nomination for The Letter. Sadly, he passed away from a heart attack only a few months after the film was released. He was fifty-three.
Bette Davis in The Letter (1940)
The screenplay is faithful to Maugham's novel right up to the final moments when the censors stepped in and altered the ending. They deemed it taboo to have a murder go unpunished, so once the deed was done, a policeman miraculously appears on the scene; shines a torch in the faces of the culprits, and then moves on, leaving us in no doubt that they will be arrested once the body of their victim is discovered.
James Stephenson as Howard Joyce in The Letter
After shooting was completed, Wyler wanted rewrites to make Bette's character more sympathetic. Fortunately, she was able to convince him that such an approach would ruin the movie and the rewrites never happened. Off-screen, Bette and Wyler had been involved in an intimate affair back in 1938, until Willie up and married Margaret Tallichet. Bette was pregnant at the time and unsure if the father was her husband, Henry Fonda, her co-star in Jezebel (1938), or Wyler who was directing the film. She aborted the baby (her third abortion to that time).
Gale Sondergaard
Gale Sondergaard, who was born in Minnesota to Danish parents, played the Eurasian woman Mrs. Hammond in The Letter. Back in 1936, she won the first ever Best Supporting Actress Oscar for her performance (on debut) in Anthony Adverse, and appeared to be set for a major career. However, in 1947, her promising film future came crashing down when she was blacklisted as a Communist by the House Un-American Activities Committee (HUAC). Director Mervyn LeRoy decided to test the industry's reaction to her blacklisting by casting her as Barbara Stanwyck's mother in East Side, West Side (1949), but the negative reaction was such that she did not appear in another major Hollywood film for twenty-eight years.