Albert Finney as Hercule Poirot in Murder on the Orient Express (1974)                                                                                                                  
Filming on Death on the Nile (1978) was over seven weeks and on location in Egypt at Luxor, Aswan, Cairo and Abu Simbel. Make-up calls were made each day for 4 am and filming commenced at 6 am. It stopped every day at noon for two hours because temperatures usually reached about 54 degrees Celsius at around that time! Albert Finney was initially asked to reprise his Hercule Poirot role from Murder on the Orient Express (1974), but he found that the make-up he was required to wear in that film was extremely uncomfortable and he dreaded the thought of repeating the experience, especially in a location that would inevitably be extremely hot. He declined and Peter Ustinov took the role.
At the same time as he was playing Poirot in 1974, Finney was also performing in a stage play and struggling to find enough time for sleep, so a daily routine was devised. An ambulance would arrive and pick up the sleeping actor (still in his pyjamas), the handlers trying not to awaken him in the process. During the half-hour commute to the studio, the make-up artists would begin the foundation work on his face, then complete all the fine detail work at the studio on the (hopefully) still sleeping actor. Little wonder he had few fond memories of playing Poirot.
Jean Hale in In Like Flint (1967)
Dabney Coleman
The leading lady in the James Coburn film In like Flint (1967), is a very beautiful and sexy actress named Jean Hale. She was married for over 20 years to actor Dabney Coleman, who fans of 9 to 5 (1980) will remember as the chauvinist boss who meets his match with his employees Dolly Parton, Jane Fonda and Lily Tomlin. Jean and Dabney's marriage was not a happy one and the couple separated many years before they actually divorced. Her promising career nose-dived when she turned down efforts by Fox to place her in roles that involved semi-nudity. One of those she turned down was a major part in Valley of the Dolls (1967). In 1965, a woman impersonating her stole $10,000 worth of merchandise from several Los Angeles boutiques and was imprisoned. On her release, the same woman again impersonated Jean, marrying a total of ten men across Texas and Oklahoma. Today, Jean is approaching her 80th birthday and is now the only surviving major cast member of In like Flint.
Demonstrators, mostly from the Los Angeles chapter of the 'Vietnam Veterans against the War', waved placards outside the Dorothy Chandler Pavilion on Oscar night, April 9, 1979, that read – 'No Oscars for Racism' and 'The Deer Hunter is a bloody lie!' Director Michael Cimino portrayed all North Vietnamese as sadistic racists and killers. He also insisted that the Russian Roulette scene was based on an actual incident, but was unable to produce any evidence to back up his claim. Most alarmingly, since the film's release, at least 28 people have lost their lives imitating that particular scene. The Deer Hunter won the Best Picture Oscar that year, yet another woeful decision by Academy voters.
Kirk Douglas & John Wayne in The War Wagon (1967)                                                                                                       
In 1964, John Wayne underwent major surgery and lost a lung (and several ribs) to the cancer that ultimately killed him in 1979. In 1966, he flew to the location for The War Wagon, a western co-starring Kirk Douglas, and had to use an oxygen mask throughout the flight because of the difficulty he experienced breathing at altitude. Douglas was shocked to see how fragile 'the Duke's' health really was, and this was over a decade before his death. The extent of Wayne's difficulties, of course, was not shared with the public and he did his best, whenever possible, to divert attention from them by performing most of his own stunts.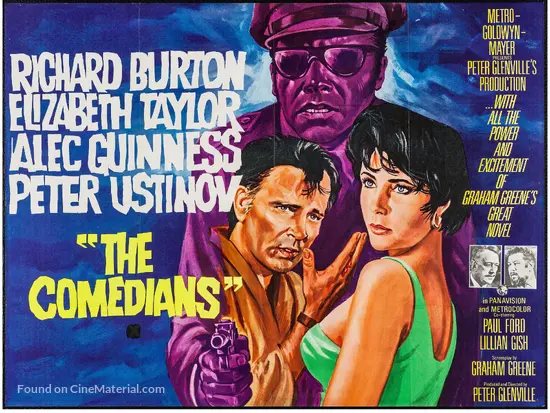 The Comedians (1967) was the seventh of eleven movies that co-starred Dame Elizabeth Taylor and Richard Burton, most of which were as ordinary as dishwater. This one was no exception. Since making Cleopatra (1963), Liz's standard fee for a movie was one million dollars. Producer/director Peter Glenville was determined to sign her for less, so he cunningly told her that Sophia Loren had already turned down the role. On hearing this, Liz agreed to halve her usual fee and do the film for $500,000. Consequently, her decision meant that, for the first time in their films together, Burton received more than her. His price to star in The Comedians was $750,000.
Given the dictatorial power of the Hays Office at the time and given the subject matter, it is most surprising that the 1940 production of Primrose Path was ever made. Ginger Rogers' character in the film comes from a family that includes an alcoholic father and a mother and grandmother who made their living from prostitution! Critics felt Ginger's performance was worthy of an Oscar but the subject matter pretty much ensured that was never going to happen. The risqué material was enough to see that the movie was generally overlooked at Oscar time, although Marjorie Rambeau (as Ginger's mother) was surprisingly nominated in a supporting role. The film was banned outright in Detroit and the studio reluctantly agreed to 'kill off' Marjorie's character; the price she had to pay (said the censors) for her life of sin. Ginger actually won the Oscar that same year for Kitty Foyle, her performance said to have been far inferior to her turn in Primrose Path.
Jiminy Cricket
Ward Kimball
Legendary Disney animator Ward Kimball was given as his first assignment, the task of creating Jiminy Cricket for the 1940 animated feature Pinocchio. Walt Disney thought his first effort was 'too gross' and ordered him to make Jiminy 'more cute', so Kimball 'borrowed' a gentleman's outfit from the Johnny Walker whiskey label, gave Jiminy an over-sized, green human-like head, and removed all insect features from his new creation. As Kimball expressed later: 'The audience accepts him as a cricket because the other characters say he is.' Very true.
Julie Christie as Lara in Doctor Zhivago (1965)
Actors and actresses are always turning down roles they later wish they had accepted. Jane Fonda, for instance, was offered the role of Lara Antipova in Doctor Zhivago (1965), but she did not wish to spend nine months shooting in Spain and apart from her fiancée Roger Vadim. She reluctantly declined and the choice role went to Julie Christie. The rest is cinematic history. Of all the films Jane has turned down in her career, not playing Lara hurt the most.