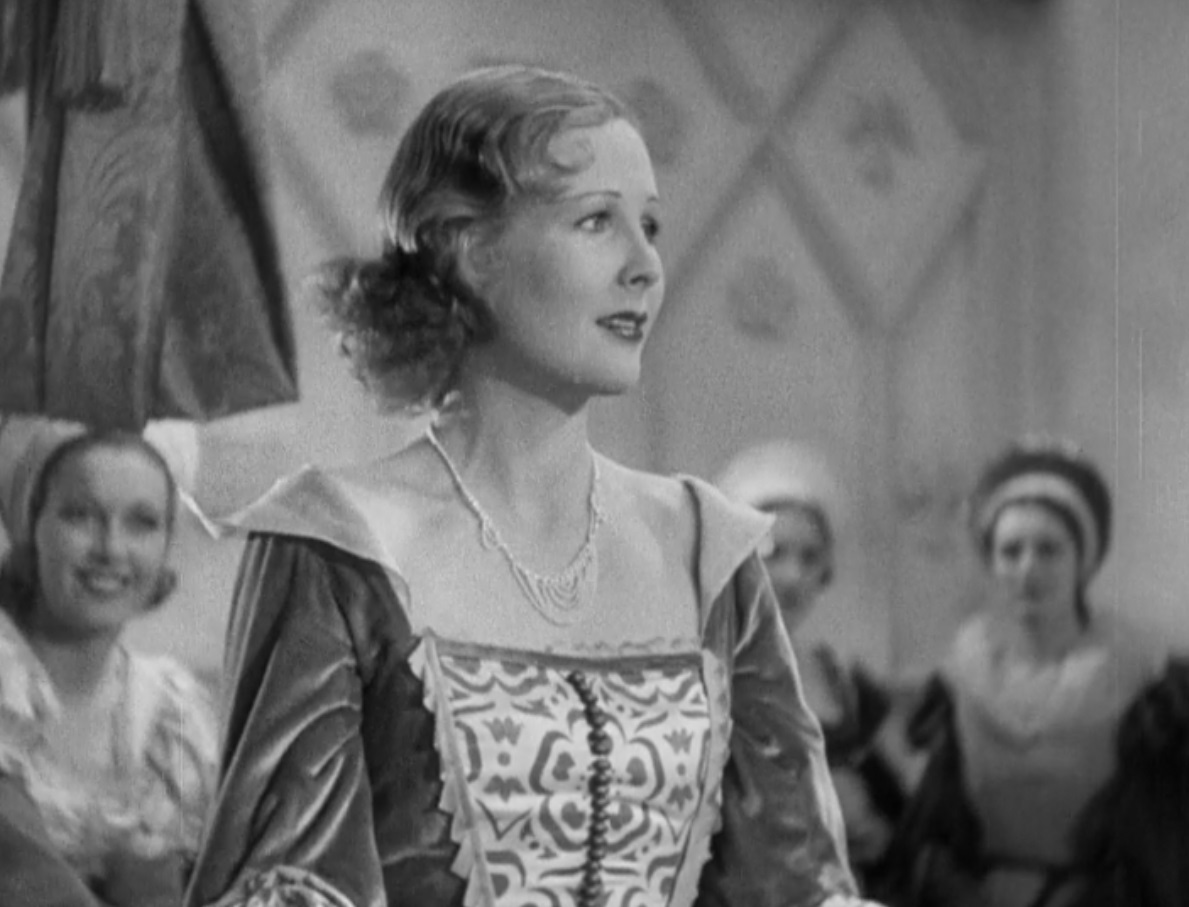 Wendy Barrie as Jane Seymour in The Private Life of Henry VIII (1933)
Whenever I see the Alexander Korda feature The Private Life of Henry VIII (1933), the one in which Charles Laughton so memorably plays the title role, I find myself drawn to the actress playing Jane Seymour, a starlet named Wendy Barrie. Born in Hong Kong less than a week after RMS Titanic slipped beneath the waves of the North Atlantic, Wendy was 'discovered' by Korda while lunching at the Savoy Grill in London and promptly cast as Miss Seymour. Hollywood beckoned a year later and she enjoyed a stint with Paramount, Universal and RKO until her star waned in the forties. After that, the only headlines she garnered were as the mistress of mobster Benjamin 'Bugsy' Siegel until he encountered Virginia Hill and the wrong end of a sniper's rifle after the war. Wendy died in 1978 after a stroke.
Joan Crawford was mid-way through her marriage to Franchot Tone when she co-starred with Spencer Tracy in Mannequin (1937). Ignoring her marital status, she found time to sleep with Tracy during the shoot. Her future husband, Phillip Terry, had a small uncredited part in the picture. So did Joan's real life brother, Hal Le Sueur. In fact, Hal appeared in a total of 27 movies over his less than illustrious career, earning the (possibly) unique distinction of being listed as 'uncredited' in every one of them! He and Joan disliked each other. 'For personal reasons', he told an interviewer in 1954, 'I must refrain from saying why I never see my sister. I don't feel it is the proper time to talk.' He died from a ruptured appendix in 1963, aged 59.
Brian Donlevy confronting Charles Barton in Beau Geste (1939)
In the wonderful 1939 remake of Beau Geste the roles of Hank and Buddy, the American friends of the Geste brothers, were played by Broderick Crawford and Charles Barton. Crawford went on to win an Oscar for All the King's Men a decade later. Barton had already won an Oscar as an assistant director at Paramount back in 1934, but fell out with the studio after being ordered to work with the autocratic Cecil B. DeMille on Union Pacific (1939). Paramount punished him for walking out on DeMille by placing him in the miniscule role of Buddy in Beau Geste, so he moved to Columbia and later to Universal. Bearing a strong facial resemblance to Lou Costello, he directed Abbott & Costello in their best film – Abbott and Costello Meet Frankenstein (1948).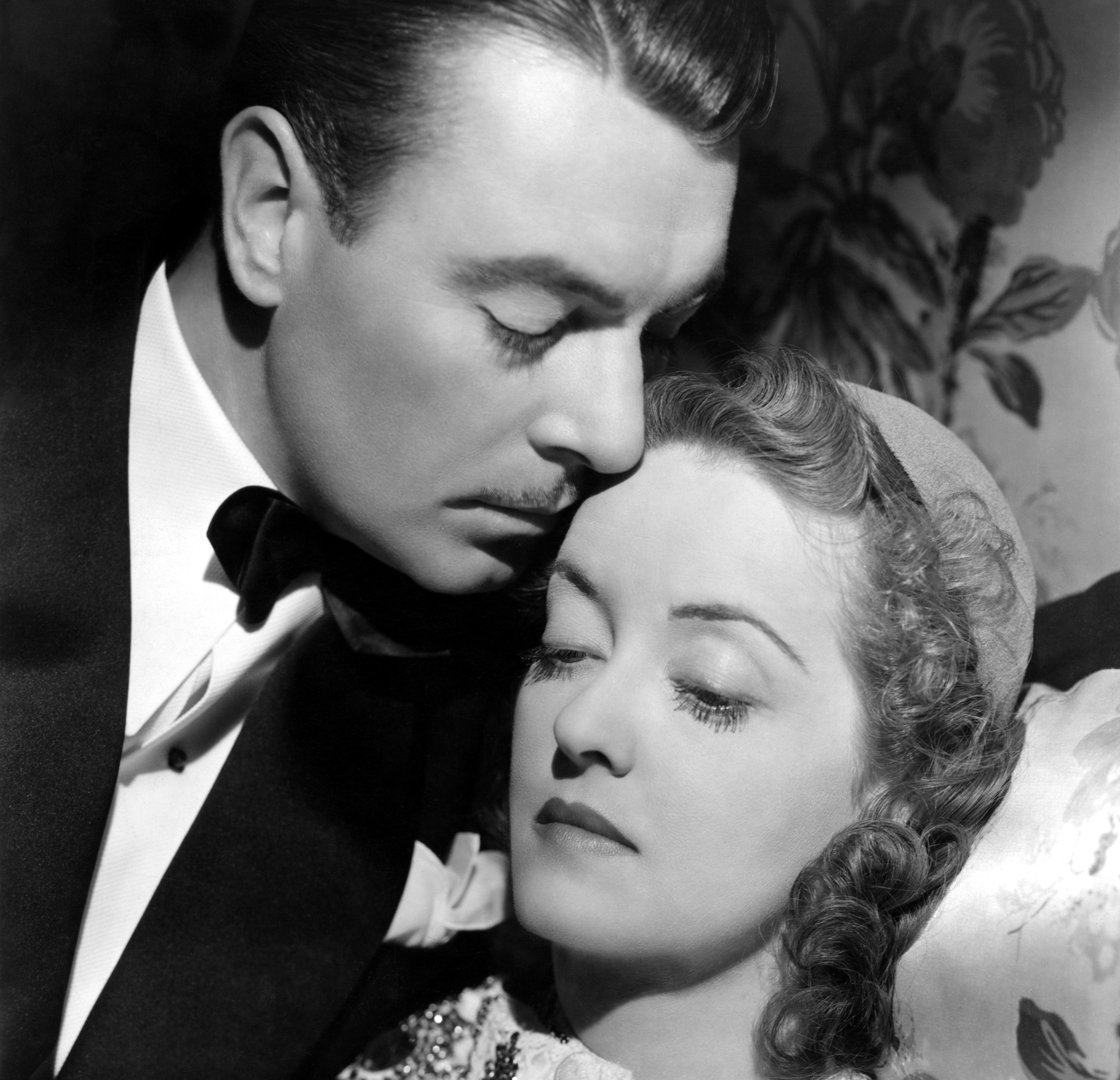 George Brent & Bette Davis in Dark Victory (1939)
Jack Warner fought against making Dark Victory (1939), arguing that nobody was interested in a movie about someone going blind. Bette Davis disagreed and won the role, one she considered to be her best ever performance in front of the camera in a long and illustrious career. Best performance or not, she did not have a great time making the picture. In fact, she suffered a nervous breakdown during the shoot, probably because of her crumbling marriage to Harmon Nelson, complicated further by the hot affair she embarked upon with her co-star George Brent.
The scene in which Quasimodo (Charles Laughton) rings the cathedral bells for Esmeralda in the 1939 version of The Hunchback of Notre Dame, was shot on the very day that World War Two began in Europe in 1939. Visibly upset by the announcement that war had once again come, he continued to ring the bells to the point of exhaustion. He then took advantage of a lull in the day's filming to recite Abraham Lincoln's Gettysburg Address in front of the entire cast and crew; a recitation he delivered in his full Quasimodo make-up and costume. The movie was screened at the very first Cannes Film Festival, although the remainder of the festival was cancelled when Hitler's troops invaded Poland on September 1, 1939.
The 1994 film I Love Trouble was well-named. Its two stars, Julia Roberts and Nick Nolte immediately disliked each other the moment they met on the set. This mutual dislike intensified to the point where most of their scenes together, especially the romantic ones, were shot with stand-ins. 'He can be completely charming and very nice', Julia told an interviewer, 'but he is also completely disgusting…he seems to go out of his way to repel people.' She then added that he was the worst actor she had ever worked with. Nolte allegedly responded: 'It's not nice to call someone 'disgusting'. But she's not a nice person. Everyone knows that.' Many critics believe that the scene in which Julia is caught swimming naked by Nolte's character and a group of boy scouts, was done simply as a 'money shot' to pay for much of the picture's advertising campaign
Olivia deHavilland & Bette Davis in Hush…Hush, Sweet Charlotte (1964)
Bette Davis's terrific performance in the 1964 thriller Hush…Hush, Sweet Charlotte went unrecognised by the Academy at Oscar-time. Agnes Moorehead was unsuccessfully nominated for a Supporting Oscar but would go on to pick up a Golden Globe for her performance anyway. Olivia de Havilland, acting against type, replaced Joan Crawford in the film and she is very good. Poor Olivia will be forever remembered for her 'too good to be true' turn as Melanie in 1939's Gone with the Wind, but the lady was more than capable of convincingly portraying a 'heavy' when required to do so, as she so adequately demonstrates in this picture.
It is common knowledge there was no love lost between Olivia and Crawford, the lady she replaced here. When production recommenced on September 9, 1964, Olivia and Bette toasted the absent Joan with a catty version of the 'Ding Dong the Witch is Dead' routine. Co-star Joseph Cotten and director Robert Aldrich joined in, the toast being deliberately done with Coca Cola; a deliberate crack at Joan who was currently on the Board of Directors at Pepsi! In fairness to Miss Crawford, she had been dismissed from the picture rather shabbily, having first learned of her replacement in a radio news bulletin. 'Aldrich knew where to long distance me all over the world when he needed me', she understandably complained, 'but he made no effort to reach me here, to tell me he had signed Olivia…frankly, I think it stinks.'