John Wayne accepts Gary Cooper's Oscar for High Noon
John Wayne and Ward Bond, two staunch supporters of the Senator McCarthy witch-hunts of the late forties and early fifties, were incensed over Carl Foreman's screenplay for High Noon (1952), which they knew was a thinly disguised allegory for the HUAC persecutions. Both actors actually ordered Gary Cooper to turn down the leading role but he refused to do so, warning him that the HUAC were about to blacklist Foreman. Wayne especially hated the picture yet, surprisingly, accepted the Best Actor Oscar on Cooper's behalf at the Academy Awards. Fifty year-old Coops was very ill with an ulcer during filming, but still managed a hot affair with 21 year-old Grace Kelly over the duration of the shoot.
         Lt-Col John 'Mad Jack' Churchill
One of the expert archers shooting arrows from the walls of Warwick Castle in the 1952 feature Ivanhoe, was the legendary John 'Mad Jack' Churchill (no relation to Winston), a former British soldier who forged for himself a unique niche in military history. During World War Two Lt-Colonel Churchill went into battle equipped with a claymore sword, a bow and arrows and playing the bagpipes! Furthermore, he is officially recognized as the last soldier to actually kill an enemy with a longbow. He was known for his motto: 'Any officer who goes into action without his sword is improperly dressed.' He was no martinet, however, but a brave soldier who earned a Military Cross and DSO with Bar under fire.
                   Warren Beatty
If anyone has ever wondered what it takes, numbers-wise, to be considered one of Hollywood's major Lotharios, the following may give you cause to rethink your chances of joining the elite upper set. In his biography Warren Beatty claimed he slept with (wait for it) a total of 12,775 women prior to his marriage to Annette Bening! One presumes he kept a diary (or should I say several diaries).  That great lover Charlie Sheen claims to have had about 5,000 lovers, although once we deduct the ones he paid for, well… Jack Nicholson lays claim to having had around 2,000 lovers, although 'sexual encounters' might be a more accurate term in most cases.
Richard Boone & Peter Lawford in Kangaroo                                      Maureen O'Hara
In Maureen O'Hara's 2004 autobiography Tis Herself, she wrote about making a very ordinary feature in Australia titled Kangaroo (1952). According to her, during the shoot her two co-stars, Peter Lawford and Richard Boone, were allegedly arrested in a gay brothel 'full of beautiful boys'. The Australian press did not report the incident because 20th Century Fox's trouble-shooters managed to somehow hush it up. The rumour also goes that Maureen had a quiet chat with a gaggle of reporters and charmed them into leaving the story alone as a special favour to her.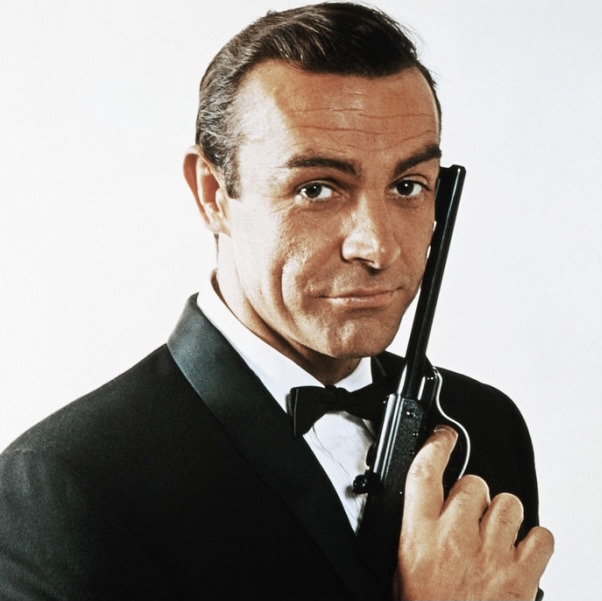 Sean Connery as James Bond
At the height of his fame as James Bond, Sean Connery was asked how he personally felt about roughing up women. 'I don't think there is anything particularly wrong about hitting a woman', he replied. 'Although I don't recommend doing it in the same way you'd hit a man. An open-handed slap is justified – if all other alternatives fail and there has been plenty of warning. If a woman is a bitch, or hysterical, or bloody-minded continually, then I'd do it.' Not an overly gallant response, one would have to say.
                    Virginia Christine
The name Virginia Christine probably does not mean much to most movie buffs, but she was a former leading lady (later character actress) who graced scores of movies and guested on TV shows for over 35 years. She starred opposite Lon Chaney in The Mummy's Curse (1944), but today is mostly remembered for her 21 year stint on TV (beginning in the sixties) as the matronly Mrs. Olson in the Folgers Coffee ads. This wonderfully versatile lady was a concert pianist, a trained lyric soprano and a dancer. She also spoke four languages – English, German, French and Swedish. You may not recall her name, but her face should be most familiar.
                Clifton Webb & Gene Tierney in Laura
Clifton Webb was 54 years old when Otto Preminger insisted on starring him as Waldo Lydecker in the 1944 classic Laura, despite Darryl F. Zanuck's vehement objections. Webb had last appeared on screen way back in 1925, yet his return in Laura resulted in an Oscar nomination. Gene Tierney played the title character and, according to her husband Oleg Cassini, the birth of their daughter Daria with an intellectual disability (caused by Rubella) hit Gene hard. A fan had passed on German measles to the pregnant actress during Tierney's only appearance at the Hollywood Canteen. Cassini believed his wife's 'lifeless' quality in Laura resulted from her trauma over Daria's condition. 'After Daria', said Cassini, 'there was a distance I never seemed to be able to bridge.'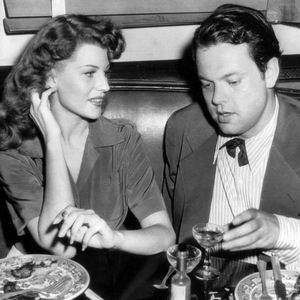 Rita Hayworth & Orson Welles
Orson Welles fell out of love with his new bride Rita Hayworth very quickly, in response to what he unkindly referred to as her 'emotional neediness'. When she accused him of cheating on her (which he did on a regular basis), he retaliated by conducting yet another very public affair, this time with the emotionally fragile Judy Garland. Although the Welles-Hayworth marriage dragged on for five years, the love was gone long before that.
         Joan Crawford & Sterling Hayden in Johnny Guitar
Making the 1954 western Johnny Guitar was not a happy experience for those involved. The leads, Sterling Hayden and Joan Crawford, loathed one another, and Joan was bitterly jealous of the much younger Mercedes McCambridge, fighting with her at every turn. Director Nicholas Ray recalled often stopping his car on the way to each day's filming, in anticipation of another troubled day, in order to throw up! Crawford's mood was not improved when New York Times critic Bosley Crowther wrote: 'No more femininity comes from her than from the rugged Mr. Heflin in Shane. For the lady, as usual, is as sexless as the lions on the public library steps, and as sharp and romantically forbidding as a package of unwrapped razor blades.' Ouch!
Charles Chaplin sailed to London for the 16 October 1952 world premiere of his feature film Limelight. While aboard ship he was unaware that his public opposition to a few of America's domestic and foreign policies had seen ultra-conservative politicians whip up an anti-Chaplin frenzy that culminated in his US re-entry visa being revoked. It was the 'Red Scare' era in America and his enemies managed to maliciously imply that he had a connection to the Communist Party. It was enough to see him barred from returning to the USA for decades.