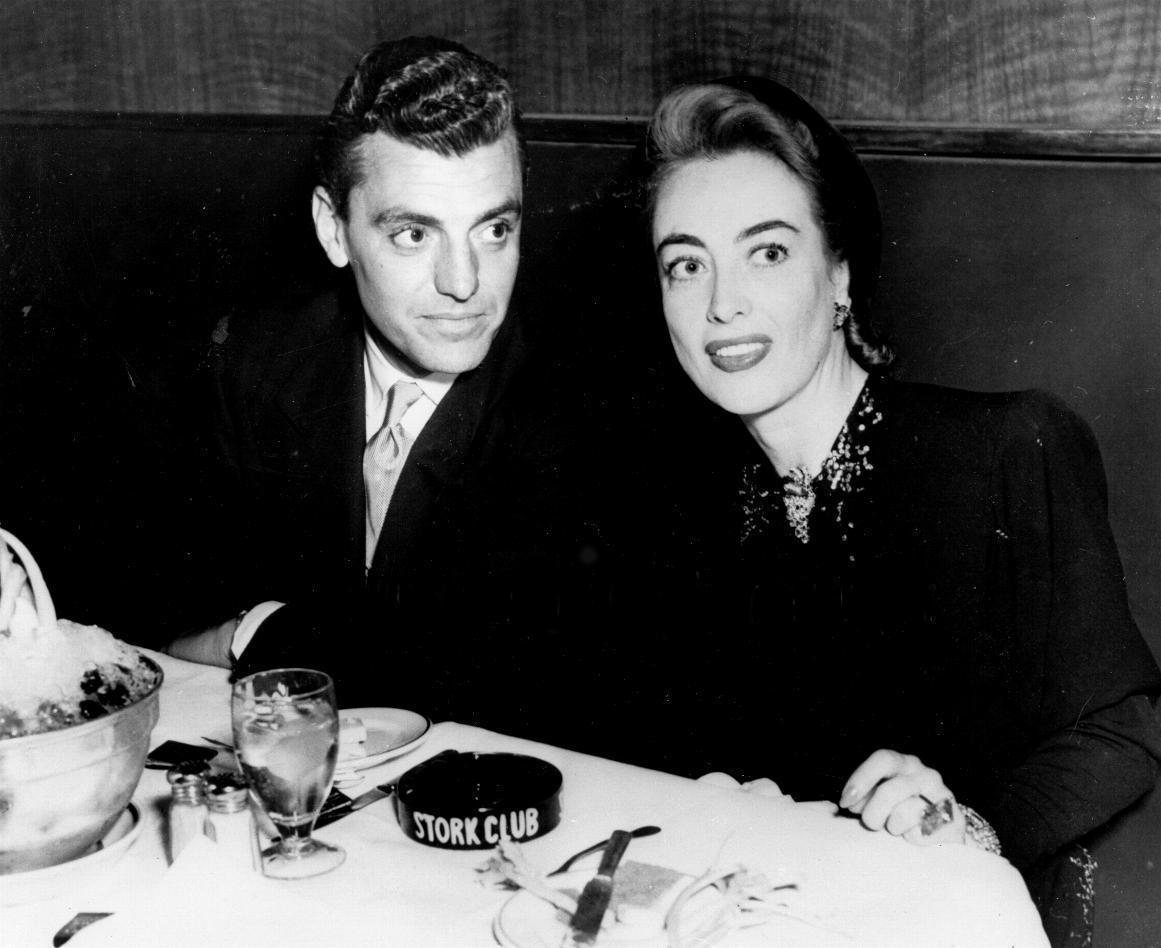 Greg Bautzer & Joan Crawford at the Stork Club                                          Bautzer and his wife Dana Wynter
The Hollywood playboy attorney Greg Bautzer spoke from experience when he said of Joan Crawford that, 'a night with Joan was better than a year with ten others.' They dated intermittently over 10 years and both of them enjoyed rough sex, often appearing with bruises or cuts after a night together. In the 1981 movie Mommie Dearest, he was the character referred to as 'Uncle Greg'. In 1956 he married the British beauty Dana Wynter, a union that ended in divorce 24 years later. They had one child together.
                        Linda Darnell & Joseph L. Mankiewicz
Joseph L. Mankiewicz won Oscars for Best Director and Best Screenplay for A Letter to Three Wives (1949). He also enjoyed a romantic affair with one of the picture's leading ladies, Linda Darnell, who desperately wanted him to leave his wife and marry her instead. Twenty-five year old Linda had been acting in Hollywood since she was 16 and had acquired a rather unsavoury reputation as a man-eater along the way. There was no way the writer/director was ever going to get serious about her and everyone knew it.
The 1954 romance Sabrina was ruined from the outset because it was poorly cast. Most movie-goers would agree that William Holden, not Humphrey Bogart, should have played the older brother Linus, and a younger actor should have been chosen to play David. The set was not a happy one either. Bogart thought Audrey Hepburn could not act, he and Holden detested one another, and there was a major disparity in payments for the three stars. Bogart received $300,000, Holden $150,000 and Hepburn a paltry $15,000. To complicate things even further, Bogart had wanted his wife Lauren Bacall to play Sabrina. Then Holden and Audrey fell in love during filming.
             Crawford and her Oscar
In 1946, Joan Crawford was Oscar-nominated for Mildred Pierce. Referring to her competition, she had this to say: 'I can compete with a servant girl [Greer Garson], with a tramp [Gene Tierney], an amnesiac [Jennifer Jones], but not with a nun. She was alluding to Ingrid Bergman's nomination for The Bells of St. Mary's. Joan was so sure Ingrid would win, she did the only thing she could think of. She feigned a dose of the 'flu' and stayed home on awards night. However, she had her hairdresser and make-up man on call in the next room – just in case. When her name was announced as the winner, she ordered them to go to work on her before the press came calling. Then she hosted an all-night 'after-party'! The next morning her picture, sitting up in bed clutching her Oscar, knocked every other winner off the front pages of newspapers around the world.
                    George Sanders
Super-suave George Sanders made no bones about his intentions of keeping out of World War Two, come hell or high water. 'Luckily I hold three passports', he proclaimed, 'Russian, American and British. I shall play one off against the other till they either give up or order me to do something. Then I shall immediately become a Quaker and if they tell me to drive an ambulance, I shall crash so many learning how to drive that they'll send me home'. True to his word, he spent the entire war safely ensconced in Hollywood.
     Liz & Bob in Conspirator – publicity still
In the 1949 feature Conspirator, the age difference between the two leads was really noticeable. The picture was billed as Elizabeth Taylor's first 'adult' role, despite her being barely 16 when filming began. She hated making the movie because her leading man, 37 year-old Robert Taylor, persisted in making several clumsy attempts to seduce her. Ironically, the American-born Bob played an Englishman and the London-born Liz played an American.
                Gary Cooper & Patricia Neal in The Fountainhead
Newcomer Patricia Neal was just 22 years old when she was chosen to play Dominique Francon in The Fountainhead (1949) opposite 47 year-old Gary Cooper. He was dead against her getting the role, yet by the time filming was completed 59 days later, the two were deeply in love. Their affair would last three years. In 1951 Coops separated from his wife with the intention of marrying Miss Neal, but he never quite got around to filing for divorce. By 1954 the affair had fizzled out and he reconciled with his wife. In a 2008 interview Patricia confided: 'I loved Gary Cooper for years and years and years. And I still love him. He was the most gorgeously attractive man. Bright, too, though some people didn't think so.'
                        Walter Wanger & his wife Joan Bennett
Producer Walter Wanger (his surname, when pronounced, rhymes with 'stranger'), was married to actress Joan Bennett for 25 years. In 1951 he learned that she was having an affair with her agent, a man named Jennings Lang. On discovering them together in Lang's car at a car park, Walter produced a gun and shot her paramour in the testicles. Convicted of attempted murder, he was ordered to serve just four months on a County Honour Farm, 40 miles north of Los Angeles. His attorney, Jerry Giesler, had pled 'temporary insanity' for his client, then thrown himself on the mercy of the court. And it worked. Surprisingly, Walter and Joan remained husband and wife for a further 14 years.
Dorothy Dandridge with Otto Preminger                     with her 2nd husband Jack Denison                          Peter Lawford                                     Nat 'King' Cole
In 1942 Dorothy Dandridge married Harold Nicholas, one half of the dancing Nicholas Brothers. He was a superb hoofer, possibly one of the best ever, but he was also an inveterate philanderer. The couple had a daughter who was born disabled and the marriage ended in 1950. Dorothy's second husband was actually worse than her first, an abusive, slimy individual named Jack Dennison (or Denison), whom many still believe may have murdered her. The official cause of Dorothy's death reads, 'accidental barbiturates overdose', but not everyone accepts that verdict.
Another of her lovers was actor Peter Lawford. They enjoyed a lengthy affair but terminated it because of the danger to both their careers if it became public. Lawford was clearly crazy about her. At her funeral he was so grief-stricken he was unable to deliver the eulogy. Late in her life Dorothy became involved with legendary singer Nat 'King' Cole. He was just 45 when cancer claimed him in February 1965. Dorothy followed him to the grave seven months later. She was 42.
The Catholic Legion of Decency (CLOD) suffered its second consecutive dent to its highly dubious credibility when it condemned Susan Slept Here (1954), primarily because of its title. The Legion had no problem with George Washington Slept Here (1942), but the title Susan Slept Here evidently rang moral alarm bells, so it was quickly condemned. Just one year earlier the legion had condemned The Moon is Blue because the word 'virgin' had appeared in the script! Condemnation by the CLOD was tantamount to a box-office death sentence for a movie.