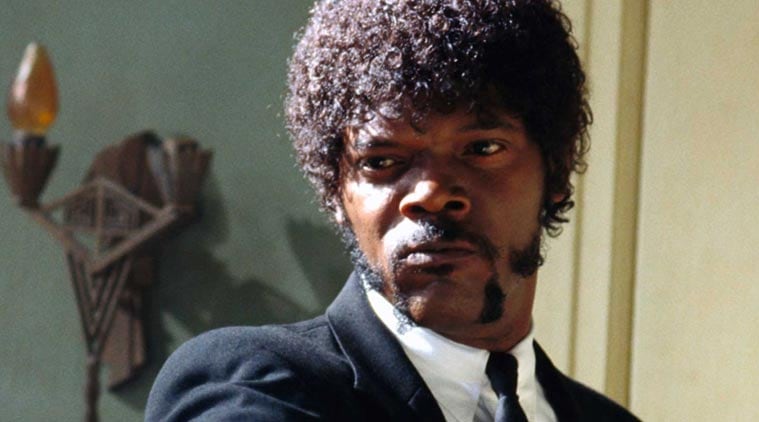 Samuel L. Jackson in Pulp Fiction
Why did John Travolta get nominated for Best Actor in Pulp Fiction (1994), while Samuel L Jackson had to settle for the lesser Supporting Actor nomination? And how did the mediocre performance by Martin Landau in Ed Wood win out over Jackson's assassin in Pulp Fiction? And why was Denzel Washington asked by the now notorious Harvey Weinstein to campaign for the secondary award to give co-star Tom Hanks a clear shot at Best Actor for Philadelphia (1993)? Denzel flatly refused and ended up not being nominated for either. Could it have had anything to do with the fact that, prior to 1995, only one black actor, Sydney Poitier for Lilies of the Field in 1963, had ever won Best Actor in the history of the Academy Awards?
                 Tilda Swinton as Jadis the White Witch in The Chronicles of Narnia
Tilda Swinton plays Jadis the White Witch in The Chronicles of Narnia: The Lion, the Witch & the Wardrobe (2005). At 1.79m she is one of the taller actresses around and in great demand. Even so, she wore platform shoes as Jadis to appear even taller. Born to an English Major-General father and an Australian mother, she attended West Heath Girls' School where one of her classmates was the late Princess Diana. The androgynous Tilda has been in a relationship with New Zealand painter Sandro Kopp since 2004.
                                                                          Animal Farm
Parents who took their kids along to see Animal Farm (1954) were shocked by the 'darkness' of this animated feature, probably because they were conditioned to the 'feel good' Disney cartoon animation. They would have been even more shocked had they known that the rights to the George Orwell story had been purchased by none other than the Central Intelligence Agency (CIA), who covertly funded the operation as anti-Communist propaganda. And the head of the operation to obtain the film rights from Orwell's widow Sonia was none other than a gentleman named E. Howard Hunt, later famous as one of President Richard Nixon's Watergate burglars! Part of the deal was for Sonia to meet her idol Clark Gable. It was arranged. Interestingly, English actor Maurice Denham provided all the animals' voices. Every one.
In the days before VCRs and DVDs, billionaire Howard Hughes would make a call to the Las Vegas TV station he owned and tell them to telecast his favourite movie. It happened to be the very ordinary Ice Station Zebra (1968), and Hughes had an obsession about it. In fact, he instructed the station to screen it more than one hundred times, just so he could enjoy it over and over. Australian Olympic swimming champion Murray Rose (3 gold medals in 1956) was cast as Lt. George Mills. No doubt he would be the first to acknowledge that he was a terrible actor.
                                                                                                           Rod Steiger                                                                                        Margot Kidder
In 1974, the house at 112 Ocean Avenue in Amityville, New York, became the scene of a multiple domestic murder, when a 23 year-old man killed the other six members of his family who lived there. The Amityville Horror (1979), plus several other books and films, tried to claim that the building was constructed on an ancient Native American burial ground and was haunted as well. Neither claim was true. Margot Kidder appeared in the picture, as did Rod Steiger. 'What a piece of shit!' was how Margot described the film. 'I couldn't believe that anyone would take that seriously. I was laughing my whole way through it, much to the annoyance of Rod Steiger, who took the whole thing very seriously.'
                                                                                                                                          John Hertz Jr & Myrna Loy 1942
It would probably be safe to assume that most of the many fans of William Powell and Myrna Loy in 'The Thin Man' series of movies were under the impression that Powell's character, Nick Charles, was 'The Thin Man'. In fact, he was not. The character was actually a missing scientist played by Edward Ellis in the 1934 original. The film was so popular it was decided to carry the name on in the sequels. Not until The Thin Man Goes Home (1944) did the title refer to William Powell's character. This was the fifth of the six 'Thin Man' films and was supposed to be shot in 1942, but it was delayed because Myrna Loy got herself married to John Hertz Jr, the heir to the Hertz car rental business.
Tommy Rettig, Robert Mitchum & Marilyn Monroe in River of No Return
River of No Return (1954) was a difficult shoot for director Otto Preminger. He had to contend with frequent rain interruptions on location near Banff, Canada and with Robert Mitchum's heavy drinking. The constant interference from Marilyn Monroe's voice coach Natasha Lytess drove him to distraction, so much so that he had her removed from the set. Marilyn simply called Darryl Zanuck and informed him that she could not possibly work without the woman. Zanuck promptly told Preminger to allow her back on the set. Marilyn was the star and a huge drawcard. Years later, Preminger acknowledged her efforts. 'She tried very hard', he admitted, 'and when people try hard, you can't be mad at them.'
                                    Heston & Welles in Touch of Evil                                                                                   Akim Tamiroff
In Orson Welles' Touch of Evil (1958), character actor Akim Tamiroff has a nasty death scene, strangled so savagely that his tongue was unnaturally distended from his mouth. For realism, Orson wanted him to put the butt of a lamb's tongue in his mouth. Akim did as he was asked but the lamb's tongue proved too disgusting to show on-screen and it did not make the final print. Poor Tamiroff had suffered the ordeal for nothing. Zsa Zsa Gabor has a brief spot in the picture because she was producer Albert Zugsmith's girlfriend at the time. Charlton Heston, believe it or not, played a Mexican!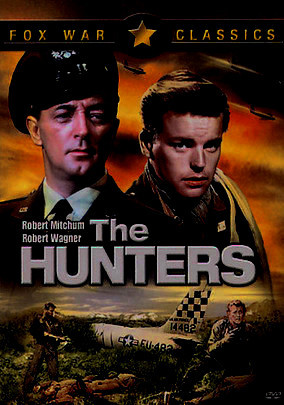 Lt. Barty Brooks
In the 1958 Korean War film The Hunters, a fiery crash kills Lt. Corona early in the picture. The footage of the crash is real and shows the F-100 Super Sabre piloted by Lt. Barty Brooks exploding on landing at Edwards Air Force Base on January 10, 1956. Lt. Brooks was thrown clear of the crash in his ejection seat but died instantly from blunt trauma.
                 Bruce Dern, Laura and Diane Ladd                                                           Laura Dern in Jurassic Park
White Lightning (1973) was the first of the car-stunt movies set in the American south starring Burt Reynolds in the 1970s. This picture, a sequel titled Gator and the Smokey and the Bandit films turned him into a superstar. Diane Ladd plays Maggie here, but look for her six-year old daughter Laura Dern in a walk-on bit screen debut. She would later star in the Jurassic Park movies.