Greer Garson & Walter Pidgeon                     Greer & her husband Richard Ney                     Teresa Wright, Ney & Garson in Mrs Miniver
I just watched Mrs. Miniver (1942) on television (yet again), and once again the performance by Greer Garson is as superb as ever. It has not dated one iota. No wonder she was LB Mayer's favourite. The lady had enormous natural beauty, femininity in abundance and talent to burn. The movie, of course, is an exercise in propaganda, one that even impressed Germany's Joseph Goebbels, a propaganda expert if there ever was one. Both Greer and Teresa Wright won Oscars for their performances. Miss Wright was always a fine actress, adored by her colleagues and movie fans alike. She also knew a good part when she saw one. The only sour note is the gushing, utterly irritating turn from Richard Ney who played Greer's son Vin. I blame the writers. They had the power to kill him off and yet they let the twit live. Unforgiveable. Once shooting was completed, Ney (who played Greer's son in the movie) and Garson announced their intention to marry.
                    James Stewart & Grace Kelly in Rear Window
The romance between James Stewart's character and Grace Kelly's in Rear Window (1954), was inspired (according to director Alfred Hitchcock) by the real life romance between photographer Robert Capa and Ingrid Bergman. All of Paramount's executives knew of Grace's penchant for bedding her co-stars. They also heard her comment that Stewart was one of the most masculinely attractive men she had ever met. Stewart's wife heard it too, so she made a point of driving her husband to and from the set every day. Grace really was a knockout, however. 'Everybody just sat around and waited for her to come in in the morning', Jimmy recalled, 'so we could just look at her. She was kind to everybody, so considerate, just great, and so beautiful.'
                                 Elizabeth Hartman                                                                                                             Brenda Benet
Sadly, two of the actresses appearing in Walking Tall (1973) would later commit suicide. Elizabeth Hartman, a very shy and timid woman in real life, leapt from the 5th floor of a Pittsburgh apartment building in 1987. She was 44. At 22 she became the youngest ever (to that time) Best Actress Oscar nominee for A Patch of Blue (1965). Brenda Benet, the former wife of actor Bill Bixby, shot herself in 1982, devastated by the death of her 7 year-old son Christopher. She had also just reunited with her former girlfriend, an openly gay talk-show host named Tammy Bruce, but their relationship broke down again. It was Tammy who found 36 year-old Brenda dead in the bathroom.
                               Meryl Streep in Silkwood
Meryl Streep played Karen Silkwood in Silkwood, a 1983 drama based on the true story of a young woman who worked for the Kerr-McGee Cimarron Fuel Fabrication Site, an Oklahoma plutonium plant, in 1974. A scene showing Karen setting off a radiation alarm at the plant actually happened. Her level of contamination was forty times the safe limit. The 28 year-old Karen died in 'a single car accident' while allegedly on her way to meet a New York reporter to talk about contamination at the facility. A few years ago a television reporter visited her Texas graveside with a Geiger counter. The grave still emitted enough radiation to set the counter clicking.
                                 Jan Sterling in The High and the Mighty                                                      The Hindenburg disaster 1937
Jan Sterling was required to completely shave off her eyebrows for the climactic scene in The High and the Mighty (1954) and they never grew back. It was not common knowledge, but Jan was just 16 when she decided to leave London and try her luck in California in 1937. Determined to arrive in the movie capital with a supply of fancy lingerie, she cashed in her flight ticket and purchased a cheaper ship's passage, spending the balance on her wardrobe. It was a fortuitous decision. Her flight was to have been aboard the doomed airship Hindenburg which caught fire and crashed at Lakehurst, New Jersey on May 6, 1937.
                              Angelina Jolie & Winona Ryder in Girl Interrupted 
Convinced it would be her big chance to crack the acting A-list, Winona Ryder attempted to purchase the rights to Girl Interrupted (1999), but was beaten to it by Douglas Wick. When he encountered a brick wall chasing finance for the picture, Winona came on board as a producer on the condition that she be given the role of Susanna. The movie certainly catapulted one of its stars into the A-list, but it was not Winona. Angelina Jolie won the Oscar and instant fame.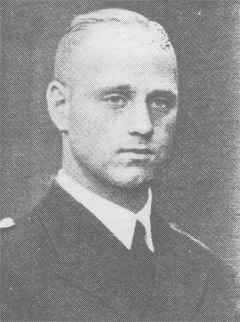 Heinz Hirsacker
The German-made Das Boot (1981) brilliantly portrayed life aboard U-Boats in World War Two. The character of Phillip Thomsen is loosely based of Heinz Hirsacker, the real life commander of U-572, who repeatedly avoided enemy shipping and regularly headed for port at the first sign of danger. Charged with cowardice he was sentenced to death but suicided in 1943 before the sentence could be carried out.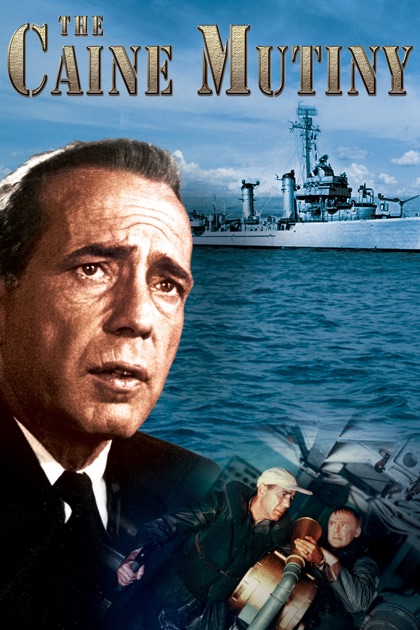 There is a scene in The Caine Mutiny (1954) where Ensign Keith takes May to Yosemite and they witness the famous 'Fire Fall'. At 9pm each evening in Camp Curry a man would call out to the top of Glacier Point, 'Let the fire fall!' There would be a faint reply from above and a great bonfire of red fir bark would be pushed over the edge of the cliff. Onlookers below would be treated to a glowing waterfall of sparks and fire – the famous 'Fire Fall'. The tradition was ended in 1968 by the Park Service Director and it has not been seen since. It is generally believed that the best available footage of this man-made ceremony can be seen in The Caine Mutiny.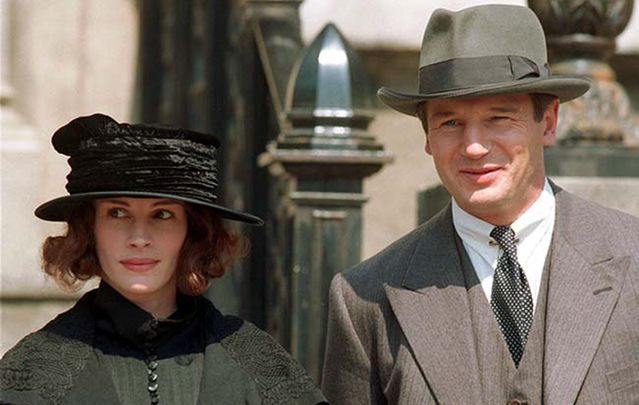 Julia Roberts & Liam Neeson in Michael Collins
When Julia Roberts agreed to co-star with her former live-in lover Liam Neeson in Michael Collins (1996), there was considerable trepidation about re-uniting the pair. The fears turned out to be groundless, however, for Liam was happily wed to Natasha Richardson and giddy over their new child. Julia quickly reignited her affair with Daniel Day-Lewis anyway. Even before filming started they had set up housekeeping in her Manhattan apartment, Julia telling an interviewer that she 'couldn't be happier'. The rekindling of their romance soon petered out for a second time.
    Raquel Welch, Damon Welch & Rebecca Trueman 1991                 'Fiery' Fred Trueman
Raquel Welch's son Damon married and divorced Rebecca Trueman, a daughter of English Test Cricket fast bowler 'Fiery' Fred Trueman. Raquel has since admitted that she deliberately turned up late for the ceremony as a publicity stunt, completely stealing the bride's thunder on her big day.  Back in the 70s Raquel chased after weirdo rocker Alice Cooper, but was rebuffed because he was involved at the time with a dancer who would later become his wife. In 1973 she made a much discussed comment regarding her husband's infidelity, one that said more about her than it did about him: 'I couldn't stand that my husband was being unfaithful. I am Raquel Welch – understand?' Sure do.