Paul Thomas (L)
Little known actor Paul Thomas was cast as Saint Peter in the 1973 screen version of Jesus Christ Superstar. It was one of his very few mainstream performances. In the porn film industry, however, he was legendary, having starred in hundreds of sex films and for directing 450 more! In 1982 he was caught smuggling cocaine into the USA from South America and did a year's prison time.
        Liz and her tracheotomy plaster
When Liz Taylor was struck down with a fever and lobar pneumonia during the shooting of indoor scenes in London for Cleopatra (1963), her chances of survival were estimated by her physician to be 50-1 at best. In fact, on four separate occasions she was within moments of death. 20th Century Fox had sunk millions into the picture so, with her death seemingly imminent, they called Joan Collins and told her to stand by to fly to London as her replacement. Aghast at Fox's cold-blooded attitude she was all set to say no, but her boyfriend Warren Beatty urged her to stop being so sentimental and to think of her career. A last-minute tracheotomy saved Liz's life and Joan's services were not required.
Bindon and Princess Margaret on the island of Mustique
The 1967 movie Poor Cow saw the debut of flamboyant London criminal John Bindon. The man was a violent drunk, drug addict and sexual exhibitionist who, through his liaison with model Vicki Hodge, was introduced to so-called 'polite society'. Before long he was servicing the likes of Angie Barnett (the future wife of David Bowie) and high-priced call-girl Christine Keeler, soon to become notorious because of the Profumo Affair. The ever adventurous sister to the Queen, Princess Margaret, found her way into his bed as well. In Mustique, he gladly demonstrated his party trick, (at her request), of hanging five half-pint beer mugs from his erect penis! He later told friends the princess was a wild woman in bed, tireless and insatiable.
Shirley MacLaine & Fred MacMurray in The Apartment (1960)
Director Billy Wilder, like everyone else in Hollywood, was aware of Fred MacMurray's legendary stinginess. There was a scene in The Apartment (1960) in which Fred's character had to tip a shoeshine boy by flipping him a quarter, but no matter how he tried, Fred could not flip the coin effectively. 'Try using a 50 cent piece', Wilder suggested. Fred was aghast. 'I would never give him fifty cents', he said. 'I cannot play the scene!' After the picture's release he was accosted by women in the street who accused him of making 'a dirty movie'. One even hit him over the head with her purse. The 'Swinging Sixties' had not quite arrived. For Fred they never would.
Blonde actress Jenny Maxwell played the spoiled brat party girl Ellie Corbett in Blue Hawaii (1961). She makes a play for Elvis in the picture and he ends up spanking her on the beach. In real life she was married to Los Angeles criminal attorney Ervin Roeder. In 1981 the 60 year-old Roeder was in the middle of investigating the mysterious death of actor Nick Adams (TV's Johnny Yuma, The Rebel) when he and 39 year-old Jenny were gunned down outside their Beverly Hills apartment. Their murders have never been solved.
                          Jack Lemmon, Tony Curtis & Natalie Wood
Natalie Wood did not enjoy making The Great Race in 1965 alongside Tony Curtis and Jack Lemmon. Her primary complaint was, according to her, that she was being sexually harassed by both of her co-stars on a regular basis. Tony was a known skirt-chaser but Jack most certainly was not. Incidentally, Natalie did not do her own vocals for the song, 'The Sweetheart Tree'. They were provided by Jackie Ward, the same lady who provided the 'La-la-la' section of Pat Boone's monster 1962 hit single 'Speedy Gonzales'.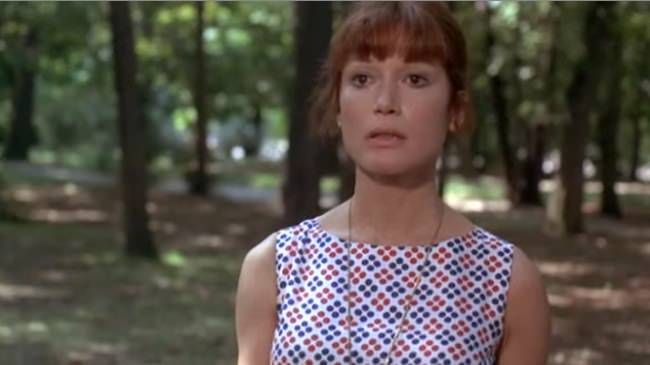 Olga Georges-Picot in The Day of the Jackal (1973)
French actress Olga Georges-Picot portrays Denice, the OAS undercover mole who seduces an official from the Elysee Palace in the terrific 1973 thriller The Day of the Jackal. In 1997, Olga, a depression sufferer, killed herself by leaping from a building in Paris. She was 57.
                         Oliver Reed in The Three Musketeers (1973)
The cast of The Three Musketeers (1973) stayed at a plush hotel in Madrid. The outrageous Oliver Reed decided to have some fun at the expense of the establishment's high profile clientele, so late one evening he removed all the goldfish from the ornamental pond in the dining room, carefully deposited them in his bathtub and substituted fake goldfish shaped out of carrots into the pond. The next morning at breakfast, he suddenly dived into the pond and devoured all the fake fish, much to the horror of the guests and the management. The police were called and Oliver was hauled off, yelling as he went, 'You can't touch me! I'm one of the Musketeeers!'
Brando and Pina Pellicer in One-Eyed Jacks (1961)
Lovely Mexican actress Pina Pellicer played Karl Malden's daughter Louisa in One-Eyed Jacks (1961). Several sources claim she had a fling with the picture's star Marlon Brando and that their break-up led to her suicide in Mexico City in 1964. Well, maybe, but Brando's long-time secretary mentioned in her own book that Pina was a lesbian who killed herself at 39 after breaking up with a girlfriend and not with Brando at all.
The real Operation Crossbow on which the 1965 movie is based was an important mission against the German missile sites at Peenemunde, Germany. The bulk of the plaudits leading to the sites' destruction, however, must go to the RAF photo-reconnaissance experts such as Flight Officer Constance Babington Smith, (Sylvia Syms in the movie), who were clever enough to determine that the tiny, blurred objects pictured by low-flying Spitfires over Peenemunde and the scores of launch sites in France were, in fact, launch ramps for flying bombs. The Germans planned to send 700 'buzz-bombs' or 'doodlebugs' into Britain every day, a number that would surely have swamped the defences, but scores of precision bombing raids and the capture of sites after D-Day reduced that figure substantially. Even so, a total of almost ten thousand were launched between June and October 1944 at south-east England. Less than 2,000 got through to their targets and killed around 6,000 people. Hundreds more were fired at Allied troops advancing through France and Belgium.