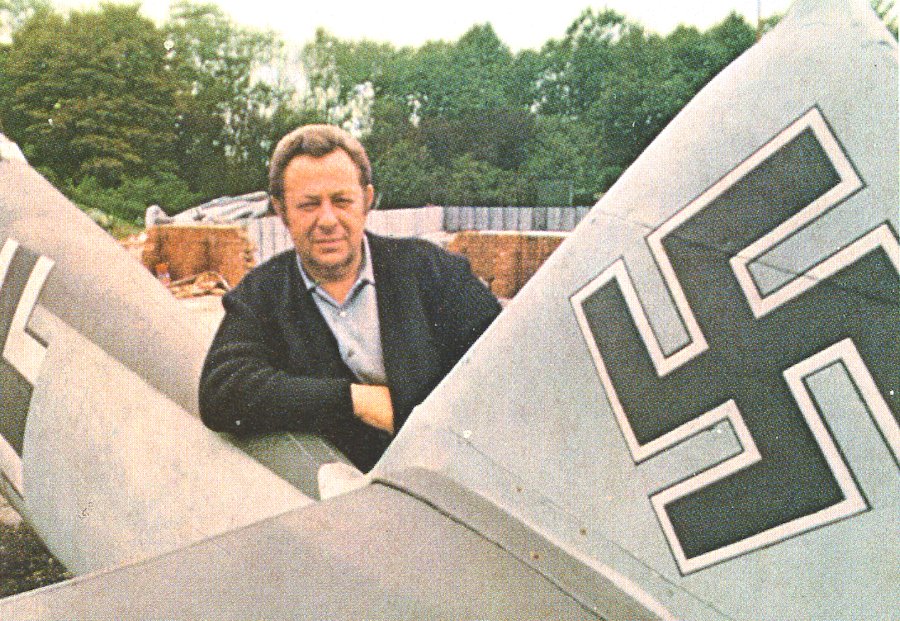 Ben Fisz
Former Polish World War Two fighter pilot Ben Fisz discovered a book called 'Skis Against the Atom' in a London public library and convinced himself it would make a terrific movie. He quietly purchased the film rights from the author, then hired a writer to work up a screen treatment. The day the typescript was delivered, he learned that a new book on the same topic was about to be published. Worse still, the rights to the new book had already been sold to Walt Disney. Walt happened to arrive in London a week later and Fisz made arrangements to meet him to discuss the issue. To the Pole's astonishment, Walt appreciated the effort and expense Ben had put into the project and agreed to relinquish his rights. Fisz could go ahead without any Disney competition. In the realm of the cut-throat movie business this was a rare and gracious thing to do. The picture that evolved from this was The Heroes of Telemark (1965).
    Charmian Carr & Christopher Plummer in The Sound of Music (1965)                                                            Heather Menzies (Louisa)
Charmian Carr was 23 years old when she played the oldest von Trapp daughter Liesl in The Sound of Music (1965). Christopher Plummer was 35 years old and playing her father Captain von Trapp and she had a heavy crush on him, Plummer later admitting that the feeling was mutual, but added that it did not progress beyond the flirtation stage. Two of the actresses who played von Trapp children have since passed away. Charmian suffered from dementia and died at 73 in September 2016. Heather Menzies (Louisa) died from brain cancer at 68 in December 2017.
           Linda Harrison as Nova in Planet of the Apes (1968)                           Linda & Richard Zanuck
Actress Linda Harrison played Charlton Heston's mate Nova in Planet of the Apes (1968). She was involved in an affair with the married producer of the picture Richard D. Zanuck and pregnant with his child at the time. Furthermore, she started to 'show' during filming which required careful posing on her part to conceal her condition. The couple would marry (after his divorce came through later in the year) and have two children together in their nine-year union. Incidentally, Ingrid Bergman turned down the role of Nova and regretted doing so once the movie became a hit.
                         Sean Connery and the 1964 Aston Martin DB5
An American radio station owner named Jerry Lee purchased the Aston Martin DB5 used by James Bond in both Goldfinger (1964) and Thunderball (1965). He bought it direct from the Aston Martin factory for $12,000 in 1969. It remained at his Pennsylvania house for the next 40 years before being sold at London's RM Auctions to American classic car collector Harry Yeaggy for a staggering $4.6 million!
          Irene Mayer Selznick
The 1968 film The Swimmer may have had its origins in real life. Irene Mayer Selznick told Tennessee Williams that she and her then lover Katharine Hepburn decided to attempt to swim their way to Malibu via the swimming pools in houses along the way. 'We simply invaded people's lawns and swam across their pool until we tired of that, at which time we headed on for a neighbor's pool', she recalled. 'Sometimes the people were home. In all cases, everybody knew us. If they didn't know me, they certainly knew Kate. We were never made to feel unwelcome. Once or twice one of the owners expressed surprise that we didn't have a pool of our own. And I'm sure that after we jumped out of their pools and went to invade another pool nearby, those homeowners were completely bewildered at such odd behavior.' In the movie Burt Lancaster's character has just been released from a mental institution after treatment for a nervous breakdown.
The 1967 movie musical Camelot was only moderately successful, so it was surprising to many when, fifteen years later, the star of the film Richard Harris purchased the stage rights to it. The stage play had opened and closed within eight weeks in the UK, but Harris felt that it could continue to succeed in America because of the nation-wide nostalgia that connected Camelot with the Kennedy mystique. And he was proven right. From 1982 until it closed in 1987 the musical grossed $92 million. 'And I didn't need to earn another penny', he said. 'Ever!'
             Jackie Gleason & Paul Newman in The Hustler (1961)
Prior to making The Hustler (1961), Paul Newman had a pool table installed in his home to practice upon because he had never played the game in his life until then. Jackie Gleason, on the other hand, was a very accomplished player and executed most of his own shots in the picture. Undeterred, Newman challenged him to a game for $50 and Gleason accepted the challenge. Paul broke the balls and Jackie promptly sunk all 15 in a single break without giving him another shot. The next day Newman (good-naturedly) paid the $50 in 5,000 one cent pieces. Both actors were unsuccessfully nominated for Oscars for their performances.
                                Mia Farrow in Rosemary's Baby (1968)
Mia Farrow revealed in a recent interview that during the rape scene in Rosemary's Baby (1968) the actor (Clay Tanner) portraying the Devil was stark naked as he grinded away on top of her for several hours of takes. When the scene was finally completed to director Roman Polanski's satisfaction, Tanner quietly shook her hand and said most cordially, 'Miss Farrow, it was a pleasure working with you.' 'Thank you', she replied. 'He was a very lovely man', she added.
           Trini Lopez as Pedro Jiminez in The Dirty Dozen (1967)
In the enormously successful 1967 hit The Dirty Dozen, the character Jiminez was played by popular recording artist Trini Lopez. He had racked up 16 hit songs between 1963 and 1968, tunes such as 'If I Had a Hammer', 'Michael' and 'Lemon Tree'. His movie career, however, was derailed when he foolishly took Frank Sinatra's advice and walked off this movie because of all the shooting delays. Trini was signed with Frank's Reprise recording label and 'Ole Blue Eyes' convinced him that his popularity as a singer was likely to wane if he continued to spend time away from the studio. The plot in The Dirty Dozen required Trini's character to set the fuses that would destroy a Nazi mansion. Once he left the set, however, Jiminez was 'killed off' in a parachuting accident en route to the battle zone and another character was allocated his tasks.