This is the first article about the myriad child stars who graced movies and television since the very beginning of the movie industry until around 1980. I have left out the more recent ones because their stories are mostly still to be written. So, we shall take a trip down memory lane and see if you remember these stars of yesteryear.
There is no order of merit, otherwise Shirley Temple would be light years ahead of the rest. Instead, I have opted to take the coward's way out and present this series of articles in alphabetical order.
  Today & as Corporal Rusty in 1954
AAKER, Lee (1943 – )
Lee is a Californian from Los Angeles, the son of a lady who owned a dance studio. So he grew up in the entertainment business. If you liked High Noon (1952) or can bear to keep awake throughout The Greatest Show on Earth (also 1952), you can spot eight year-old Lee in tiny unbilled roles. A year later he played Geraldine Page's blonde-haired son in the disappointing Hondo starring John Wayne. His greatest career disappointment came when he was accepted for the role of little Joey Starrett in the wonderful Alan Ladd western Shane in 1953, only to be replaced at the last minute by Brandon De Wilde.
There were a few TV spots and other minor film roles in the fifties opposite the likes of Barbara Stanwyck, Gig Young, Marjorie Main and Clifton Webb. Along with a lot of other kids he auditioned for the part of Jeff Miller in the 1954 TV series Lassie, but his friend Tommy Rettig beat him to it. That same year, however, he hit it big as Corporal 'Rusty', the master of Rin Tin Tin in the popular series The Adventures of Rin Tin Tin (1954-59). In 1964, at the age of 21, Lee was given a cheque for $10,000 by the studio that produced 'Rin Tin Tin', and he spent the rest of the sixties travelling around the world 'as a sort of flower child'.
Lee did not survive the transition into adulthood in the movie business and it took some adjusting to find himself no longer the centre of attention. Unlike many child stars, however, he had the good fortune to be blessed with parents who warned him that fame could be fleeting, that the adoration probably would not last. He briefly went into the production side of the business as an assistant on Route 66 in 1960, but he ultimately left the industry altogether and became a carpenter. Lee married once in 1969, but it did not last two years, and he has been single since then, living in Mammoth Lakes, California and working as a special-needs ski instructor.
   'Nasty' Nellie (L) and Alison today
ARNGRIM, Alison (1962 – )
New Yorker Alison Arngrim went along to the auditions for the Little House on the Prairie TV series in 1973, hoping to land the part of either Ingalls sister, Mary or Laura. She missed out on both of them. However, her audition for the part of 'Nasty' Nellie Oleson was sensational and she was instantly cast. Her persecution of Laura Ingalls (Melissa Gilbert) became an integral part of the series which ran for eight years (1974-82), so much so that, many years later, during a 'Little House on the Prairie' parade, a spectator hurled a can of orange soda at her head, screaming, 'I hate you for all the things you did to Laura!' Ironically, she and Melissa have been close friends off-screen from the very beginning.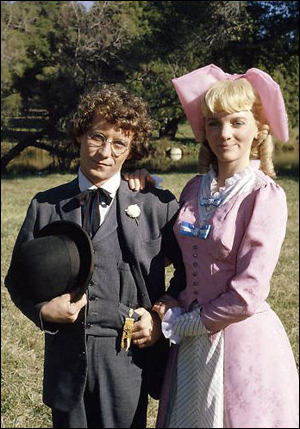 Steve Tracy & Alison in Little House on the Prairie
Since those halcyon days Alison has gone on to bigger and better things. Deeply affected by the death, at 34 from AIDS, of Steve Tracy, the actor who played her husband in the series, she became an AIDS activist and worked tirelessly to raise funds to combat the disease. In later years she has fought equally hard to defend the rights of children suffering abuse at the hands of adults. She has been married twice, her current marriage nearing its 25th year.
Career-wise Alison has enjoyed monumental success as a stand-up comic and one-woman show, playing to packed houses for decades in many of the world's greatest cities. She is particularly popular in France where she presents her show in French, much to the delight of her Parisienne audiences. The lady is an extraordinary talent and an equally impressive human being – a far cry from 'Nasty' Nellie of 'The Prairie'.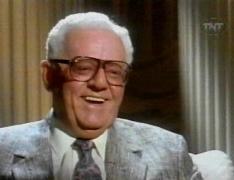 BARTHOLOMEW, Freddie (1924 – 92)                                     And in later life
Hailing from London, England, Freddie was the antithesis of America's Mickey Rooney during the thirties. Mickey was everybody's idea of the boisterous, feisty, working-class, all-American boy, while Freddie was always portrayed as an upper class, English sissy. This was never more evident than in the grossly over-rated Captains Courageous (1937), a picture that sported the greatest celluloid example of a precocious brat getting his ears boxed. It is worth the price of admission to see Lionel Barrymore flatten Freddie with one memorable blow.
(L to R) Freddie, Lionel and Spencer Tracy in Captains Courageous
Freddie was equally precocious off-stage as well. He began performing at three years of age in Britain, reciting, singing and dancing, and at eleven he landed the title role in David Copperfield (1935). Suddenly, he was a star and Hollywood beckoned. By the time he had finished Little Lord Fauntleroy (1936) and Captains Courageous he was raking in $2,500 a week, making him the second highest-paid child star in the world behind Shirley Temple.
As so often happens, his angelic looks faded with the advent of manhood and roles suddenly dried up. He did a stint in the Air Force during World War Two and went into an advertising agency after the war ended. Freddie's story then mirrored that of so many child stars. The millions he earned when he was at the top were whittled away in court battles between his parents and his aunt (she had raised him), as they fought to get their hands on his earnings. His birth parents were completely unknown to Freddie, but all that changed with the success of Little Lord Fauntleroy in 1936. They suddenly scuttled out of the woodwork and tried for seven years to get their hooks into his fortune. His Aunt Millicent fought hard to hold them off, but legal fees ultimately wiped him out. 'I was drained dry', he said. Freddie married three times and had two children. He retired in the 1980s suffering from emphysema. It would claim him in 1992.