CARY GRANT 
Here is a brief look at the very best movies from the very best actors and actresses (in my opinion). If you have never seen any or all of these movies, I sincerely suggest you should do so, if you get the chance. Just to amuse myself I have listed them in order of merit (my choices again) – with number one being the very best. I have tried to find eight features for each star.
The first edition focuses on an actor who has always been underestimated by the Academy, more than likely because it places little value on comedy or romantic comedy. What Cary Grant did, seemingly effortlessly, was to entertain us with his extremely likeable personality. By most accounts he had several flaws in his character off-screen, (mean-ness, vanity, self-centredness), but his talent was such that none of these weaknesses ever manifested themselves in his movies. Consequently, he was usually a pleasure to watch in action, particularly in the following pictures:
#8        HOUSEBOAT (1958)
the wedding scene in Houseboat
During the shooting of this romantic comedy Cary fell in love with Sophia Loren, his co-star, and was all set to ask her to marry him when filming halted for the weekend. When everyone returned to the set, Sophia proudly announced she had quietly wed her lover Carlo Ponti during the break. Cary was taken aback, especially when he and Sophia were required to act out their characters' wedding scene in the movie that day. The movie is a quite basic love story supported by a solid cast that includes Harry Guardino, Martha Hyer, Murray Hamilton and that fine child actor Paul Petersen. Sophia has rarely looked lovelier and even gets to sing a catchy little number titled 'Bing! Bang! Bong!'
#7        TO CATCH A THIEF (1955)
Grace and Cary never looked better
There are very few Hitchcock movies that pass muster in my opinion yet, those that do, seem to be graced by the presence of Cary Grant. This one shows him at his most charismatic, helped along by some beautiful Riviera scenery and even more beautiful glimpses of Grace Kelly. The storyline becomes a little pedestrian at times (Hitchcock tends to do that in his films), but it happens to contain that extraordinary scene in the hotel where Cary escorts Grace to her door. She opens it, walks inside, then turns towards him and kisses him. At that moment she looks utterly breath-taking, as stunningly desirable as any actress has ever looked in any movie in history. I am no fan of Hitchcock, but I will always be grateful to him for that scene. Perhaps, he was a genius after all.
#6        FATHER GOOSE (1964)
Cary and the delightful Leslie
This little romantic comedy was Cary's penultimate screen appearance. He plays an unshaven drunk (most of the time), who gets blackmailed into acting as a coast-watcher during World War Two in the Pacific, and is lumbered with a French schoolteacher and her charges, a bunch of little girl students. Cary is a delight in a role that enables him to demonstrate his comedic abilities. As usual, he has a highly personable female co-star, in this case the lovely 33 year-old Leslie Caron who displays her own comedic talent in several scenes. The only dubious note is the usual Hollywood romance between a beautiful young woman and an old man. Cary was 60 when he made this and even he was starting to feel embarrassed playing the romantic lead in features. It is testament to his acting that he can still convince us that romance between his character and Leslie's was at least possible – just.
#5        THE PHILADELPHIA STORY (1940)
Kate about to land flat on her back
The Philadelphia Story has dated a little since 1940, but it is still a good entertainment, well-acted. Despite her bundle of Oscars, I have never much enjoyed watching Kate Hepburn in her movies. Maybe, it was that Bryn Mawr accent that bugged me and a zillion other people. Maybe. I find it difficult to watch this movie without mentally comparing it to the musical re-make High Society (1956). Both have good and bad points. I prefer Grace Kelly to Kate, but I infinitely prefer Cary over Crosby. Jimmy Stewart and Frank Sinatra are both good, but Frank's singing is a major plus, of course, in the musical. Ruth Hussey and Celeste Holm are both adept at playing wise-cracking, smartie-pants photographers and I cannot separate them. But The Philadelphia Story has a great moment that High Society does not – that opening scene where Cary plants his hand in Kate's face and pushes with all his might! Worth the price of admission, that.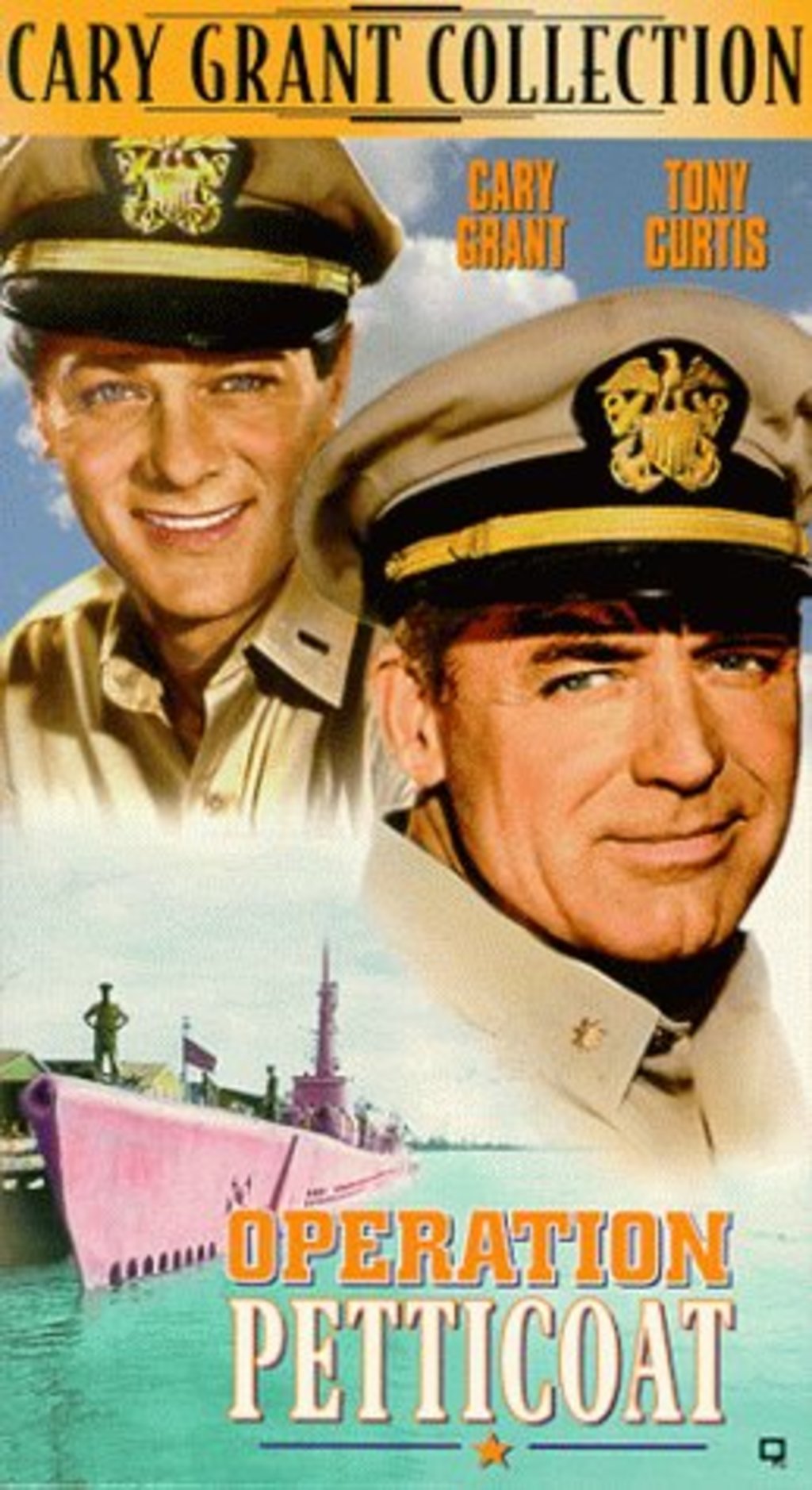 #4        OPERATION PETTICOAT (1959)
Cary, Joan O'Brien and the only pink sub in the US Navy
Operation Petticoat is a light comedy featuring Cary and Tony Curtis at the top of their game. It is not a great movie by any stretch of the imagination, but it is fun and easy to look at. It is interesting to note that five of my eight favourite Grant films were made in the final decade of his career, a career that concluded with the disappointing Walk Don't Run in 1966. I think this has more to do with improved camera techniques and (generally) more sophisticated scripts, than it does with the actor himself. A lot of his earlier films were those screwball comedies, so popular in the thirties and forties, but quite dated today. Operation Petticoat enjoys the services of the classy Dina Merrill and the under-rated beauty Joan O'Brien at the height of their considerable appeal. The only false note is the stupid scene involving a couple of MP's and a hog, but how could we not like a picture in which a submarine sinks a truck?
#3        NORTH BY NORTHWEST (1959)
Cary and the gorgeous Eva Marie Saint
This Hitchcock movie has more plot-holes and more basic errors than one might expect to find in a main feature, far too many to detail here. Even the title is a nonsense and has nothing at all to do with the story-line. None of this matters, however, because it has Cary and the wonderful Eva Marie Saint. And they are ably supported by the likes of James Mason, Martin Landau and the ever reliable Jessie Royce Landis. The terrific crop-dusting sequence has since achieved legendary status, and the titillating repartee between Cary and Eva on the train remains a highlight (certainly for me) that never dates. The weakest moment is the drunk-driving sequence. It is intended to be light-hearted but I would rather it was not in the final print. Grant fans will probably disagree which is, of course, their prerogative.
#2        NOTORIOUS (1946)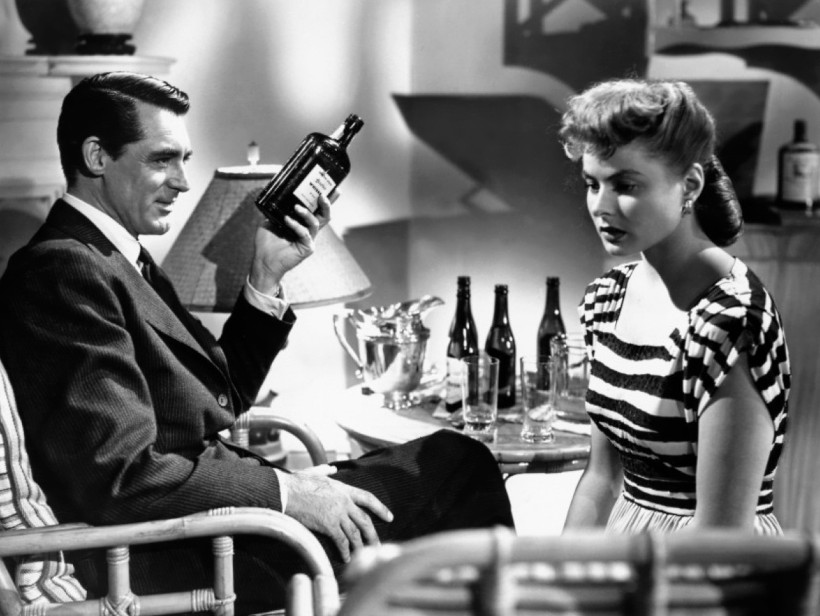 Has Ingrid ever looked more beautiful?
Lo and behold, another Hitchcock. Notorious is a fine suspense/thriller with Cary finally playing a serious role in a serious film. Once again he has a first class heroine and love interest in the inimitable Ingrid Bergman. He also has a top protagonist, the oily Claude Rains, who makes a truly malevolent Nazi. This is one of those wonderful black and white, suspense-filled, love stories that came out of the forties, with two stars who fit each other like a glove. Ingrid is equally as beautiful here as she is in Casablanca. Ben Hecht's fabulous screenplay and Rains' riveting performance were both nominated for Oscars. And neither won. A tragedy. Throughout the entire picture, not a shot is fired, no-one dies on-screen, and there is no violence of any kind, other than Cary smacking Ingrid on the jaw to curtail her hysteria. The danger throughout is inferred only, nothing more. Hitchcock's best film by some distance.
#1        CHARADE (1963)
Cary and Audrey – perfect chemistry regardless of the age difference.
No doubt, Grant aficionados are shaking their heads in disbelief at my first choice. I must say it was a tough choice between Notorious and Charade, but in the final analysis it was the presence of yet another dazzling female lead, this time Audrey Hepburn, and a supporting cast to die for – Walter Matthau, George Kennedy, James Coburn, Ned Glass and Jacques Marin, that settled it. I have always had Charade in my Top 20 movies of all time, because it contains a plethora of memorable moments and the plot keeps us guessing throughout. Cary finally arrived at the conclusion that he was too old to be chasing after young women in his pictures, particularly women like Audrey who look even younger than their actual age. He wisely insisted that all the aggressive, romantic lines of dialogue should be uttered by Audrey's character instead of his, and it worked perfectly. Stanley Donen's direction in Charade has often been described as 'Hitchcock-like'. I do not know enough about direction to appreciate or dispute that statement. I just know what works for me and this movie does so on every level. And no graphic sex scenes, no gutter language, no blood oozing all over the screen, no deafening special effects, no car chases and no kick-boxing or laser fights. What's not to like?
NOTE: As for those Cary vehicles that did not make the final eight – I have always found An Affair to Remember (1957) to be boring and schmaltzy beyond belief; Arsenic and Old Lace (1944) is silly and hopelessly dated, and Night and Day (1946), possibly the worst biopic in Hollywood history!