Rory Calhoun (1922-99)                            
The star of 80 movies, mostly westerns, and over 1,000 TV episodes, 6'4" Rory Calhoun made the most of a life that began badly, especially in his teenage years. At 13 he cut classes and stole a revolver that landed him in reform school. He soon absconded from there and shortly afterwards robbed several jewelry stores. When he stole a car and drove it across state lines, however, he committed a federal offence and was nailed by the Feds. He spent three years in Springfield Federal Penitentiary before being transferred to San Quentin from where he was eventually paroled just prior to his 21st birthday.
Super agent Henry Willson with Rock Hudson
All this information was handed to Confidential Magazine by his agent, Henry Willson, in exchange for not printing an expose on Rock Hudson's homosexuality. Rock was another of Willson's clients, but a much bigger box-office draw by far. Considering Rock's sudden rise to stardom and his appeal to female ticket-buyers, we are left to ponder just how much pressure was brought to bear by Universal on both Willson and Confidential.
Guy Madison, Henry Willson & Rory Calhoun
If anything, Rory's rocky past enhanced his tough guy image. A notorious womanizer, he scoffed at his wife's claims that he was unfaithful to her with 79 women, whom she named in their divorce hearing. 'Heck, she didn't even include half of them!' he responded. Since then, however, it has emerged that his bragging about all his women may have been a 'blind'. He and another of Willson's clients, Guy Madison, were heavily involved for many years. As usual, all was seldom what it seemed in the so-called 'Golden Age' of the movies.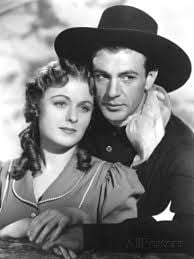 DORIS DAVENPORT (1917 – 80)        with Gary Cooper in The Westerner                       
The name Doris Davenport is probably only known to a few movie trivia buffs, but she enjoyed her brief moment in the sun and almost won the biggest prize of all. She was discovered in New York working as a Powers model and signed as a Goldwyn Girl when she was just 17. As Doris Jordan she tested for the role of Scarlett O'Hara on October 17 in 1938, in itself scarcely a unique achievement. After all, every young actress except Shirley Temple tested for Scarlett. In Doris's case, however, she came within an ace of making Selznick's 'final five'. Of course, the role ultimately went to Vivien Leigh but the lovely Doris was later chosen by LB Mayer to play opposite Gary Cooper in The Westerner (1940). Her career ended that same year after just five movies, some sources claiming that a bad car accident was responsible. It has been said that her legs were badly damaged and left her walking only with the aid of a cane. She passed away at 63 in 1980. What might have been?
HOVEY, Tim (1945 – 89)
Tim Hovey was one of those tragic child star stories that permeate Hollywood history. As a ten and eleven year-old he rode the crest of a wave, albeit far too briefly, starring opposite some of the biggest names in the business. In 1955 he was chosen to play Cadet Thomas 'Tiger' Flaherty opposite Charlton Heston and Julie Adams in The Private War of Major Benson. That same year he landed a small role in the Joan Crawford melodrama Queen Bee.
A year later he played Laraine Day's fatherless son in The Toy Tiger, a lightweight romantic comedy that also starred Jeff Chandler. It is a quaint little movie exemplifying family values (1956 family values anyway) and was relatively successful. Tim would appear in three or four more films and a few TV slots, but his career was on borrowed time. His cute looks faded as he reached puberty and by 1959 roles evaporated. At the ripe old age of fourteen he was a has-been. It was the same old story.
in later years
During the late seventies and early eighties he worked for a time as road manager for the rock group the Grateful Dead, and in 1981 he married. In September 1989, at the age of 44 he decided to end his life with an overdose of drugs. Whether or not this was a legacy of a lost acting career, his association with known drug abusers in 'The Dead', or a combination of both, we are left to ponder on. As a cute little boy he was loved around the world for a few years, as so often happens to child stars, and then, seemingly overnight, he was unwanted. Did he spend the remainder of his life disillusioned and disappointed? Many child stars did.
MORAN, Peggy (1918-2002)                                   
Pretty 20 year-old Peggy Moran simply walked up to the Warner Bros main gate and informed the guard that she intended to be a movie star. He introduced her to a producer who was passing by. He in turn introduced her to an agent and she was off and running. Her career only lasted 5 years and an impressive total of 35 films, but her image was still being seen in films for a further 23 years, long after her career had ended. Why? In 1942 she married director Henry Koster who vowed she would be in every movie he ever directed. And she was. From the day they wed, until his retirement in 1966, Peggy's image could be seen in all his movies courtesy of a Grecian bust he had made of his beloved wife. In The Robe (1953), for example, it can be seen in a Roman villa where it is prominently displayed.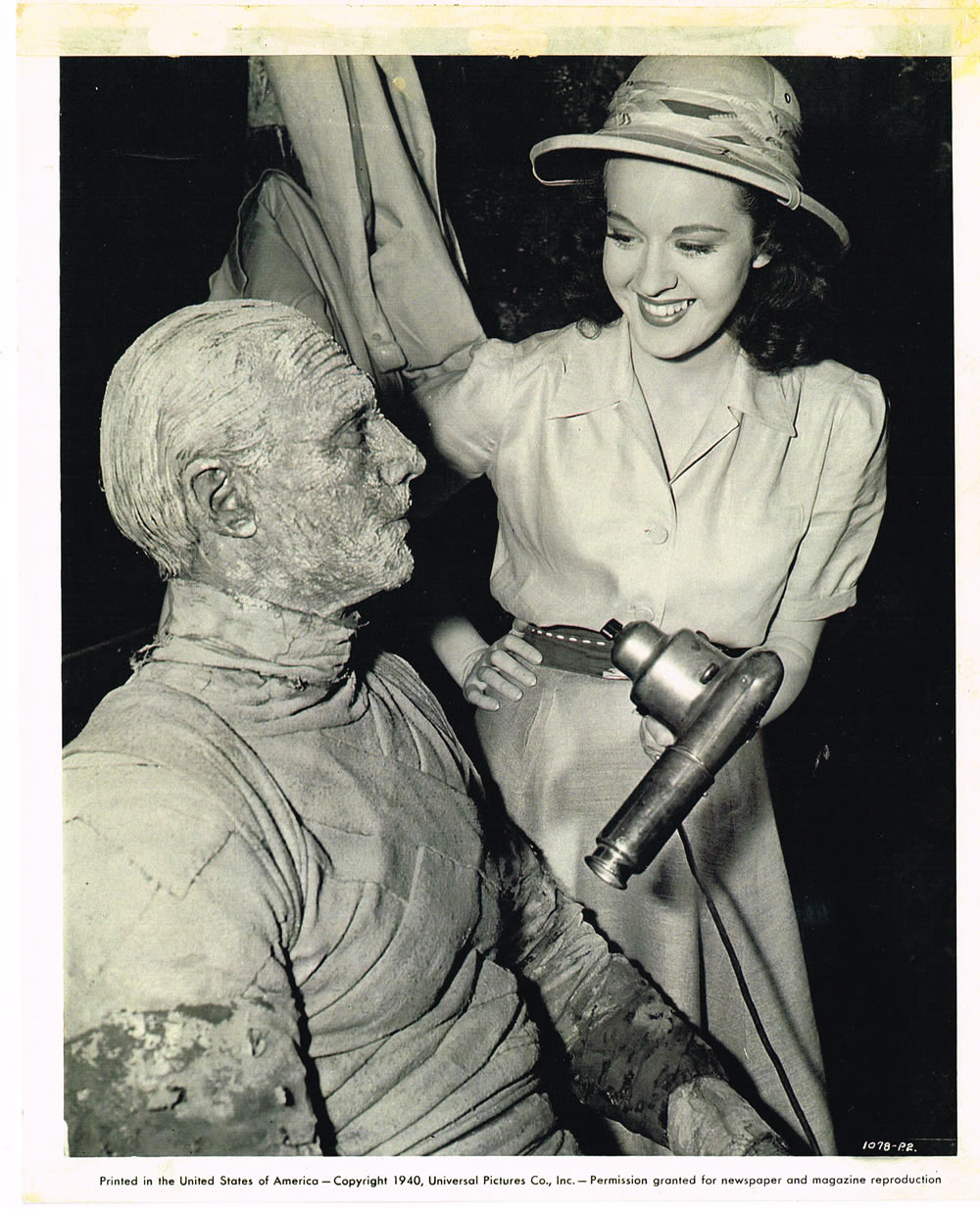 Henry Koster                                           Peggy on the set of The Mummy's Hand
As for Peggy's film career as an actress (opposed to a sculptured head), she played opposite Gene Autry in Rhythm of the Saddle (1938), and was a cigarette girl in Garbo's Ninotchka (1939), but it was her lead roles as a 'scream queen' in two Dick Foran B features – The Mummy's Hand (1940) and Horror Island (1941) – that her dwindling fan base remember today. In 1943 she played Roy Rogers' love interest in King of the Cowboys when she was a few months pregnant with her son. Years later, whenever they watched the picture, she would take great delight in telling him, 'you were there.' Henry died in 1988 in the 46th year of their marriage and Peggy lived for another 14 years before being horrifically injured in a car crash and later dying from her injuries.