NOTTING HILL (1999)                                                            
The 1999 romantic comedy Notting Hill was a huge success at the box-office, grossing a staggering $363.1 million worldwide. What started out as a 'small picture' evolved into a 'blockbuster', one that emphasized the pulling power of both its leads, Julia Roberts and Hugh Grant. Grant was signed first, not surprising given that he was riding high after Four Weddings and a Funeral. It also helped that both screenplays were written by the same man, Richard Curtis. Incidentally, the house with the blue door featured in Notting Hill once belonged to Curtis. Hugh was also still basking in the lingering notoriety of having been caught with a Los Angeles hooker in a parked car off Sunset Strip in 1995. In a public relations strategic coup he promptly appeared on the Jay Leno Tonight Show on American TV where he proceeded to fob off the incident to the delight of both the studio audience and millions watching at home. Overnight his fame went through the roof.
Hugh Grant bares all to Jay Leno and America
Notting Hill would be Julia's fourth consecutive hit. My Best Friend's Wedding (1997) was a big winner, Conspiracy Theory released that same year was less impressive but a success nevertheless, and Stepmom a year later hit all the right notes. She liked the screenplay for this picture right away, but was not overly interested in playing the character, Anna Scott, because she thought (and rightly so) that portraying the most famous movie star on the planet was scarcely a stretch for her. Nevertheless, she eventually agreed to take the role and for a cut price too. Fifteen million dollars was a few million under her usual fee.
writer Richard Curtis
Apart from enjoying the services of arguably the hottest two stars on Earth, the movie had a potentially match-winning concept to run with. Curtis recalled how he came up with the plot for Notting Hill. 'I would sometimes wonder what it would be like if I just turned up at my friend's house, where I used to have dinner once a week, with the most famous person at that time, be it Madonna or Princess Diana. It all sprang from there. How would my friends react? Who would try to be cool? How would you get through dinner? What would they say to you afterwards?' The scenario struck a chord with most people who saw the picture.
Over the years there had been stories of Julia being difficult on the sets of some of her movies, but that did not happen with this one. She and Hugh Grant got along well, as did the stars with director Roger Michell. Indeed, Julia soon became aware of her co-star's tendency to become aroused during kissing scenes in his pictures. 'Even if I don't really like the actress', he explained, 'I always get a stirring. In the past I've had to ask the director to hang on for take three because I have to wait for this stirring to subside. There was one scene where I had to walk the room and wait for everything to settle down. It can be very embarrassing.' A source on the set said, 'Julia couldn't believe what was happening during their love scene. It was very embarrassing for her and doubly so for Hugh.' Hugh has since commented further on kissing Julia, saying that she had 'such a large mouth' that 'I was aware of a faint echo as I was kissing her.' It was probably said in jest, but the remark was somewhat ungallant and unnecessary. Julia was disappointed to read his comments but has long since forgiven him and has said she would be happy to work with him again.
12 year-old Mischa Barton in Notting Hill                            Mischa with Stephen Amell in Closing the Ring (2007)
The 12 year-old girl interviewed by Thacker posing as a representative from Horse & Hound was Mischa Barton. She would be catapulted to instant small screen fame as the irrepressible Marisa on the popular Fox series The O.C. (2003-07). Now in her early thirties, she has won numerous awards, been the face on several ad campaigns and made a number of movies.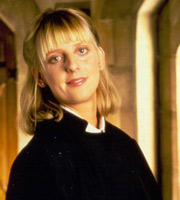 Emma Chambers as Honey Thacker                             as Alice Horton in The Vicar of Dibley
Emma Chambers who played Thacker's sister, Honey, was already well-known on TV as Alice Horton in the popular British comedy series The Vicar of Dibley since 1994 and would continue in the role until 2007. She has not done any movies or TV since. Hugh Bonneville was terrific as Bernie in Notting Hill, but would really hit it big as Robert Crawley, Earl of Grantham in Downton Abbey in all 52 episodes from 2010-2015.
Hugh Bonneville as Bernie                                                       and as Earl of Grantham in Downton Abbey 
The original blue door that led to William Thacker and Spike's abode was auctioned at Christie's Film & Entertainment sale in London. It is now on a property in Hope Cove, Devon. The park bench in the private garden that was used in the 'When You Say Nothing At All' sequence now resides in Queens Gardens in East Perth, Western Australia. A local resident anonymously donated it to the City of Perth. Thacker's Travel Bookshop was actually an antiques shop next door to a butcher's shop.
Queens Gardens, East Perth, WEstern Australia           the same bench with Julia & Hugh in Notting Hill
The more times I watch Notting Hill the more holes I find in the script. The two most annoying errors are extremely obvious. First, when Thacker goes to answer his front door and opens it to scores of media reporters and photographers screaming and flashing their cameras, one cannot help but wonder how they had remained completely silent until he opened the door. Also, did they all arrive at precisely the same time or did the early birds generously wait until everyone had turned up before knocking on the door? As for Thacker allowing Anna to open the door as well, knowing full well what to expect…that was just plain dumb. And then, Spike, dressed only in his underpants, asks why he should not also open it, and Thacker replies, 'Just take my word for it.' Thacker, Anna and Spike open the door to the media one after another. Contrived and stupid.
Spike (Rhys Ifans) enjoying the media attention
If that scenario was not bad enough, the final scene in which Thacker, standing among a roomful of the media and posing as a representative from Horse & Hound, questions Anna, and not a soul in that room recognizes him! Nobody. Considering that his picture would have been all over the tabloids after the blue door incident, are we to seriously believe that no-one in a roomful of reporters and photographers recognized Anna Scott's much-publicized lover? Please!
Thacker unrecognized at the press conferance
Notting Hill is not a great movie by any stretch of the imagination, but it is appealing nonetheless, and that appeal can be squarely levelled at the feet of its two stars and the carefully selected supporting cast. As has become common in recent times, the selection of background music (hit tunes from the nineties mostly) added another significant element.