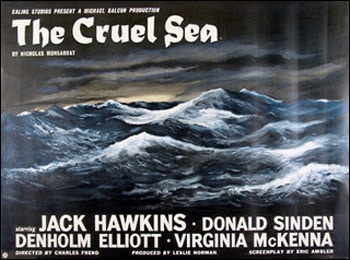 For some reason or another I had never gotten around to watching, in its entirety, the British World War Two drama The Cruel Sea until just recently. I read the novel by Nicholas Monsarrat on which the picture is based when I was a boy, but the movie itself seemed to somehow slip by me. It came as a pleasant surprise, therefore, to find that the film has not dated at all in 60 or so years since its creation. The only sign of age is the obvious use of model ships for the torpedoing scenes. Back in the fifties the age-old problem of making tank water look like the ocean had not yet been solved.
The British have always been masters at producing first class movies about naval issues during World War Two. Features such as In Which We Serve (1942), We Dive at Dawn (1943), The Sea Shall Not Have Them (1944), The Battle of the River Plate (1956) and the terrific The Man Who Never Was are just some of them. The Cruel Sea is up there with the best of them. Whereas American war films tended to stress patriotism, flag-waving and individual heroism, the Brits underplayed the role of the individual, focusing instead upon quiet national stoicism and steady resolve.
Donald Sinden and Jack Hawkins in The Cruel Sea (1953)
A lot of historians have suggested that, had British pictures been included in the Academy Awards at that time, Jack Hawkins and Donald Sinden might well have been Oscar-nominated for their performances. I concur, especially regarding Hawkins' superb portrayal of the commander of the Compass Rose and the Saltash Castle. Indeed, the entire cast were extremely good and the script, too, was of the highest quality, but Hawkins clearly stood out.
Hawkins as Commander Ericson                                                  as General Allenby in Lawrence of Arabia (1962)
Of the principal players only Virginia McKenna is still with us. Hawkins was 42 years old when this picture made him a star. By 1954 he was Britain's number one male box-office drawcard. Formerly married to future Oscar-winner Jessica Tandy (she won for Driving Miss Daisy in 1990), his habit of smoking 60 cigarettes a day contributed to him being diagnosed with throat cancer in late 1965. Within eight years he was gone at 63.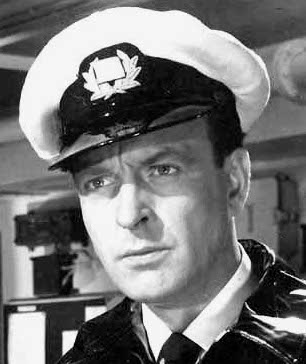 Sinden as Lieutenant Lockhart                      with Grace Kelly in Mogambo (1953)
Donald Sinden would also succumb to cancer, but not until his 90th year in 2014. His biggest profile film would have to be Mogambo in 1953, in which he portrayed Grace Kelly's husband. To be precise, he was Grace's husband wherever the picture was shown – except in Spain. Spanish authorities would not permit adultery to be depicted on-screen, so his character was changed and he became Grace's character's brother, thus enabling her to dally with Clark Gable's character without committing adultery in the process. Unfortunately, the Spanish decision overlooked a scene in the picture in which Donald and Grace are seen in bed together, so in effect they substituted incest for adultery!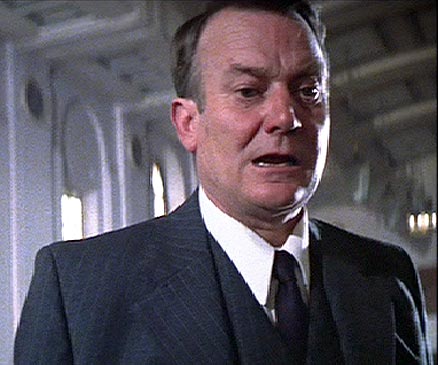 Denholm Elliot as Lieutenant Morell                                as Marcus Brody in Raiders of the Lost Ark (1981)
Denholm Elliot played Morell, one of the ships' officers in The Cruel Sea. Modern day fans will know him as Marcus Brody in the Indiana Jones pictures. He actually married Virginia McKenna a few months after they appeared together in this picture, although in the movie she plays Donald Sinden's character's girlfriend, not Elliot's. Diagnosed with AIDS in 1988, Elliot died from the disease in 1992 at the age of 70. Some sources tried to claim he had acquired the AIDS virus from a blood transfusion, but his second wife quickly scotched that rumour in her book Denholm Elliot: Quest for Love, published two years after his death. In it she revealed their open marriage and her husband's bisexuality. He had taken scores of male lovers over his lifetime and had contracted AIDS in the process.
Stanley Baker as Lieutenant Bennett                                 as Lieutenant Chard in Zulu (1964)
Stanley Baker died young. He was just 48 when lung cancer and pneumonia combined to end his life in Andalusia, Spain in 1976. He was awarded a knighthood in PM Harold Wilson's resignation Honours List in June 1976. Baker thought he had beaten the cancer with surgery in February of that year, but it spread to his chest and attached to his heart and he was given just nine weeks to live. Consequently, he was unable to travel to Buckingham Palace for the knighthood ceremony and never actually became Sir Stanley Baker. His widow, however, is allowed to call herself Lady Baker. He will forever be remembered for his portrayal of Lt. Chard in the epic 1964 classic Zulu.
Virginia McKenna and Sinden                   Denholm & Virginia wedding day 1954    with husband Bill Travers in Born Free (1966)
The lovely Virginia McKenna is now 86 years old. Her highly impressive list of screen credits include A Town Like Alice (1956) opposite Peter Finch, Carve Her Name With Pride (1958) opposite Paul Scofield and Born Free (1966) opposite her then husband Bill Travers. Despite a string of great performances it was the lightweight Born Free that made her a household name. Her first marriage (to Denholm Elliot) ended after two years because of his affairs with men. They had first met on the set of The Cruel Sea. 'He was a fine actor and a delightful person', she said later, 'but I suppose I have to admit that, for both of us, our marriage was a mistake. I knew in my heart it wouldn't work. So I had to leave.'
Moira Lister in The Cruel Sea                                      as a blonde                                serial killer Neville Heath
South African actress Moira Lister enjoyed a popular career in movies and on stage without ever hitting the heights of movie stardom. In The Cruel Sea she played Mrs. Morell, the cheating wife of Denholm Elliot's character. In the 1940s, when at the height of her beauty, she dated a man who walked her home at the end of their evening together and even kissed her goodnight. His name was Neville Heath and a week earlier he had murdered a woman after just such an outing. After dating Moira he brutally murdered another unfortunate woman who had condescended to go out with him. Heath was eventually caught and hanged in 1946. Moira always maintained that her blonde hair saved her life because his victims were brunettes. At 84 she passed away at home in Cape Town in 2007.
June Thorburn in The Cruel Sea                                   and in Tom Thumb (1958)
June Thorburn was born in 1931, in Karachi, when it was still part of India. Her father was a colonel in the Indian Army. At seven years of age she entered a skiing competition for women in the Himalayas and won, only to be disqualified because she was a child. As a schoolgirl June was quite a handful, a tomboy who attended no fewer than thirteen different schools and was expelled from ten of them! She landed the female lead in the 1958 fantasy Tom Thumb opposite Alan Young with Russ Tamblyn in the title role.  On November 4, 1967, five months pregnant with her third child and accompanied by her second, she was aboard Iberia Airlines Flight 062 when it crashed at Blackdown, Sussex, killing all 37 persons on board. She was just 36.