PEGGIE CASTLE (1927 – 73)                  The Yellow Tomahawk (1954) opposite Rory Calhoun                                   Audie Murphy                                   
Peggie Castle was a green-eyed blonde beauty from Appalachia, Virginia who, according to Hollywood lore, was discovered eating a shrimp cocktail in the seafood bar at the Farmer's Market in Los Angeles. She mostly played less than chaste women and girlfriends of shady characters in B – movies, not that this bothered her in the slightest. 'Let's face it', she said. 'Nobody likes nice women on the screen. Nice women are dull.' Peggie was the girlfriend of Audie Murphy when he instigated her signing with Universal – International in 1950, although she only stayed there for four years before going freelance. Her final film was Seven Hills of Rome in 1957. After that came a decade or so of sporadic guest shots on various TV shows. By the 60s, however, alcohol had taken over her life. In 1969 she attempted suicide by over-dosing with barbiturates and then slashing her wrists. Four years later she was dead at the age of 45, a victim of cirrhosis of the liver.
MARGUERITE CHAPMAN (1918-99)     Kansas Raiders (1950) opposite Audie Murphy             in Flight to Mars (1951)                    
Marguerite Chapman was one of those girls whose looks prompted her friends to keep telling her, 'you oughta be in pictures'. She started out as a model but appeared on so many magazine covers that it was only a matter of time before the studio talent scouts came calling. It was Howard Hughes who brought her to Hollywood and contracts with 20th Century Fox, Warners and then Columbia. Oddly enough, her biggest break came in 1942 with Republic Pictures when she scored the leading female role in a 12 part adventure serial called Spy Smasher.
with Kane Richmond in Spy Smasher (1942)                             as the secretary with Tom Ewell in The Seven Year Itch (1955)
From 1940 to '43 she featured in 18 movies and somehow found time to entertain troops during World War Two, to kiss war bond buyers and to boost morale making a string of war-themed pictures. Marguerite was also a popular attraction at the Hollywood Canteen. By the fifties, however, she was reduced to bit roles such as that of the secretary in 1955's The Seven Year Itch, although there were a number of guest spots on several successful TV series.  Fast-forward to 1997 and she was offered the part of old Rose in Titanic, but was too ill to accept it. All but forgotten today, Marguerite's career was sound enough to earn her a star on Hollywood Boulevard.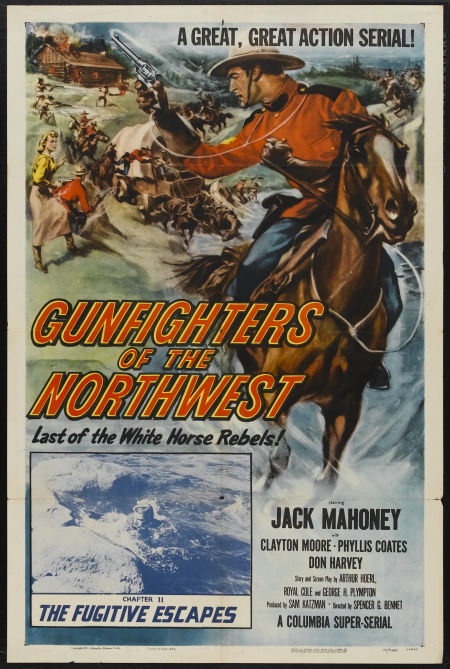 PHYLLIS COATES (1927 – )                   Gunfighters of the Northwest (1954)      as Lois Lane with George Reeves as TV's Superman
                                                               opposite Jock Mahoney                                             
Lovely Texan Phyllis Coates started out as a chorus girl before joining veteran showman Earl Carroll and later touring with the USO during the war. In 1952-3 she played the first Lois Lane in the new TV series The Adventures of Superman opposite George Reeves who insisted she get equal billing with him. After shooting finished on season one, however, the series was halted because a sponsor could not be found. By the time that problem was resolved Phyllis was already committed to another series, so she was replaced by Noel Neill. A lifelong friend of Jack Larson (he played Jimmy Olsen in the Superman series), she was cast as the mother of the female lead in the 1970 film The Baby Maker, which was directed by Jack's lover and production partner James Bridges. Now in her 90th year, Phyllis has been retired from movie-making since 1996, having chalked up 142 screen credits in a long and fruitful career.
MARA CORDAY (1930 – )                              Tarantula (1955) opposite John Agar                                                 
Mara Corday was born Marilyn Watts in Santa Monica, California and, like Phyllis Coates, joined the Earl Carroll Revue as a dancer when she was 17. In 39 years she only accumulated 44 screen credits, but that was mainly due to surrendering her career in favour of raising a family during her tumultuous 17 year marriage to actor Richard Long whom she met on the set of Playgirl in 1954. One of her best-remembered roles was as the lead female in the classic 1955 B-thriller Tarantula. The unknown Clint Eastwood has a tiny, uncredited role in this movie. Presumably, Mara met him there for they are now good friends. He gave her supporting roles in four of his movies.
on the town with Richard Long                        with Audie Murphy in Drums Across the River                        
She discovered first-hand the notorious temper of her Drums Across the River co-star Audie Murphy one evening after shooting had ended for the day. He was driving her to dinner when some teenagers honked their car horn at him and gave him 'the finger'. Audie immediately saw red and fished a gun from his glovebox, then set off in a high-speed pursuit of his antagonists. 'I'm gonna get them!' he vowed. Mara was terrified. 'My God', she cried. 'I just signed a contract. I can't die now!' He reluctantly called off the chase. 'Audie was very quiet, soft-spoken and boyish', she recalled, 'yet a flirt with the girls. But he had a short fuse, so you walked around on eggs whenever he was near.' Tony Curtis knew the diminutive war hero quite well and told her of Audie once shooting up the set of one of his pictures.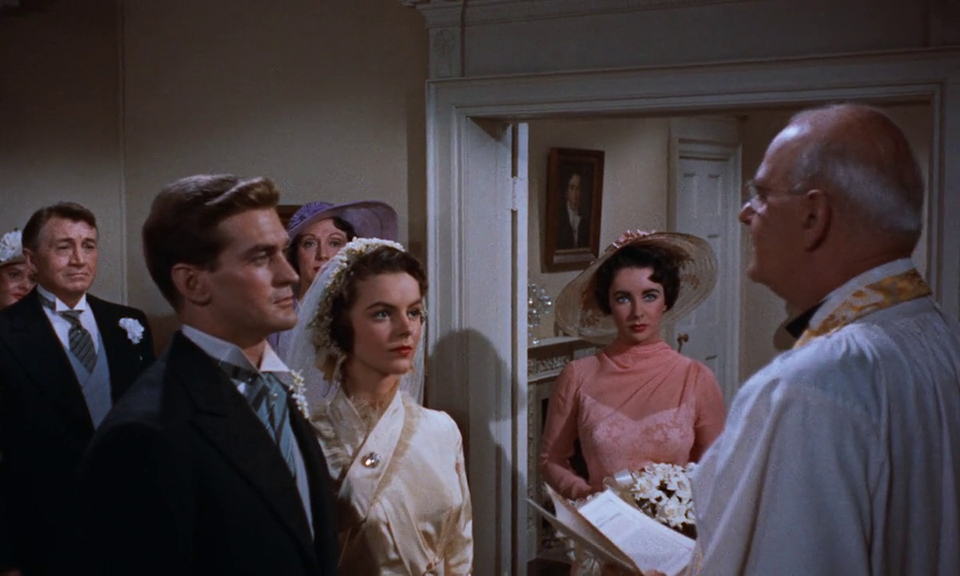 CAROLYN CRAIG (1934-70)                   Apache Territory (1958) opposite Rory Calhoun             marrying Rod Taylor in Giant (1956)                                                    
Carolyn Craig is one of those sad Hollywood stories of a promising young star who enjoyed a fleeting moment or two of pseudo-fame before an ignominious end whilst in the prime of life. Born in Long Island, New York, Carolyn made a handful of movies in the fifties but appeared mostly in television shows in the fifties and sixties (35 of them in all). She probably thought her career was about to flourish when she landed the role of Elizabeth Taylor's younger sister, Lacey Lynnton, in the 1956 blockbuster Giant. However, that was as close as she got to the big time. A few B-westerns followed (such as the one mentioned above) and a good part as Nora Manning in the Vincent Price thriller House on Haunted Hill (1959) was the only other relatively high point in a disappointing career. Carolyn divorced her second husband in April 1970 and by December of that same year she was dead. Details are seemingly impossible to find, but she appears to have taken her own life with a firearm. She was just 36.