Renee Adoree
One of Hollywood's many sad stories, Renee Adoree was a silent star who had her moment in the sun before illness claimed her at just 35 years of age. She was born Jeanne de la Fonte in Lille, France in 1898, and began her performing career with a variety of roles in a traveling circus. Her first movie was a 1920 silent short titled The Strongest, but the role that shot her to stardom was her performance opposite matinee idol John Gilbert in The Big Parade (1925), the first of nine films she would make with him. Renee spoke five languages, but her English came with an accent, so she underwent strenuous voice coaching to eradicate it once 'talkies' arrived. Despite all her efforts, MGM cancelled her contract in 1928. First National Pictures picked her up and a year later put her into Call of the Flesh (1930) opposite Latin heartthrob Ramon Novarro.
Renee & Gilbert in The Big Parade
It was while they were shooting that picture that Renee contracted a respiratory illness. Against her doctor's advice she continued working, but was hospitalized in a sanatorium in Prescott, Arizona as soon as filming was completed. There she would remain for two whole years, flat on her back desperately trying to regain her health. Eventually, she was released and attempted a screen comeback, but she was far from well and her health failed again. This delightfully friendly (and popular) actress passed away from tuberculosis just five days after her 35th birthday. Friends and fans were greatly saddened, yet today she is scarcely remembered.
AYRES, Agnes  
She hailed from Illinois and was born Agnes Hinkle (some sources say Henkel) in 1898. In 1915 Vitagraph Pictures star Alice Joyce spotted Agnes and thought she recognized some kind of family resemblance. Using her star status she managed to get the 18 year-old cast as her sister in her next movie, Richard the Brazen, and the career of Agnes Ayres was on its way. That career received a monumental boost when Paramount executive Jesse Lasky got the hots for her in 1920. She was soon his mistress and he promptly ordered Cecil B. DeMille to give her the lead in several of his upcoming productions. This all went swimmingly until Agnes fell, hook, line and sinker, for leading man Wallace Reid when they churned out four features together.
Jesse Lasky
Wallace Reid
Wally was a bit of a rake it has to be said, and thought little of inviting Agnes around to his home for far too many intimate trysts, culminating in his wife eventually losing her considerable patience. She terminated the 'romance' in no uncertain fashion by threatening to throw acid in Agnes's face if she persisted in seducing her husband. By then Miss Ayres was the talk of the town (and indeed the movie-going world) because she had just starred alongside Rudolph Valentino in a movie called The Sheik (1921), and it was a sensation. By 1923 her affair with Lasky was over and with it went her previously unlimited choice of both scripts and directors for her films. At first, that meant little to Agnes. In 1924 she wed a Mexican diplomat and bore him a daughter. She was still riding high on the 'Sheik' phenomenon and in 1926 she made The Son of the Sheik, reprising her earlier role. A year later her marriage faltered and her career began to slide.
Valentino and Agnes – hot stuff in 1921
During her halcyon days Agnes had carefully invested in real estate. Unfortunately, she had re-invested her profits and the 1929 Wall Street crash wiped her out. Flat broke, she was forced to hit the vaudeville circuit touring the country doing one-night stands. By 1936 she was reduced to accepting an uncredited bit in Souls at Sea, which was released in 1937. To make matters even worse, her Mexican ex-husband, by then a movie producer, successfully gained sole custody of their daughter through the courts. Shattered, destitute and alone, the actress who was once the envy of every Valentino-loving female on the planet, suffered a cerebral haemorrhage in 1940 that took her life at the age of 42.
BORDEN, Olive                                
Olive Borden began life as Sybil Tinkle in Richmond, Virginia in 1907. She was a Mack Sennet Bathing Beauty at fifteen and within four short years she was earning $1,500 a week at Fox. A great beauty, she was said to possess the most perfect figure in Hollywood. Her trademark was her jet black hair and dark brown eyes. Sennet was notorious for expecting his Bathing Beauties to service him as part of their audition, so we can assume that Olive was no exception. She had boyfriends anyway, including the very married actor Ralph Emerson and director Marshall Neilan. Another lover was the ill-fated executive Paul Bern. He would later wed Jean Harlow, only to be found shot to death not long afterwards at their home. MGM executives tried to paint his death as a suicide, but it appears his estranged first wife was probably responsible. In 1929 Olive became engaged to actor George O'Brien, but it didn't last. She did find time to embark upon two short and disastrous marriages along the way.
One of Olive's lovers – Paul
Bern – and his wife Jean Harlow
Stunning Olive
When Fox tried to get Olive to take a pay cut she walked out on her contract. She was still living the high life with limos, mansions, fur coats and booze. In 1928 she started making pictures for Columbia and RKO, but she struggled with the transition to sound and opportunities soon dried up. She made her last picture in 1934, yet she was still just 27 years old and gorgeous. Four years further on saw her quit acting altogether. When World War Two came along she joined the WACS and spent the war serving as a nurse. By the time of her death in 1947 the 41 year-old Olive was no longer a beauty. Far from it. She had been reduced to a destitute alcoholic on Skid Row, living in a Los Angeles Mission. Sadly, most of her silent films have not survived, so most cinema-goers have more than likely never heard of her. But in her day she was truly something.
BLANCHE SWEET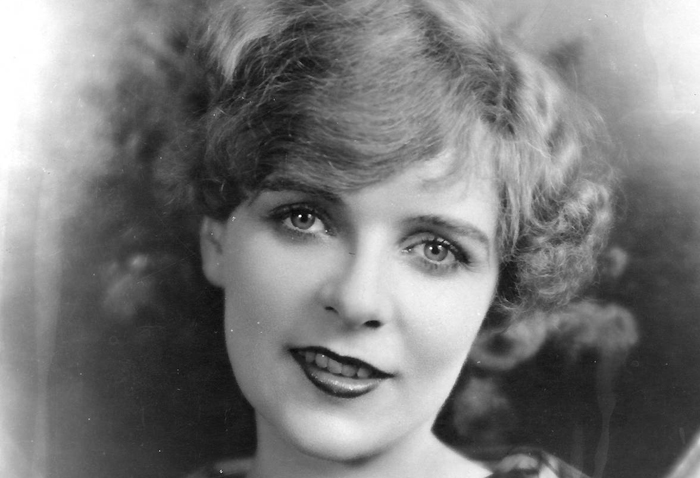 Blanche first appeared on screen in a short in 1909. She was 13. Two years younger than Mary Pickford, Blanche could look much older, so by the time she was 15 she was playing grown women convincingly. After being promised the role of Elsie Stoneman in Griffith's epic The Birth of a Nation, she was extremely miffed to learn that her arch rival Lillian Gish was to replace her. At 18 Blanche left D. W. Griffith at Biograph to work for Cecil B. DeMille in The Warrens of Virginia, after which she plied her wares as an independent for the remainder of her career. Production on her film The Unpardonable Sin was shut down for three days in 1919 when the worldwide influenza pandemic hit town. Cast and crew completed shooting wearing surgical masks for protection.
Director Marshall Neilan
Blanche fell in love with the married director Marshall Neilan. Their much-publicized affair resulted in his divorce, and the couple were wed in 1922. Marshall's chronic philandering brought an end to the union seven years later. Blanche starred in some major productions throughout the Roaring Twenties, but the advent of sound proved to be an obstacle her meagre talents could not overcome. She only made three 'talkies' before retiring. After smallish roles on radio and Broadway her career slowly petered out. The sixties found her working in a department store in Los Angeles, her days of stardom just a distant memory. She passed away in 1986 at 90 and her ashes were scattered in the Brooklyn Botanical Gardens.