I wonder if any of the non-entities who comprised the cast of the woeful 1991 low budget horror feature Critters 3 entertained any suspicions that the 17 year-old who made his movie debut playing the part of Josh in it would go on to become an icon in the movie business. One would have to assume the answer to that question would be a resounding 'no', given that Leonardo DiCaprio was as ordinary as everyone else in the thing. Well, as somebody once said (or sang) – out of little things big things grow. Or something like that.
Leo and a 'Critter
A really brief stint in TV's Growing Pains followed (the series folded just after he joined the cast), but it brought him recognition and the opportunity to audition for some challenging roles. One thing can be said for Leonardo DiCaprio right from the outset. He never avoided any of the more difficult acting tasks. He had a go at the lot. Consequently, he soon found himself playing a youth with mental issues in What's Eating Gilbert Grape (1993), and a drug addict in The Basketball Diaries (1995), both to critical acclaim. If anyone ever asks you who gave Leo his first on-screen kiss you will probably 'scoop the pool' if you answer (correctly) David Thewlis in 1995's Total Eclipse.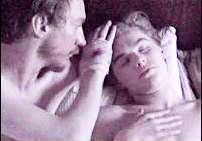 Thewlis & Leo in Total Eclipse
A year later Leo became a household name as youngsters, particularly teenage girls, flocked to drool over him in Baz Luhrmann's over-rated Romeo and Juliet. He then cemented his spot at the top of the heart-throb pile by making Titanic in 1997, the biggest grossing movie ever to that time. He has remained one of the world's top movie stars since then, but at the cost of his privacy. In 1998 he successfully sued Playgirl Magazine over a spread of full frontal nudes of him that the editor intended publishing. A judge ruled in Leo's favor, much as another judge had ruled for Brad Pitt a couple of years earlier against the same magazine. There was a difference in the two suits, however. Naked shots of Pitt cavorting with his then girlfriend Gwyneth Paltrow had already been published before the judge forbade any more copies being sent out. Leo managed to nip his in the bud. The shots may have been taken illicitly before he hit the big time.
In 2005, he purchased his own island off the coast of Belize for $1.75 million US. It is 104 acres and named Blackadore Caye. Concerned about the environment and humanitarian issues, he donated $1,000,000 to earthquake relief in 2010, as well as another million to the Wildlife Conservation Society for tiger conservation. I suppose it could be argued that the size of any gift is relative to the wealth of the donor. Leo has made 8 movies for over $20 million apiece, plus one (Inception) in 2010 that netted him in excess of $59 million. Nevertheless, a million dollars is still a million dollars. And he did not have to give it.
So-called comedienne Tina Fey is another product of Saturday Night Live, the show that has produced more sub-standard comedians than any other outlet on Earth. Her solitary claim to fame appears to be an ability to impersonate Sarah Palin. At the 2014 Golden Globes she sent a few shock waves through the auditorium and the television viewers at home when she asked the audience to welcome DiCaprio with the same type of warm welcome he's used to receiving from supermodels' vaginas. Evidently, she thought it was funny and clever.
Leo's great passion is collecting rare movie posters. Currently, one of only three known copies of the most expensive poster in the world is rumored to be owned by him. It is the international version of the Metropolis poster for the 1927 German film directed by Fritz Lang. Leo is said to have bought it in 2005 for $690,000. Today, each copy is considered to be worth much more, perhaps in the vicinity of $850,000.
The world's most expensive
movie poster
It is not uncommon for fans to compare Leo with the late River Phoenix. Had he lived it is quite probable that River would have gotten roles that ultimately went to Leo. They were similar types. 'When I was eighteen', said Leo, 'River Phoenix was far and away my hero. I always wanted to meet him. One night, I was at this Halloween party, and he passed me. He was beyond pale – he looked white. Before I got a chance to say 'hello', he was gone, driven off to the Viper Room, where he fell over and died.'
River Phoenix
Kate Winslet and Leo have been friends for a long time. Since they made Titanic together anyway. When told by director James Cameron that she would be required to be naked in front of Leo for the portrait-painting scene, Kate broke the ice by flashing her breasts at him at their first meeting. Having seen her breasts in a number of films I doubt if doing so proved to be any great embarrassment for her. She has no aversion at all to doing nude scenes and never uses a body double in her movies. Cast and crew members confirmed that the nude scene was the very first one shot in the entire picture. Getting off the subject of Kate's breasts, and purely because it drove me to distraction throughout the movie, did you know that both Roses (Kate Winslet and Gloria Stuart) said the word 'Jack' eighty times in the film. Another piece of trivia? Kate and Gloria became the first ever actors to be Oscar-nominated for playing the same person in the same film. Both lost.
Kate Winslet as Rose
Gloria Stuart as Rose
Actually, if the studio had had its way Matthew McConaughey, not Leo, would have played Jack Dawson, but Cameron insisted on DiCaprio. Mercifully, Macaulay Culkin was considered for Jack and rejected. Christian Bale also missed out because Cameron did not want two Britishers playing the leads. There actually was a J. Dawson on board the real Titanic. A trimmer named Joseph Dawson died in the tragedy and his body was recovered. The 24 year-old Irishman was laid to rest in Fairview Lawn cemetery in Nova Scotia. It is testament to the difficulty some movie-goers have in separating fact from fantasy that, even though Leo's character Jack Dawson is fictional, the most visited Titanic grave at the cemetery is that of young Joseph Dawson.
Joseph Dawson's final resting place
Given that his is one of the most famous and recognizable faces on the face of the Earth, and that he is one of the world's most desirable young men to boot, it is surprising to learn that DiCaprio is not one of those stars with a truckload of conquests to his name. This in itself has brought questions about his sexuality, questions that are quite simply baseless. Leo is heterosexual right down to his socks as far as I am aware. The problem, he readily discusses, is that ever since Titanic he has become too famous. He finds himself forever wondering when he meets a woman if she is interested in him as a person or merely interested in dating a 'famous phenomenon'. His dating history seems to feature a long list of supermodels with scarcely an actress anywhere in sight.
Most people agree that he is a fine actor, although they are probably less aware of his love for the environment and his concern for the plight of those less fortunate than himself. He tends to keep out of the headlines (as much as it is humanly possible for one so famous), and he does not take drugs. Too smart for that. Having said that, I wish he had not chosen to make the horrible The Wolf of Wall Street. Having one of the world's most loved young stars depict a cretin like Jordan Belfort is disappointing. Making a movie at all about a man who puts greed and personal wealth above everything else, who wallows in drugs and sex while duping people of their life savings, is abhorrent in the extreme. I cannot help but wonder how many Leo fans watched this picture and confused him with the jerk he was portraying and developed an admiration for the man and his appalling lifestyle simply because Leo was playing him. I think great stars have an obligation to not permit their image; their charisma, to be used to enhance the appearance or persona of low-lifes such as Belfort.