So far the classic PC Wren novel Beau Geste has made it to the screen on three occasions – in 1926, 1939 and 1966 – with varying success. It has been nearly fifty years since the last version, so one expects the industry might be gearing up for another crack at it, although the plot does have one serious drawback. No women. Well, none to speak of that is. And that means no romance, no sex scenes and less bums on seats. On second thoughts they might never make the thing again. Not ever. A great pity really because it is one rollicking good yarn. Perhaps, they could bring back Saturday Morning Matinees for kids and run it there. Then again, the kids themselves would more than likely prefer to stay at home and play their video games. Oh, well. They will never know what they are missing out on.
I never actually saw the silent version of Beau Geste. It starred Ronald Colman as Beau, Ralph Forbes and Neil Hamilton as his brothers and Noah Beery (Sr) as Sgt. Lejaune. For some reason the producers of all three versions loved to fiddle with the name and rank of the chief protagonist. Beery is Sergeant Lejaune in this version, Brian Donlevy is Sergeant Markoff in 1939, and Telly Savalas is Sergeant-Major Dagineau in 1966. Why?
Noah Beery Sr.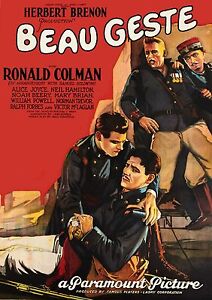 It is ironic that two of the best speaking voices in movies appeared in this silent version of Wren's classic. I refer to Colman (of course) as Beau and William Powell (the future star of The Thin Man series) who landed the minor role of the informer Boldini. The 'talkies' were just around the corner and would enhance the careers of both men, especially Powell's. Until then his swarthy looks kept him typecast as a supporting villain. Incidentally, Boldini had a name change to Rasinoff for the 1939 version, then back to Boldini in 1966. Puzzling.
Myrna Loy & William Powell
stars of The Thin Man films
By far the most popular version is the 1939 one starring Gary Cooper as Beau and Ray Milland and Robert Preston as John and Digby respectively. Boy, did I love this movie when I was a kid! It was the first book my mother ever bought me and I read it many times. The movie exceeded all my expectations and Gary Cooper became my idol for years. I later learned that director William Wellman opted for a 'shot for shot' remake of the silent version. Both versions were filmed in the desert outside Yuma, Arizona. The publicity still (below) is my favorite movie photograph.
Milland, Cooper & Preston in Beau Geste
Cooper was actually 38 years old when he made Beau Geste. His impersonation of an Englishman was widely ridiculed, yet I would not mind betting that if Sean Connery had played Beau with his broad Scottish accent, it would have been accepted without comment. The really poor performance, in my opinion, was the 'over the top' histrionics of Brian Donlevy as Sergeant Markoff, yet he was nominated for a supporting Academy Award. Happily, he did not win.
Donlevy as Markoff
An interesting player is James Stephenson, an Englishman, who portrayed Major Henri de Beaujolais. He debuted in 1938 at the age of 48, completed thirty-nine films in just four years, but then perished from a heart attack in 1941 at the age of 52. Among those 39 performances were The Letter (1940) and The Private Lives of Elizabeth & Essex (1939).
Beau
John
Digby
John & Dig
Albert Dekker played the vicious-looking rabble-rouser Schwartz. Thirty years later he would make his final screen appearance as Harrigan, the railroad detective who hires the gang in 1969's iconic western The Wild Bunch. Soon afterwards, his body was found kneeling in his bathtub, handcuffed, gagged, blindfolded, a noose around its neck and looped over the curtain rod above. Sexually explicit words were daubed on his chest in lipstick. The coroner ruled the death as 'accidental', inferring auto-eroticism that had gone wrong. Missing money and expensive camera equipment were dismissed as unconnected with the death. Curious.
Albert Dekker as Schwartz
and as Harrigan in The Wild Bunch
Early in the movie the brothers are shown playing together as boys. The part of Beau is played by a lad who would one day make a name for himself in one of the greatest (some say the greatest) musicals of all time, 1952's Singin' in the Rain. Fourteen year-old Donald O'Connor is unmistakable as Beau, looking much as he would playing Cosmo Brown and singing 'Make 'em Laugh' thirteen years later.
Donald O'Connor in Singin' in the Rain
I really cannot understand why the rather poor 1966 version was ever made, much less why someone decided to have just two Geste brothers instead of three. Digby failed to get a run. A few years earlier Universal were planning a big-budget production that would feature Tony Curtis and Dean Martin as Beau and John (again no Digby), with Charlton Heston earmarked to play the heavy. It did not eventuate. Nor did another proposal, a large-scale, all-British Roadshow starring Richard Burton, Peter O'Toole and Albert Finney. Just who was to play who is anyone's guess, but it looks as if poor old Digby got the flick again.
Guy Stockwell as Beau
Doug McClure as John
This third effort, the only one shot in color, starred Guy Stockwell as Beau, Doug McClure as John, Telly Savalas as Sergeant-Major Dagineau, and Leslie Neilsen (later to become Frank Drebbin in the 'Naked Gun' franchise) as the CO. Everyone is serviceable, in fact, Telly is far better than Donlevy was in his version, but the whole thing lacks the magic of 1939. Omitting the entire childhood segment involving the 'theft' of the Blue Water jewel certainly didn't help! So much for the 'beautiful gesture'. Why try to fix something that ain't broke?
Telly Savalas as Dagineau
Leslie Nielsen (the future Frank Drebbin)
as the commanding officer Fort Zinderneuf
There was one other performer in the 1966 picture who warrants a mention. I refer to a much under-rated actor who always played a 'heavy'; a gentleman by the name of Leo Gordon. Not only was he a fine actor, but Gordon also wrote screenplays. The 1967 World War Two actioner Tobruk was one of his. He even wrote into it a strong part for himself. When he made Riot in Cell Block 11 in 1954 he encountered a situation unique for a Hollywood actor. The movie was shot on location in San Quentin Prison. Gordon had actually served a stretch for armed robbery there before he became an actor, and several of the guards remembered him as a troublemaker. Consequently, when the cast and crew entered the prison for filming, Leo was refused admission with everyone else. Guards would only admit him on his own, and only after he had been thoroughly searched. Director Don Siegel was in awe of him. 'Leo Gordon was the scariest man I have ever met', he said. The man even looked scary, yet it is doubtful his wife of fifty years, actress Lynn Cartwright, would agree. Fans of her final movie, A League of Their Own (1992) – and I am most certainly one – will remember her playing the aged Dottie Hinson (Geena Davis's character) at the end of the picture. She passed away in 2004, four years after her beloved Leo.
Leo Gordon – the perfect 'heavy'
Lynn Cartwright as Dottie Hinson in
A League of Their Own