In Part 5 of Accidental Deaths in Hollywood I look at five drownings, four actors who died from falls, and another who failed to survive a botched operation.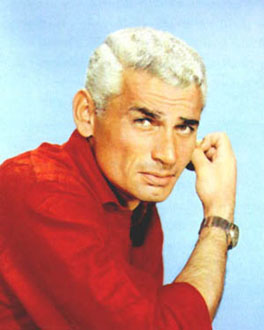 Jeff Chandler (1918 – 1961)
Chandler only made about 50 movies, the bulk of them in the fifties, but for nearly a decade his rugged features and his unique look, (he had prematurely grey, crinkly hair), made him a romantic lead opposite some of the era's top sex sirens, Jane Russell, Esther Williams, Rhonda Fleming, Mamie van Doren and Evelyn Keyes, to mention a few. He even played the love interest of the stunning Maureen O'Hara in Flame of Araby (1951). In that same year Chandler was nominated for Best Supporting Actor for his portrayal of Apache chieftain Cochise in Jimmy Stewart's Broken Arrow. For all his he-man persona, Jeff had a secret that eventually caused the end of his long romance with Esther Williams. He liked to dress in women's clothes. 'Jeff, you're too big for polka dots', she told him as she terminated their engagement. At the age of 42 he entered hospital for a minor operation to repair a slipped disc. Surgeons messed it up and he died from blood poisoning, his children later winning a sizeable malpractice suit against the hospital.
Eric Fleming (1925-1966)
Although Fleming's face became well known to fans of the sixties western series Rawhide, in which he starred as trail boss Gil Favor alongside up and coming heart-throb Clint Eastwood, it did not always look like that. During the Second World War a 200 lb block of steel severely rearranged his features in 1942, and it took four plastic surgery procedures to make it presentable again. After a stint on Broadway he won a handful of rather ordinary movie roles before hitting it pretty big on Rawhide. Unfortunately for Eric, he was playing alongside a future megastar and before long Clint was dominating the show and its ratings. Fleming was within two days of marrying his long-time partner and retiring to Hawaii when he lost his life in the Huallaga River, filming a documentary in Peru. He dived into the water of his own accord and the turbulence swept him away, his body not recovered for several days.
Joe Flynn (1924 – 1974)
Comedian Flynn first came to be noticed on the Joey Bishop Show in 1961, but he was sent packing by Bishop after season one because he was stealing far too many scenes from the star. This enabled him to accept the TV role that made him famous world-wide, that of Captain Binghamton in the enormously successful series McHale's Navy which ran from 1962 to 1966 and spawned several movies. Flynn was also a regular in Disney films, nine in all, five of those starring another Disney regular Kurt Russell. In 1974, the 49 year-old actor's body was discovered at the bottom of his Beverly Hills pool. He had foolishly decided to go swimming with a plaster cast on his broken leg and it had dragged him under.
William Holden (1918-1981)
Bill Holden made only 70 or so movies in a career that spanned more than forty years, but a few of them were very special indeed. Head and shoulders above them all, in my opinion, was 1950's Sunset Blvd. Others might say Born Yesterday, which was released in the same year, Picnic (1955), or Network (1976), although I personally disliked both of these. Three of his action flicks were terrific, however: Escape from Fort Bravo (1953), The Bridges at Toko-Ri (1954), and The Bridge on the River Kwai (1957), and they all have their admirers. He was a great friend of Ronald Reagan. In fact, he was best man at Ronnie and Nancy's wedding in 1952. Unfortunately, Holden suffered from a drinking problem throughout his life. Sober he was the nicest of men, but drunk he was abominable. There are those who would suggest that his death was the result of foul play, but the coroner's verdict seems conclusive to me. On the night of Thursday, 12 November 1981, he tripped over a rug in his apartment, struck his head on the sharp edge of a bedside table, and bled out – death from exsanguination. His decomposing corpse was not discovered until the 16th.
Whitney Houston (1963-2012)
This uniquely talented singer/actress became yet another statistic to drug abuse, even though the official cause of her death is listed as 'drowned'. In the same year she sold millions of copies of 'I Will Always Love You', Whitney met rapper Bobby Brown. Their marriage turned out to be a union made in 'crack' heaven. They even smoked crack cocaine in front of their five year-old daughter, Bobbi Kristina, on a regular basis. Their daily drug abuse began in about 1992, and continued for the next twenty years, eventually costing Houston her life. In 2012 she was found dead in her bathtub, drowned after being incapacitated by a combination of heart disease and cocaine abuse. Three years later, on January 31, 2015, her daughter, too, was found barely alive in her bathtub. Doctors induced a coma in a vain attempt to save her life. Since then her abominable father has refused to turn off her life support, family members insisting he was taking such a stance in order to maintain control of her 20 million dollar inheritance. As of this writing (May 29), she is still in a vegetative state with absolutely no possibility of recovery of any kind. Chalk one up for her disgusting parents.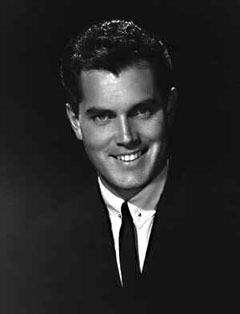 Jeffrey Hunter (1926 – 1969)
For a while, especially during the 1950s, Jeff Hunter was truly the flavour of the month. His striking good looks and affable screen persona saw him in success after success. He was particularly good in the classic John Wayne western The Searchers in 1956, but made solid contributions to several other westerns, war pictures and dramas throughout the remainder of the decade. He earned one of the most memorable roles in Zanuck's The Longest Day in 1962, and even portrayed Jesus in 1961's King of Kings, (shaved armpits and all), at a time when having a mere mortal portray the King of the Jews was considered by many to be blasphemous. He married lovely Barbara Rush, turned down the Captain Kirk role in TV's new 1965 series Star Trek, (after making the pilot), and lost his own series Temple Houston around about the same time. As his career took a major downturn, he opted to earn some extra money making Italian westerns in Europe. While returning home to the USA he suffered a stroke aboard an airliner. A few weeks later a second stroke hit him while he was negotiating some steps in his living room. His skull was fractured in the fall and he never regained consciousness, dying the day after surgery. He was 42.
Roy Kinnear (1934 – 1988)
Kinnear became a household name in Britain through his regular appearances on the 1962-3 popular TV series That Was The Week That Was, which led to his very busy career as a character actor in scores of films and television shows. In 1973 he played the comedic role of Planchet in Oliver Reed's version of The Three Musketeers, a part that he would reprise in other films, but one that would ultimately lead to his death. He was on location in Spain in 1988 making The Return of the Musketeers (1989), when he fell from a horse and broke his pelvis. The director had instructed him to 'thunder at speed' across a bridge. A poor horseman, Kinnear reluctantly did so, but fell, suffering massive internal bleeding that could not be stopped. He died in hospital the next day. His wife and family were awarded 650,000 pounds damages six years later.
Charles McGraw (1914-1980)
McGraw was a terrific, gravelly-voiced character actor who graced our screens for more than 30 years in scores of films, many of them of high quality. As a youth I vividly recall him in Kirk Douglas's Spartacus (1960). He played the gladiator trainer (above) at Peter Ustinov's villa. If you ever watch this great film again, take note of McGraw violently cracking his teeth on the rim of a cauldron of soup as Spartacus drowns him in it. Although he was injured in the scene, he carried through with it, not mentioning the hit until later. He made other fine films as well: The Narrow Margin (1952), The Bridges at Toko-Ri (1954) and The Defiant Ones (1958), among them. His death in 1980 was indeed tragic. McGraw slipped in the shower, cried out, and his companion of 13 years, Mildred Black, found him lying on his back in the tub, his arm impaled above the elbow by a shard of glass that had severed the artery. She immediately called 911, but the ambulance initially went to the wrong address. By the time it arrived it was too late. His last words were, 'Millie, I'm cold, I'm going to die.'
Maria Montez (1912 – 1951)
Maria was one of very few successful American movie stars to come out of the Dominican Republic – quite possibly the only one, come to think of it. Throughout the forties she became known as 'The Queen of Technicolor' and 'The Caribbean Cyclone', as Universal threw her into dozens of adventure features. She could barely act, could not sing or dance either, but she was colourful and she had an exotic accent. Patrons flocked to see her take on all manner of dangerous wildlife and villains of all nationalities, usually in lush jungle settings. By decade's end, however, she was starting to stack on the weight, so Maria and her husband decided to try their luck in Europe. In 1951 she was discovered drowned in her bath in Paris, in all probability having first suffered a heart attack. She was 39.
Natalie Wood (1938 – 1981)
It was most likely just coincidence, but no fewer than four of the principle players in the 1955 film Rebel Without A Cause did not die peacefully in their beds. James Dean met his end in his Porsche Spyder, Sal Mineo was stabbed to death in the street, Nick Adams was found slumped against a wall; apparently the victim of a drug overdose, and Natalie Wood died the way she was fearful of dying all her life – by drowning. Petite and lovely Natalie (she was barely five feet tall), apparently slipped and fell overboard from the yacht owned by her husband Robert Wagner one evening while it was anchored off Santa Catalina Island. Even today there are doubts about what actually happened that night. In fact, in August 2012, her death certificate was officially amended from 'accidental drowning' to 'drowning and other undetermined factors', whatever that is supposed to mean.