EVELYN KEYES (1916 – 2008)                                                   
Evelyn hailed from Port Arthur, Texas, arriving in Hollywood at the age of twenty. She soon hooked up with one of Cecil B. DeMille's writers who introduced her to the boss. CB placed her under personal contract at Paramount Pictures, 'without even making a test', she wrote in her 1977 memoir titled Scarlett O'Hara's Younger Sister: My Lively Life in and out of Hollywood, and gave her a small role in The Buccaneer (1938). The star of the picture, Fredric March, at once unsuccessfully tried to seduce her. Co-star Anthony Quinn was more successful and became her first Hollywood lover. There would be others. The lady discovered she liked sex.
Evelyn as Sue-Ellen O'Hara in GWTW (1939)
The role of Scarlett O'Hara's sister, Sue-Ellen, in GWTW, was handed to her by David O. Selznick and it led to Evelyn being contracted in turn to Columbia Pictures under its boss Harry Cohn. She soon became one of his 'afternoon delights' and their affair, if it could be called that, went on for three years or so. Both parties enjoyed other lovers (and their spouses) along the way. It was a sexual arrangement and nothing more. Her ulterior motive was to sleep her way to the top but she only slept her way to the middle! Even so, Cohn was a wildly jealous individual. Word got back to him that she was bedding Robert Stack, Peter Lawford, Glenn Ford, Kirk Douglas and David Niven at various times over the three years she was still being intimate with him. When she refused to provide him with details about her latest trysting with blonde newcomer Sterling Hayden, Cohn lost patience and told her goodbye.
Charles Vidor
English businessman Barton Bainbridge was the first of Evelyn's four husbands. He was ten years her senior and his business was teetering. They wed in October '39 but he shot himself in July the following year upon learning of her affair with Hungarian director Charles Vidor. The abortion she had in 1939, just before filming began on Gone with the Wind, rendered her unable to ever have children of her own, a decision she regretted until the day she died. By 1943, Evelyn was still intimately involved with Vidor, under whose direction she made three pictures. They eventually wed (in '43) but the union only lasted (officially) until 1945, apparently because of his many infidelities. The couple had already separated a year earlier anyway. During the Second World War she attained pin-up status despite remaining a leading lady in B-films only; more often than not in westerns.
Evelyn & husband John Huston
Director John Huston became husband #3 in July 1946. Their marriage was anything but dull. He wrote in his autobiography of finding a homeless thirteen year-old orphaned boy in Mexico while shooting The Treasure of the Sierra Madre (1948) and bringing him back to the USA. Upon arriving with the boy (Pablo), Huston informed his wife at the airport that she was meeting their new son! Evelyn, who 'was not going to spend her life raising other lives', was not pleased. Unable to bear children herself, she was not interested in adopting either, although she eventually did her best to mother the boy. In time, Pablo married an Irish girl and fathered three children to her before deserting his family to become a used-car dealer.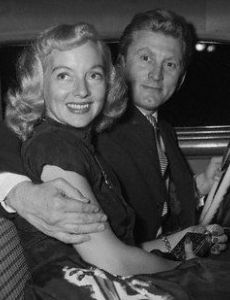 Dating actor Kirk Douglas
In 1949, Huston returned home bearing another surprise gift, this one from actress Jennifer Jones. Having just finished directing her in We Were Strangers, Jennifer had presented him with – a real live chimpanzee! One of Evelyn's lovers, David Niven, wrote about what happened next. Mrs. Huston put up with the chimp's noise and the mess the un-broken animal made in their all-white apartment for a while, but in the end she presented her husband with an ultimatum. "Either the chimp goes or I go!' 'Honey', replied Huston. 'It's you!' And the marriage was over. That was the story according to Niven. In her memoir, Evelyn claimed it was the chimp that got the boot – not her. Either way, the marriage ended in divorce in 1950. The fact that her husband had also brought home his twenty year-old lover Enrica 'Ricki' Soma to live with them as well probably hastened the break-up! John and Evelyn divorced on February 10 and the forty-four year-old director made Ricki his fourth wife that same day!
Images of Evelyn at the height of her beauty
Entrepreneur Mike Todd and Evelyn seemed to hit it off when they began their three-year romance in 1953. He even asked her to marry him in '56, presenting her with a $50,000 engagement ring. Soon afterwards, he asked for it back on the pretext that it needed altering. It didn't. Instead, he used it when he proposed to Elizabeth Taylor! He announced their engagement to the press and declared to the press that the ring was really valued at $200,000! It wasn't. The positive thing to emerge from Evelyn's relationship with Todd was that she had invested most of her money in his 1956 blockbuster Around the World in 80 Days. The picture's success set her up financially for life. She even had a cameo in it. Come to think of it, so did just about everyone else!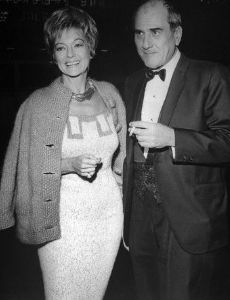 Evelyn & Artie Shaw
Evelyn's final marriage was to serial womanizer Artie Shaw in 1957. He had already divorced or annulled seven wives, among them trophy spouses Ava Gardner and Lana Turner. This, his eighth and last attempt at marital bliss, would also end in divorce but not until 1985. Artie's miserable marital track record, however, remained intact because he and Evelyn had parted company back in the sixties! It just took them until '85 to make it official. By then Evelyn had published her 1977 'tell-all' memoir and in '91 she would bring out another equally candid volume. Shaw died in 2004. Two years later, a jury unanimously awarded her one half of his estate or $1,420,000.
One reviewer of Evelyn's autobiography wrote: 'She made more men than movies.' Well, Evelyn made just forty-four films over her career and named twenty lovers in her memoirs, four of whom she married. On the strength of those figures she was nowhere near as promiscuous as some, more so than others. 'I always took up with the man of the moment', she wrote, 'and there were many such moments.' Then she added, 'I have often wondered what my life would have been like if I had needed a size 38 bra instead of a modest 34.' She passed away in 2008 from uterine cancer and Alzheimer's disease at the age of 91. Her small tombstone in the family plot at the Waco Baptist Church Cemetery, Waco, Georgia, bears the inscription – Gone with the Wind.