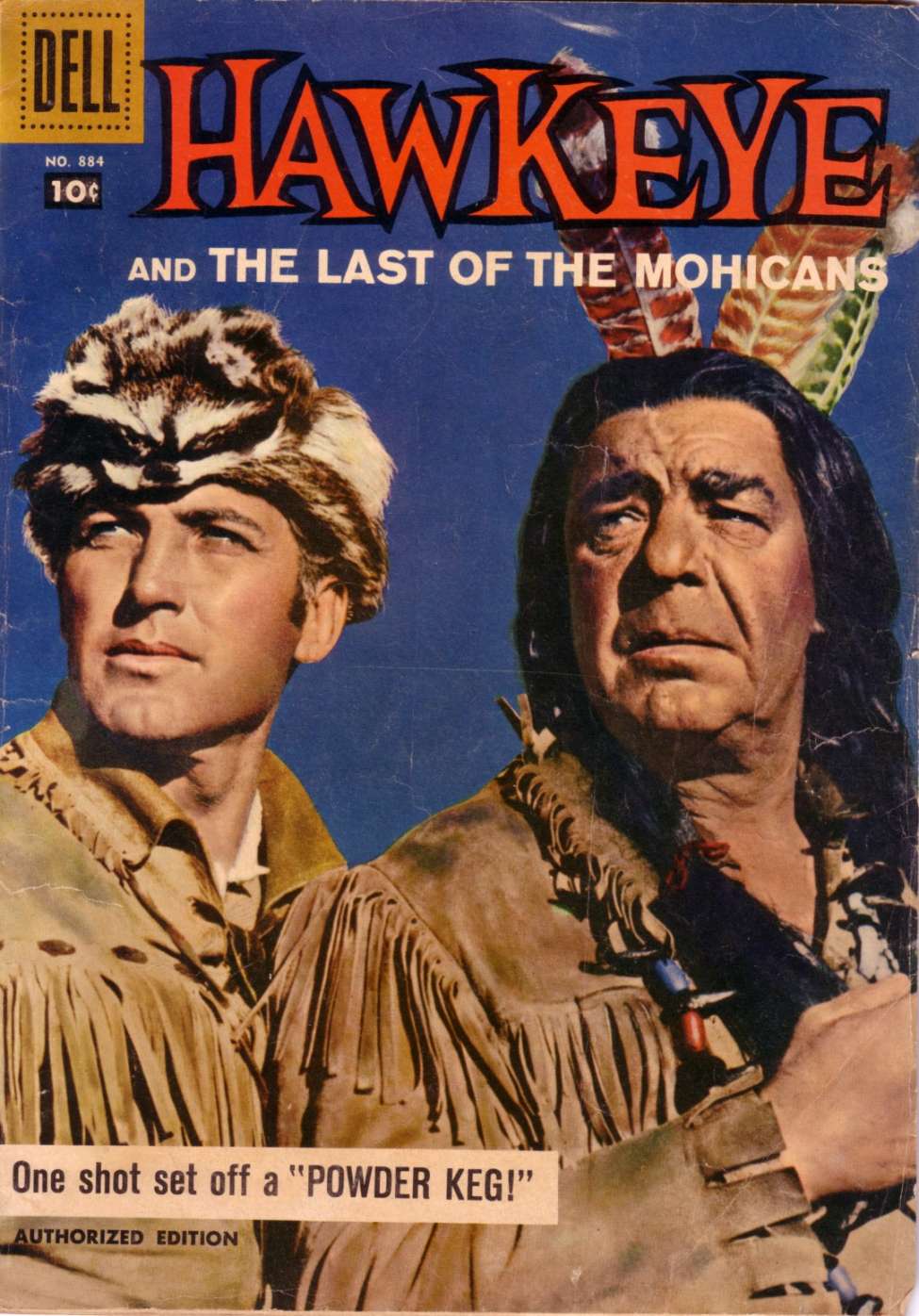 HAWKEYE & THE LAST OF THE MOHICANS (1957) 39 episodes                             
This was yet another short-lived western series from the 1950s, one that lasted just a single season although, by most accounts, it probably deserved a better fate. Its star was a charismatic actor named John Hart (1917-2009), who possessed above average ability as an actor and had genuine on-screen appeal. His mother was a drama critic for the Pasadena Star News and he had learned the acting trade at the Pasadena Playhouse where a Paramount scout had found him and signed him.
In 1938 he landed a minor role in CB DeMille's big production The Buccaneer, and hopes were high that Hart was about to embark on a fine career. But then World War II intervened and the 24 year-old promising leading man went into the US Army for the duration. By the time he returned to Hollywood he was almost thirty and his career boat had sailed, leaving him stuck mostly in low-budget westerns and serials. 'I had big parts in lousy movies', he said later, 'and lousy parts in big movies. I never made a lot of money, but it sure was fun.
John Hart as The Lone Ranger
Arguably, the high point of his interrupted career happened when he replaced Clayton Moore as The Lone Ranger in 1952. Moore was involved in a pay dispute so Hart stood in as the masked man for fifty-two episodes. He would be known as 'the other Lone Ranger' for the rest of his life. 'There are worse things people could call me', he commented philosophically. Quite possibly, his exposure in that popular series may have led to him being offered the lead in Hawkeye & the Last of the Mohicans a few years later.
Lon Chaney Jr as The Wolfman
Hawkeye's real name was Nat Cutler, and his 'sidekick' in the series, Chingachgook, the last Mohican of the title, was portrayed by 50 year-old Lon Chaney Junior, son of the legendary silent star of numerous horror and monster pictures. Lon Junior did not go into films until after his father's death in 1930. He disliked being billed as Lon Chaney Junior, but was astute enough to realize that it opened many doors for him as studios cashed in on the name of his father. His most memorable performances were in Of Mice and Men (1939) and The Wolf Man (1941), but an alcohol problem derailed his career late in life and he passed away in 1973 at the age of sixty-seven. Hart would live on until 2009, married to the same woman he met on the set of Hawkeye & the Last of the Mohicans fifty-two years previously.
HEC RAMSEY (1972-4) 10 episodes                      
Although this rather obscure series from Universal ran over two seasons, it only contained a total of ten episodes, each one of them between 90 and 120 minutes duration. Set in Oklahoma Territory in 1901 (around six years before the area received statehood), it was a western series with a difference. Set in the twilight years of the Old West, at a time when crimes were beginning to be solved scientifically rather than by gunplay. Ramsey often used new-fangled methods of criminology such as fingerprinting, forensics and ballistics.
Richard Boone as Hec Ramsey
It starred Richard Boone (Paladin of Have Gun – Will Travel fame), in the title role. In fact, it was actually mentioned in one early episode that Ramsey used to be a bounty hunter operating out of San Francisco. Fans of Have Gun – Will Travel would doubtless be aware that Paladin hailed from San Francisco in that series. Created by Jack Webb of Dragnet fame, Hec Ramsey was described by him as 'Dragnet meets John Wayne', which was quite accurate and quickly picked up by the media. It even had Webb's Dragnet partner, Harry Morgan, in a regular role as Doc Amos. B. Coogan. Rick Lenz played Sheriff Oliver Stamp, Ramsey's boss, a man who had similar views on law enforcement as Deputy Ramsey, but they often clashed anyway.
Although there were just ten episodes, the series managed to attract some high quality guest stars. These included actresses Angie Dickinson, Kim Hunter, Rita Moreno, Ruth Roman, Sheree North and Marie Windsor – and actors Rory Calhoun, Kurt Russell, Steve Forrest, Jackie Cooper, Stuart Whitman and Claude Akins. The show was popular but westerns had pretty much run their race on television by the early seventies so sadly, it was short-lived. Boone himself hastened its demise when he had a falling out with Universal.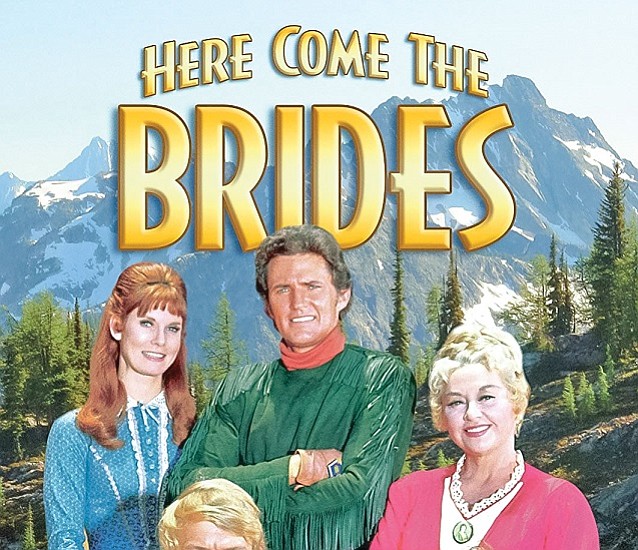 HERE COME THE BRIDES (1968-70) 52 episodes                     
This show was inspired by actual events in the life of Asa Mercer, a Washington State Senator and resident of Seattle. Back in the nineteenth century he made three ocean voyages to New England in order to recruit eligible women to move to the Pacific Northwest because there was a desperate shortage of women in the region. The first group reached Seattle, Washington in May 1864 and Mercer married one of these imported women. Here Come the Brides sees the three Bolt Brothers, Jason, Jeremy and Joshua, bring one hundred prospective brides from Massachusetts to Seattle.
(L to R) Bobby Sherman, David Soul & Robert Brown
Jason (the oldest brother) is played by Robert Brown, his younger siblings by David Soul (Joshua) and Bobby Sherman (Jeremy). Brown's career never rose above occasional TV guest spots and by 1994 he disappeared from our screens, although he continued to act in the theatre. Today (2020) he is in his mid-nineties. David Soul's career, on the other hand, has been decidedly different. Building on his popularity here he was fortunate to land a berth as one of the bad cops in Eastwood's Magnum Force (1973), and that led to him being cast as the 'Hutch' half of the enormously popular 'buddy cop' series Starsky and Hutch in 1975. From there he went from strength to strength, not just as an actor but also as a pop singer, scoring with two worldwide #1 hit singles in the seventies – 'Don't Give Up On Us' and 'Silver Lady'. He overcame a serious problem with alcohol in his early days of success.
Joan Blondell (1906-79) as Lottie Hatfield
Bobby Sherman was the popular 'house singer' on Shindig! in 1964, before gaining popularity among the younger set on Here Come the Brides, and then launching into a cult status singing career that earned him six gold singles and six gold albums. His hit singles included 'Julie Do You Love Me' and 'Easy Come, Easy Go'. In 1988, he joined the LAPD as a specialist officer, training police recruits in first aid and CPR. Eleven years later he moved to the San Bernardino County Sheriff's Department in the same capacity. His last screen appearance was as himself in an episode of Frasier in 1997.