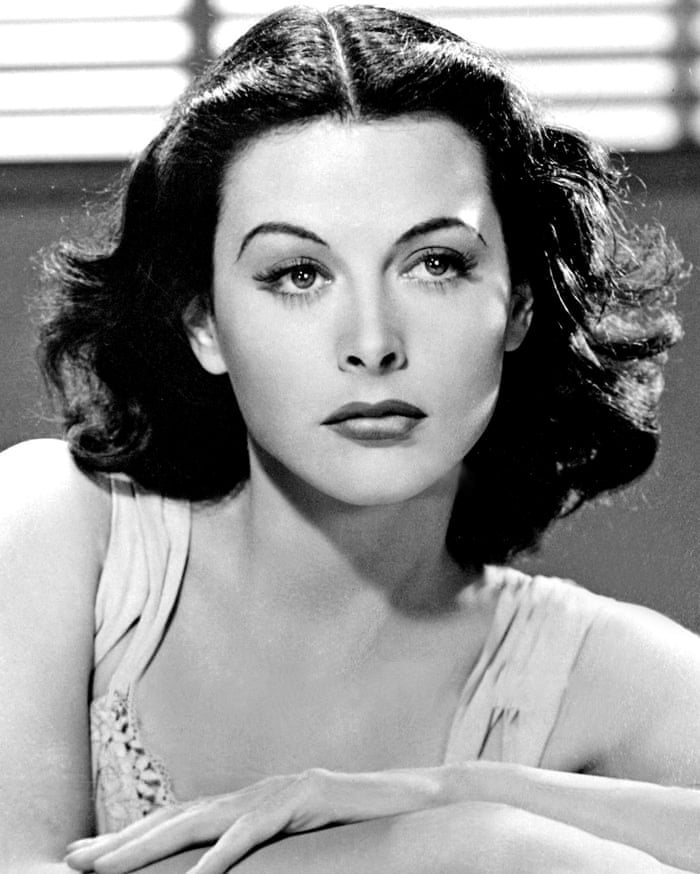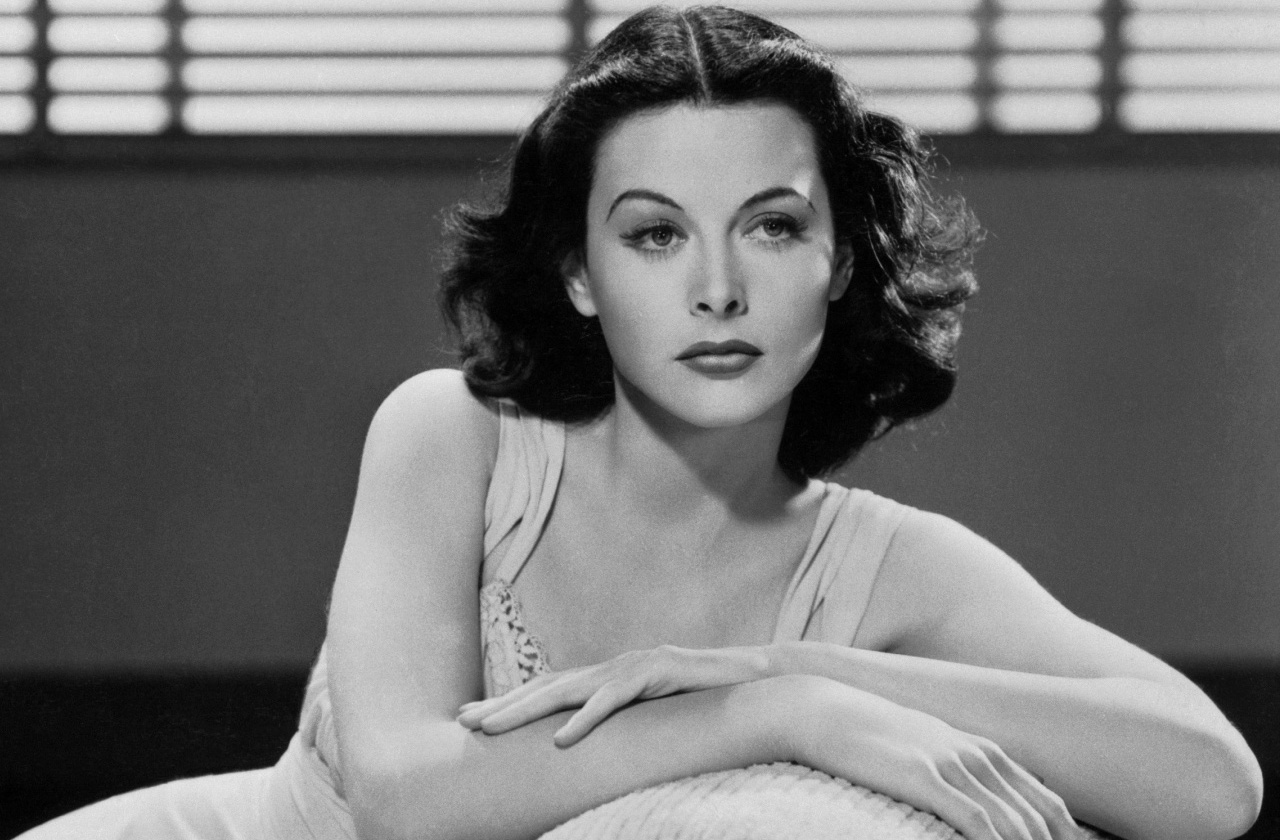 HEDY LAMARR (1914-2000)                               
Hedy hailed from Austria, where she entered this world from Vienna in 1914. She fled her wealthy Austrian munitions manufacturer in 1937, traveling first to Paris, then London and finally to Hollywood and a movie career. At the start of the Second World War, she and composer George Anthiel developed a radio guidance system for Allied torpedoes! The quite brilliant concept's intention was to use frequency-hopping, spread spectrum technology, to defeat the threat of 'jamming' by the Axis powers. For reasons known only to them, the US Navy did not adopt the technology until the 1960s. Various aspects have since been incorporated into 'Bluetooth' technology and are similar to methods used in legacy versions of Wi-Fi. Hedy was not just a stunning face. Come to think of it, George was not just a composer either.
Back in 1932, eighteen year-old Hedy caused a sensation when she appeared topless in the Czech production Ecstasy (1933). The year the picture was released was the same year she married Fritz Mandl, an Austrian- fascist munitions manufacturer who was an ardent admirer of Hitler and the Nazis. He was also an extremely jealous husband, and attempted to buy up every copy of Ecstasy he could lay his hands on. Of course, it was impossible to get them all. Benito Mussolini, for example, refused to sell him his own copy at any price. Today, the movie is as tame as dishwater, but the notoriety of the film saw MGM head Louis B. Mayer sign its star to a contract, before changing her name from Hedwig Kiesler to Hedy Lamarr. She might well have become a much bigger screen star, had she not turned down the leads in both Gaslight (1940) and Casablanca (1942), for she possessed one of the truly beautiful faces ever to appear in movies.
Hedy was a regular at the Hollywood Canteen during the war years. It was there that Bette Davis introduced her to husband #3, actor John Loder. In her life she would have six husbands and divorce all six. Loder was a sedate, pipe-smoking British actor, sixteen years her senior, who had served at Gallipoli in World War One before being sent to the Western Front. He was captured there by the Germans and found himself in a POW camp at war's end. After the Armistice he stayed on in Germany to manage a pickle factory! He and the gorgeous Hedy were like chalk and cheeses. The marriage officially lasted four years and produced two children, but the initial attraction wore off long before that.
Hedy & husband John Loder
Hedy and Antheil patented their 'frequency hopping' invention on August 11, 1942, under the name, 'Secret Communications System', yet neither of them made a red cent from it. Indeed, the patents were allowed to expire decades before the modern wireless boom. The very first Inventor's Day in Germany was held in Hedy's honor on November 9, 2005, on what would have been her 92nd birthday. She had passed away from natural causes on January 19, 2000 in Florida.                                          
DOROTHY LAMOUR (1914 – 96)                                                            
Dorothy Lamour made fifty-nine movies, only six of which required her to appear in a sarong, yet she is still remembered by her admirers as 'The Sarong Girl'. In 1946, with the full assistance of Paramount Pictures' publicity department, she publicly burned a sarong in a futile attempt to rid herself of the label, but the stunt made little difference. The former 1931 Miss New Orleans started out as a Big Band singer before signing with Paramount in 1936. After America entered the war on December 7, 1941, she began touring the United States selling war bonds. And she was very good at it, too. By the end of hostilities she had sold more than $300 million worth of them, earning herself the studio-inspired nickname of 'The Bond Bombshell'.
On one occasion, after selling bonds at City College in New York, Dottie journeyed to New England where she encountered crowds of between twelve and fifteen thousand people lined up on the streets! Such was the popularity of the 'Road' pictures she had been making with Bing Crosby and Bob Hope. 'I made a deal with the Treasury Department' that I would not take pledges, only cash', she reminisced. 'That way I got the money before they got the autograph. I was extremely proud that in the first four days, I brought in $30 million.' Even so, it took until 1965 for the Treasury Department to acknowledge her massive contribution to the war effort by awarding her a belated citation for her record-breaking achievement. Throughout the war Dottie was regularly listed among the top five pin-up girls by American troops, alongside the likes of Betty Grable, Rita Hayworth, Lana Turner and Veronica Lake. She also worked as a volunteer at the Hollywood Canteen on numerous days and evenings, spending hours dancing with and chatting to soldiers. In 1996, a heart attack took this much-loved and respected performer at the age of 81.
BURT LANCASTER (1913 – 94)                                                                          
Burt Lancaster was twenty-eight years old at the time of the attack on Pearl Harbor. He and his circus partner Nick Cravat were performing with some success on Broadway and elsewhere during the thirties, but the entry of the US into the war saw him join the Army in '42. Before long he had found his way into the Army's 21st Special Services Division as a USO performer. He also served with General Mark Clark's Fifth Army in Italy and North Africa from '43 to '45.
Burt as Elmer Gantry (1960)
Burt was a self-taught actor who enjoyed a great deal of success on the screen. He was nominated for Oscars four times – From Here to Eternity (1953), Elmer Gantry (1960), Birdman of Alcatraz (1962) and Atlantic City (1980). He won for Elmer Gantry (for which he also collected a Golden Globe Award.) Burt made a great deal of money from the 1970 box-office success Airport, (he was contracted to receive 10% of the profits, and the picture made $45 million in the USA alone). Regardless of its cinematic success, he described the film as 'the worst piece of junk ever made.' And he was not far wrong.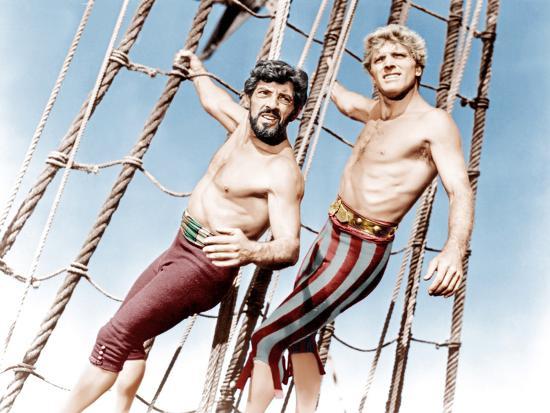 Lancaster & Cravat in The Crimson Pirate (1952)
Lancaster suffered a severe heart attack while visiting actor Dana Andrews who was himself in the grip of Alzheimer's disease. Hospitalized until February 1991, he spent the remaining three years of his life incapacitated and unable to speak. A third heart attack in his Century City apartment in October 1994 proved fatal and he was gone at 80. His long-time friend, circus acrobat partner and frequent co-star Nick Cravat, died that same year.