Lillian Gish
Lillian Gish might very well have died in her twenties when she was hit by the influenza pandemic of 1918. She miraculously survived it when a great many people did not. In the 1920s, there was something of a scandal when producer Charles Duell made public details of his relationship with the young beauty during a lawsuit he filed against her for breach of her acting contract. As far as we know, Duell was the other half of the only intimate relationship she may have had in her entire life. It has been suggested that Lillian pressured her friends to imply that she and Duell were never lovers, but the general consensus is that she was probably intimate with him. He was a married man at the time and it was said he divorced his wife to become briefly engaged to Lillian before she called it off. Drama critic and editor George Jean Nathan was another possible intimate in the 1920s, but just how far their relationship progressed is problematical.
Lillian with John Gilbert – publicity shot
Screen superstar John Gilbert was obsessed by her beauty and deliberately ruined take after take in one of their movies, just so he could keep kissing her. But Lillian was not interested in him. Her director and mentor D. W. Griffith, too, was clearly obsessed with her fragile beauty. Several of her associates claimed she and Griffith were briefly intimate in the early days, but Lillian never confirmed the rumours so once again we are left with conjecture, nothing more. Perhaps, Griffith first noticed there was more to her during one rehearsal he directed for Birth of a Nation (1915). She was standing in for Blanche Sweet when she cunningly loosened her waist-length blonde hair during the inevitable near-rape scene and the ruse landed her the starring role.
L to R – Dorothy & Lillian Gish with D W Griffith
Rumours persisted for much of her life that Lillian was quite possibly a lesbian. The fact that she never married added fuel to the fire stoked by those who automatically who deemed spinsterhood to be evidence of homosexuality. Decades later the rumours were helped further along when Bette Davis asked a confidante of Lillian's, Lindsay Anderson, if they were true. 'Don't ask me, Bette', she replied. 'Ask her long-time girlfriend.' The lady did not proffer a name, however, so we are none the wiser.
Lillian (L) & Helen Hayes – Arsenic & Old Lace (1969)
On her death, Lillian left her entire estate to actress Helen Hayes who died less than a month later. It is no secret that Lillian was close friends with Mary Pickford and Miss Hayes all her life, but any suggestion that either of these two ladies was ever intimate with her is entirely conjecture. Indeed, Lillian seemed entirely devoted to her career and not much interested in embarking upon intimate relationships with males or females. She would live on until 1993 before dying at 99, still unmarried. Her astonishing career had spanned an incredible 86 years from 1902 until 1988!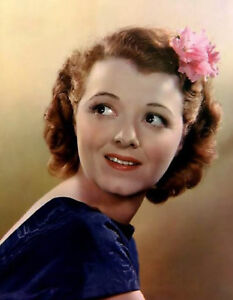 Janet Gaynor
There has always been a lot of speculation about lovely Janet Gaynor's sexual preferences. Some say she was heterosexual, others that she was a lesbian; others that she was bisexual. According to her friend, actor Douglas Fairbanks Jr, Janet was romantically involved with her co-star of several films, Charles Farrell, for several years and that he (Fairbanks) would regularly assist them in keeping the relationship out of the public eye. 'We three were so chummy that I became their 'beard', he recalled, 'the cover-up for their secret romance. I would drive them out to a little, run-down, wooden house; well south of Los Angeles, near the sea. I'd leave them there and go sailing or swimming until [it was] time to collect them and then we'd all have a bit of dinner.'
Janet & Charles Farrell
Janet's biographer, Sarah Baker, wrote that Farrell even proposed to her during the filming of Lucky Star (1929), but they never went through with it. Years later, Janet would argue that they broke up because of their different personalities. In September 1929 she married lawyer Jesse Peck, but they separated in December 1932 and officially called it a day in April the following year. There were no children.
Janet & her first husband Jesse Peck
In the interim between her divorce from Peck and marriage to her second husband six years later, Janet was seen with some very high profile actors at various restaurants and other night spots. She was photographed dining with Tyrone Power, Jimmy Stewart, Lew Ayres, Robert Taylor, Richard Carlson and Cesar Romero. Just how many (if any) of these gentlemen became her lovers is anyone's guess, although the pro-lesbian set would probably suggest they were all bogus dates to throw off the media.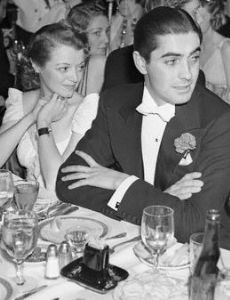 With Ty Power in the 30s
Those researchers who vow that Janet was a lesbian firmly believe that iconic actress Helen Hayes was one of her early lovers, while friends of Miss Gaynor state that actress Margaret Lindsay (India in Gone with the Wind) was the 'love of her life'. It has been strongly argued that her studio, 20th Century Fox, pressured her into marrying Adrian, the notoriously gay costume designer at MGM, in 1939, when she became in danger of being exposed as a gay woman. 'Lavender marriages' have always existed in Hollywood and her union with Adrian lasted until his death in 1959. The question is – was this marriage 'lavender' to camouflage Adrian's sexuality or both his and Janet's? Nobody seems to know for sure.
Margaret Lindsay (L) & Janet at the Desert Inn, Palm Springs 1934
With husband  Gilbert Adrian at his Toluca Lake home
The couple had a child in 1940, despite the film community being firmly aware of Adrian's homosexuality and Janet's suspected lesbianism. During their marriage Janet became very close to singer Mary Martin, the mother of Larry Hagman of Dallas fame. Actor Bob Cummings claimed he knew all about Janet's love affair with Mary. 'Adrian may have been her husband', he supposedly said, 'but her wife was Mary Martin.' Mary and Janet owned adjoining ranches in Brazil for a while, but does that prove they were lovers" Not in my book. In December 1964, Janet took her third trip down the aisle, this time with her long-time friend, stage producer Paul Gregory, to whom she remained married until her death in 1984.
Janet with Mary Martin February 1980
One evening in September 1982, Janet, Paul, Mary and Mary's manager Ben Washer were involved in a horrendous car crash in San Francisco when a van ran a red light. Washer was killed, Mary suffered broken ribs and a broken pelvis, Paul had both legs broken, and Janet sustained eleven broken ribs, a broken collarbone, pelvic fractures, a punctured lung and injuries to her bladder and kidneys. She was hospitalised for four months and her injuries required further bouts of hospitalisation over the next year and a half. She passed away in hospital in Palm Springs at the age of 77, having never fully recovered from her injuries.