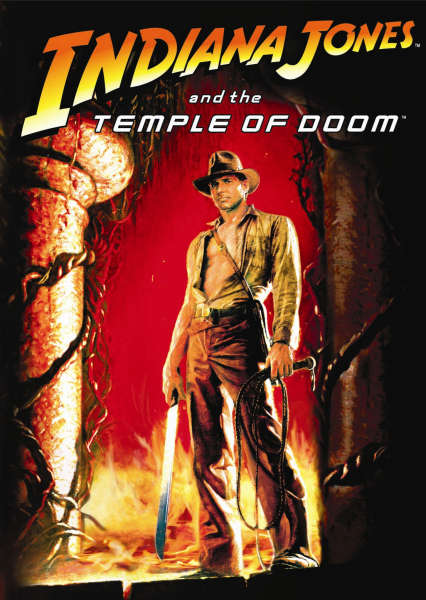 As shooting on this picture drew to a close, Paramount executives arranged a little surprise for its star Harrison Ford. Chained to a rock and about to be flogged by a turbaned torturer, he was astonished by the sight of Barbra Streisand dressed in black leather and brandishing a phony bullwhip. As she delivered the first lash on his bare back, she chanted: 'That's for Hanover Street, the worst movie I ever saw!' The second lash was followed by, 'And that's for making so much money out of Star Wars.' At that moment Carrie Fisher rushed in and threw herself between Ford and his tormentor. 'No, no, no!' she melodramatically emoted. The entire thing was filmed.
Jonathan Ke Quan as 'Short Round'
Vietnam – born Jonathan Ke Quan was a 13 year-old boy when he accompanied his brother to auditions to find a youngster to play the role of Short Round. He so impressed the casting director watching him issue directions to his brother that he was chosen for the role instead. Jonathan (who is now 45 years old), speaks four languages – English, Vietnamese, Cantonese and Mandarin – and today works as a stunt co-ordinator. A year after this picture was released he landed a role in The Goonies (1985). In one scene he was required to scream, 'Holy Shit!', but was permitted to spell out the offending word ('Holy S-H-I-T!') because he had promised his mother he would not use any bad language in the movie.
Kate Capshaw as Willie
Steven Spielberg did not enjoy making Indiana Jones & the Temple of Doom. 'It was too dark, too subterranean, and much too horrific', he said later. 'Temple of Doom is my least favourite of the trilogy.' Most fans would agree.  But it was on the set of the film that he met and fell in love with Kate Capshaw, (she played Willie Scott), who would later become his wife. Twenty-three years later, during the disappointing Indiana Jones & the Kingdom of the Crystal Skull, the aging Indiana is asked whatever happened to Willie? 'Last I heard, she married a big-shot director', he replies. How true.
the rope bridge
The rope bridge across the gorge was constructed by a British engineering company that was in Kandy, Sri Lanka at the time to build a dam. Spielberg has always suffered from acrophobia and flatly refused to walk on the structure. Harrison Ford, on the other hand, held no such fears and would run across it for fun. The bridge was coated with sand so that it would briefly leave an afterimage of itself in mid-air when it collapsed into the gorge. Dummies were used when it was cut, each one fitted with batteries that made their arms and legs kick and flail as they plummeted 200 feet to the bottom.
It might interest trivia buffs to learn that all three main characters in this movie were named after pet dogs. 'Short Round' was the name of screenwriter Willard Huyck's dog, Willie was named for Spielberg's, and Indiana is the name of George Lucas's pet canine. In order to maintain audience interest whilst explaining the Thugee cult, Spielberg and producer George Lucas chose to incorporate it into the rather disgusting dining table scene in which bugs and monkey brains are served. The 'chilled monkey brains', incidentally, were comprised of custard and raspberry sauce.
Monkey brains, anyone?
All in all, Indiana Jones & the Temple of Doom is not what we have come to expect from Spielberg and Lucas. It is simply too nasty. Lucas was involved in a messy divorce at the time and his mood was 'dark' to say the least. Spielberg attempted to inject a little levity into the really dark moments, but there were just too many of them.
After working with River Phoenix on The Mosquito Coast in 1986, Harrison Ford was most happy to have him on board for this, the third of the Indiana Jones' trilogy. River would play Indy as a youngster here. According to Steven Spielberg's biographer John Baxter, however, the young actor was warned, 'never to imitate Ford's mannerisms on-screen, nor to suggest he had any interest in taking over the Indy role.' The gifted young actor was so impressive that Lucasfilm created a television series titled The Young Indiana Jones Chronicles, and most of Hollywood believed this would be a precursor for him to later slide into the senior Indy role one day in the not too distant future. After all, Ford was fast approaching fifty years of age. As we now know, of course, River Phoenix would not portray Indiana or anyone else in the future. He had no future. Within six years he was dead. You might recall young Indy accidentally cutting his chin while cracking his whip in the picture's opening sequence, supposedly an explanation for Ford's own scarred chin. In reality he received it in a car accident when he was 20.
River Phoenix as young Indy
Part of this picture was shot in Venice. Ford's wife, Melissa, and Spielberg's wife, Kate Capshaw, went along to the location with their famous husbands. It was, after all, Venice, the city of love. They soon cut short their visit and took off for London. The stench from the polluted canals was more than they could stand. That was back in 1989, so one would hope the city authorities have done something about the problem since then. For the underground scene in Venice two thousand rats were specially bred and used instead of ordinary rats which are riddled with disease. One thousand mechanical rats were also used.
the rats sequence in Venice
The film's climax takes place in Petra, doubling for Alexandretta. The impressive doorway at Petra leads to a huge, empty square room, two stories high – and that is it! There is nothing else. The valley, stretching about a mile or so, is the only exit from Petra. The cast and crew were billeted as guests of King Hussein and Queen Noor of Jordan. T-In fact, the Queen and her children drove Spielberg to the Petra temple for filming. The area used to be visited by just a few thousand people each year, but has since become extremely popular following the release of this picture.
at Petra
The next time you watch Indiana Jones & the Last Crusade, take special notice of the 'seagulls' that Professor Jones frightens with his umbrella. First of all, they are not seagulls but pigeons. You cannot train seagulls to do anything. If you look closely at the gulls in the sand you might notice that quite a few are 'cut-outs' that do not move like the others.
Connery and the 'seagulls'
Writer Tom Stoppard, who would later deservedly win an Oscar for his wonderful Shakespeare in Love screenplay in 1998, was recruited by Spielberg to work on the dialogue between Indy senior and junior played, of course, by Sean Connery and Ford. He was paid $120,000 for his efforts. Following the success of the movie, however, Spielberg decided his lines of dialogue were worth more, so he gave the writer a bonus – of one million dollars!
Alison Doody
The stunning Irish actress Alison Doody has always prided herself on her refusal to appear nude (or even semi-nude) on-screen. Her stance cost her the leads in both Days of Thunder (1990) and Basic Instinct (1992), but it also resulted in a successful 2000 lawsuit against The Mirror Newspaper Group of Dublin, following a 1999 press article wrongly claiming she had appeared nude or semi-nude in her film roles. The issue was settled out of court for an undisclosed sum.
Ford as Indy 1981                                            and in 2008
There have been four Indiana Jones films – Raiders of the Lost Ark (1981), Indiana Jones & the Temple of Doom (1984), Indiana Jones & the Last Crusade (1989) and Indiana Jones & the Kingdom of the Crystal Skull (2008). The first one was a roller-coaster ride of thrills, full of plot holes and errors, but nobody cared because it was fun. The second was far too dark and not much fun at all. Number three was wonderful. Still containing errors and implausible situations, it nevertheless bounced along, monumentally enhanced by the presence of Sean Connery as Indy's dad. The final entry in 2008 was just plain dumb and should never have been made.