Napoleon Solo & Illya Kuryakin
The original title for the series that took the TV world by storm was to be Solo, but when it was pointed out that writer Ian Fleming had already used that name for one of the gangsters recruited by Auric Goldfinger to knock over Fort Knox in his James Bond film Goldfinger, the title was changed to The Man From U.N.C.L.E. For those who cannot remember back to the sixties, the letters stood for – United Network Command for Law and Enforcement. The pilot began shooting on Wednesday, November 20, 1963, just two days before the assassination of President John F Kennedy in Dallas.
Robert Culp & Bill Cosby in I Spy
The lead role of Napoleon Solo got down to a choice of two actors – Robert Culp and Robert Vaughn. Culp missed out, but would have his own series within twelve months anyway when he landed the role of Kelly Robinson in the series I Spy, alongside Bill Cosby. Janice Rule was supposed to be the lead girl in the pilot, but she insisted on always being photographed from the left and it proved to be her undoing. Vaughn also photographed only from the left – and he was the star! Furthermore, Solo and Rule's character had several scenes together, so it was goodbye to Miss Rule and welcome to young Pat Crowley. An elderly actor named Will Kuluva was to play the boss, Mr. Waverly. David McCallum was selected to play the Russian Illya Kuryakin.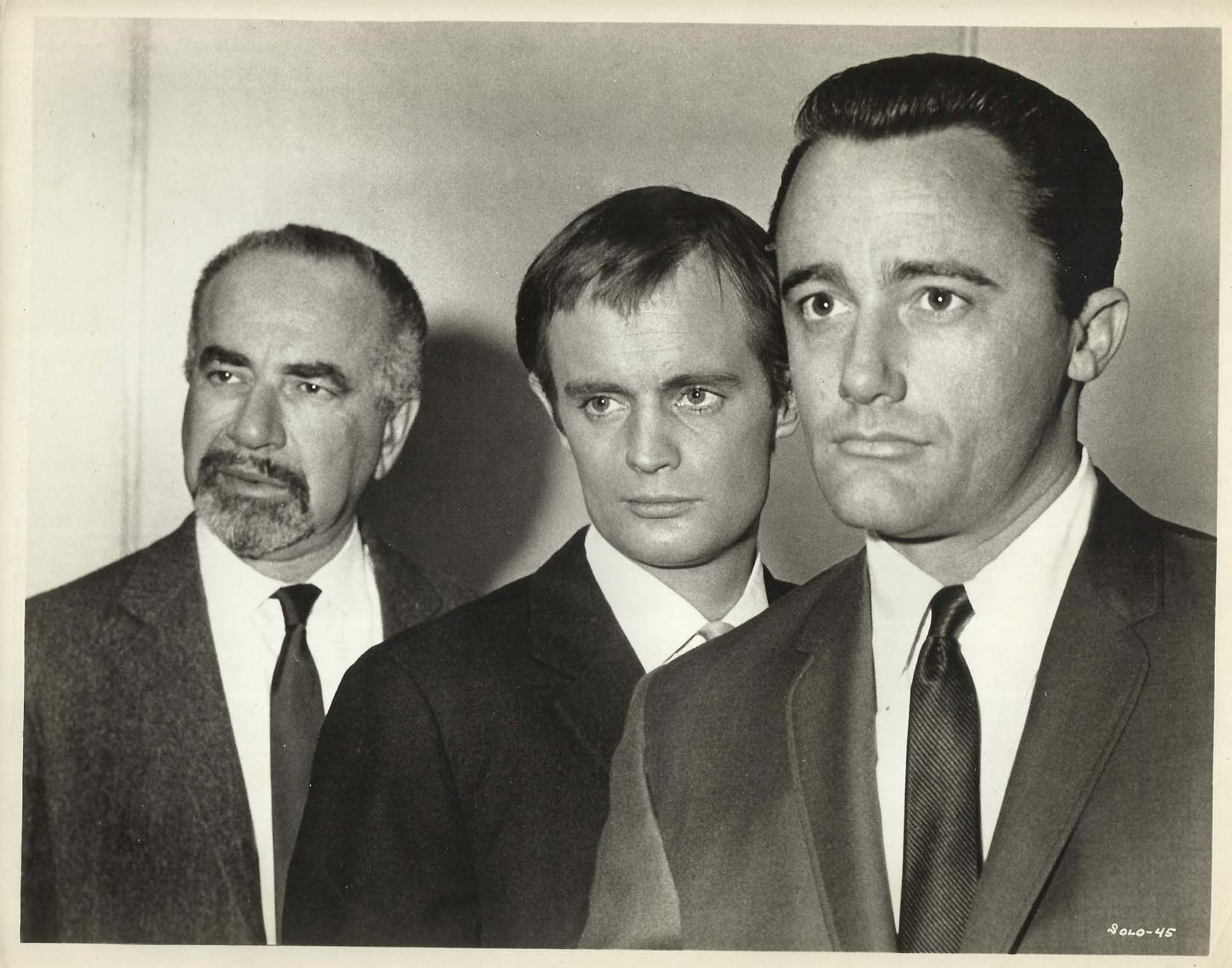 Will Kuluvu (L) before he was axed                Leo G Carroll – his replacement
The pilot was completed and was favorably received. The series was to begin filming in June 1964. An executive from NBC called the producer and informed him that the network did not want one of the players. He could not recall the actor's name, but he thought it began with a 'K'. The only actor in the pilot that fit that description was poor Will Kuluva, so he was sent packing and replaced by 71 year-old Leo G. Carroll. Later, the NBC executive expressed surprise that such an elderly actor was chose, but let it ride. What emerged later was that NBC heads watching the pilot had not liked David McCallum as Kuryakin! Their intention was to replace the character (not the actor) whose name started with 'K'. By the time the misunderstanding had been realized it was too late to do so. Shooting had already started. As we know now, McCallum was to become even more popular than Vaughn – a phenomenon in fact – with thousands of Illya Kuryakin fan clubs sprouting up all over the world.
Initially, the series did not do too well, but it gradually gained momentum (particularly with college students), until it ultimately became the hottest series in the television industry. Every episode was shot on the MGM backlot which boasted replicas of streets in many European capitals. Not once did the cast and crew film on location. The whole series was filmed within five minutes of the studio. Today, the production looks as cheap as it was in reality, but in the sixties fans thought it was something really special.
Vaughn and McCallum were sent out on motorcades in numerous American cities and received tumultuous receptions wherever they went. Women and young girls would bombard them with house keys and apartment keys labeled with their addresses. Vaughn's bachelor pad was frequently invaded by young women pleading to spend the night with him. The adulation for the happily married McCallum was even greater. He was idolized by women around the world for four years and became the number one TV heartthrob on the planet! Adoring female fans were aware of his marriage to English actress Jill Ireland (1956-67) and they couldn't care less. Between them, at the zenith of their staggering popularity, Vaughn and McCallum received over 70,000 fan mail letters a month.
David & Jill Ireland 1956-67
The Man from U.N.C.L.E. was the first TV show to latch onto the spy film craze that was sweeping the world when James Bond hit movie screens in the early sixties. Needless to say, the television industry was quick to jump on the band wagon. Within two years there were a dozen spy shows on prime-time TV, including a spin-off from 'U.N.C.L.E' called The Girl from U.N.C.L.E. Unfortunately for its star, Stefanie Powers, the genre simply could not ride the crest of the wave forever and her series closed after its first season, having only made it to 57th spot in the top 60 prime-time network list. Even the original 'U.N.C.L.E.' series was already beginning to struggle to maintain its ratings, although there were other mitigating circumstances involved.
A new producer came on board in the second season, a man who took far too much notice of the popularity of Batman, the camp TV series that starred Adam West. The new guy opted to restyle the 'U.N.C.L.E.' series, first as a comedy, and then as an out and out camp exercise. The result was that most of the second season episodes were not only unfunny – they were just plain silly. And as the scripts and stunts got sillier and sillier, the show's ratings plummeted lower and lower.
The series that had taken the world by storm a bare 18 months earlier was suddenly canceled, its final airing in January 1968. It had been an exciting ride for its two stars and it spring-boarded their careers. But it was over. Watching episodes today on DVD, it is clear the series has not aged well. Not by a long shot. Ironically, even though its switch to camp comedy had sounded the death knell for 'U.N.C.L.E.', NBC replaced it with probably the most camp comedy series in television history – Laugh-In. And it was a raging success! Go figure.
Probably, The Man from U.N.C.L.E.'s greatest legacy was its role as a breeding ground for up and coming young stars. Over its short lifespan a number of actors and actresses went from guest starring on an episode to landing their own hot series. People such as William Shatner, Leonard Nimoy and James Doohan, who eventually starred in the iconic sixties series Star Trek. Hawaii Five-0's Jack Lord was another. Ricardo Montalban (Fantasy Island), June Lockhart (Lost in Space), Werner Klemperer (Hogan's Heroes) and Robert Culp (I Spy), all got their start on 'UNCLE'. Even Sonny & Cher guested in one show.