Until around about the eighties very few actual Native Americans were employed playing Indians in Hollywood movies. Thankfully, since then that has changed and there are numerous Native American actors making healthy livings in westerns and other genres. Over the next few days I shall examine some of those aliens who played Indians back when westerns were all the go and some of the more prominent Native American actors of recent times. Neither list will be comprehensive, however.
Anthony Quinn in They Died with their Boots On
Mexican actor Anthony Quinn played Cheyenne Chief Crazy Horse in They Died With Their Boots On (1941). A few years earlier he landed the role of a Cheyenne warrior in Cecil B. DeMille's epic western The Plainsman (1937) after convincing CB that Cheyenne was his native tongue. Of course, it wasn't, but DeMille liked him. A few years later Quinn married his daughter.
Jeff Chandler in Broken Arrow
Jewish leading man Jeff Chandler, steely grey hair and all, was an unusual choice to play Apache leader Cochise in Broken Arrow (1950), yet he even picked up an Oscar nomination for his performance.
Debra Paget in White Feather
All-American Denver girl Debra Paget won the role of Apache maiden Sonseeahray, Jimmy Stewart's love interest in Broken Arrow. In 1955 she would portray a Cheyenne girl, Appearing Day, in White Feather.
Vince Edwards in Hiawatha
Vincent Edwards came from Italian parents and would one day achieve worldwide fame as Doctor Ben Casey in a popular sixties TV series of that name. In 1952 he became the logical choice to play the title role in Hiawatha.
Michael Pate in Hondo
Australian character actor Michael Pate often portrayed Amerindians over his long Hollywood career. In 1953 he played the Apache leader Vittorio in Hondo.
Jack Palance in Arrowhead
Pennsylvanian Jack Palance was of Ukrainian descent, but that did not prevent him from being cast as Apache chieftain Toriano in the Charlton Heston western Arrowhead in 1953.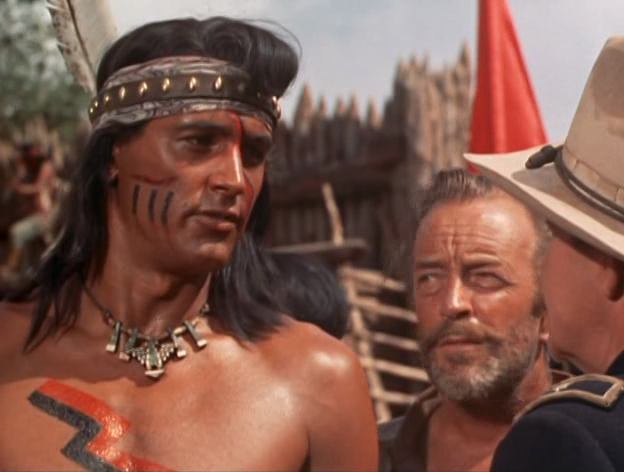 Rock Hudson in Taza, Son of Cochise
Illinois-born beefcake Rock Hudson was a somewhat ludicrous choice to play Taza the Apache in 1954's Taza, Son of Cochise.
Charles Bronson in Drum Beat
Another Pennsylvanian, this time of Lithuanian parents, Charles Bronson was excellent as the Modoc renegade Captain Jack in the Alan Ladd western Drum Beat (1954).
Anthony Caruso & Marisa Pavan in Drum Beat
Italian beauty Marisa Pavan (Pier Angeli's real life sister) played the Modoc maiden Toby in Drum Beat. Italian-American Anthony Caruso also featured as a Modoc.
Burt Lancaster in Apache
New Yorker Burt Lancaster's grand-parents were all Irish. He looked as much like an Apache as Jimmy Stewart, but that didn't stop his studio from casting him as Massai the Apache renegade in the 1954 oater that was most unimaginatively titled – you guessed it – Apache.
Jeffrey Hunter in White Feather
Jeffrey Hunter hailed from New Orleans. Someone in the casting office at Fox had a sense of humor and came to the conclusion that he could play Little Dog, a Cheyenne warrior in White Feather (1955). He sure made a pretty Indian brave.
Hugh O'Brian (R) in White Feather
The same person in casting at Fox must have thought New Yorker Hugh O'Brian  would be perfect as American Horse, another Cheyenne in the same picture.
Donna Reed in Far Horizons
Donna Reed was the Midwestern girl of caricature, straight out of Denison, Iowa, yet even she was cast as a Shoshone, the Sacajawea of Lewis & Clark fame, in The Far Horizons (1955).
Henry Brandon as Scar in The Searchers
Gay German actor Henry Brandon will always be remembered for his performance as Comanche Chieftain Scar in the fabulous John Ford western The Searchers (1956). In the same year he played another Comanche, Black Cloud in the Dana Andrews western Comanche.
Sal Mineo in Tonka
In 1958 even Walt Disney got into the act. Sal Mineo was born in the Bronx to Sicilian parents so, of course, that was the ideal pedigree for having him portray White Bull, a Sioux brave, in Tonka.
Pierre Brice as Winnetou
Frenchman Pierre Brice was selected to play the Apache Winnetou in a 1962 movie, The Treasure of the Silver Lake. From then until 1998 he reprised the role no fewer than twelve times!
Howard Keel (C) in The War Wagon
The wonderful singing star, Howard Keel, was so desperate for movie work after the musicals era dried up that he condescended to play 'a wise-cracking Indian' named Levi Walking Bear in the 1967 John Wayne 'shoot'- em-  up', The War Wagon. How sad.
Paul Newman in Hombre
In 1967 even Paul Newman got into 'playing at being an Indian' when he portrayed a White Mountain Apache in Hombre.
Jorge Rivero in Soldier Blue
Dashing Mexican leading man Jorge Rivero impressed as the Cheyenne chief Spotted Wolf in the 1970 bloodbath Soldier Blue. He cut a majestic figure and looked every bit a Cheyenne warrior.
Iron Eyes Cody – maintaining the myth
Most movie fans thought Iron Eyes Cody was a Native American. In reality, he was the son of two first generation immigrants from Italy, real name Espera DeCorti, who passed himself off as an Indian and made a movie career for himself in the process. That career started in 1926 in silent features and ended with The Spirit of '76 in 1990 – over two hundred screen credits later!
There have been many other actors and actresses of varying nationalities who were asked to play Native Americans over the hundred plus years the American movie business has existed, but the above selection provides enough embarrassing evidence of the studios' reluctance to use real Amerindians when they possibly could have done so.
Part two of this article will be posted in a couple of days.