Dina Merrill
Born in New York in 1927, Dina Merrill has oozed class all her life. Her pedigree demanded it. She is one of that rare breed born with a silver spoon in their mouths who managed to remain unspoiled throughout their privileged lives. Her father was financier E. F. Hutton, founder of the Wall Street firm; her mother none other than Marjorie Merriweather Post, heiress to the Post cereal fortune. In that inevitable way that 'money' always seems to marry 'money', Dina's first husband, Stanley Rumbaugh Jr, was himself heir to the Colgate toothpaste fortune. The union survived for around 20 years, as did marriage number two with handsome Oscar-winning actor Cliff Robertson.
Mr. & Mrs. Cliff Robertson
She managed to combine the best of both worlds with her third marriage in 1989. Ted Hartley, her current spouse, is both an actor and an investment banker. In that same year they together purchased RKO Studios and renamed it the RKO Pavilion. A tireless philanthropist, the still elegant and beautiful Dina remains heavily involved with several health organizations, among them the Junior Diabetes Foundation and Project Orbis, a flying ophthalmological hospital of which she is a director. Now (2016) in her 89th year, she is by far the richest actress in the world with a net worth of around five billion dollars.
Dina and Ted Hartley
With Tony Curtis in Operation Petticoat (1959)
She never seemed to be able to get away from the same kind of wealthy socialite roles in her acting career, but she occasionally landed a more interesting and diverse part. Probably, her best picture would be (in my opinion) the light-weight services comedy Operation Petticoat (1959) alongside Cary Grant and Tony Curtis. Her movie debut was in the Spencer Tracy-Katharine Hepburn vehicle Desk Set in 1957. She was also in the grossly over-rated Butterfield 8 in 1960 with Elizabeth Taylor. Dina Merrill's acting career may not have reached dizzying heights, but her personal life most certainly did. The lady is, and always has been, a class act.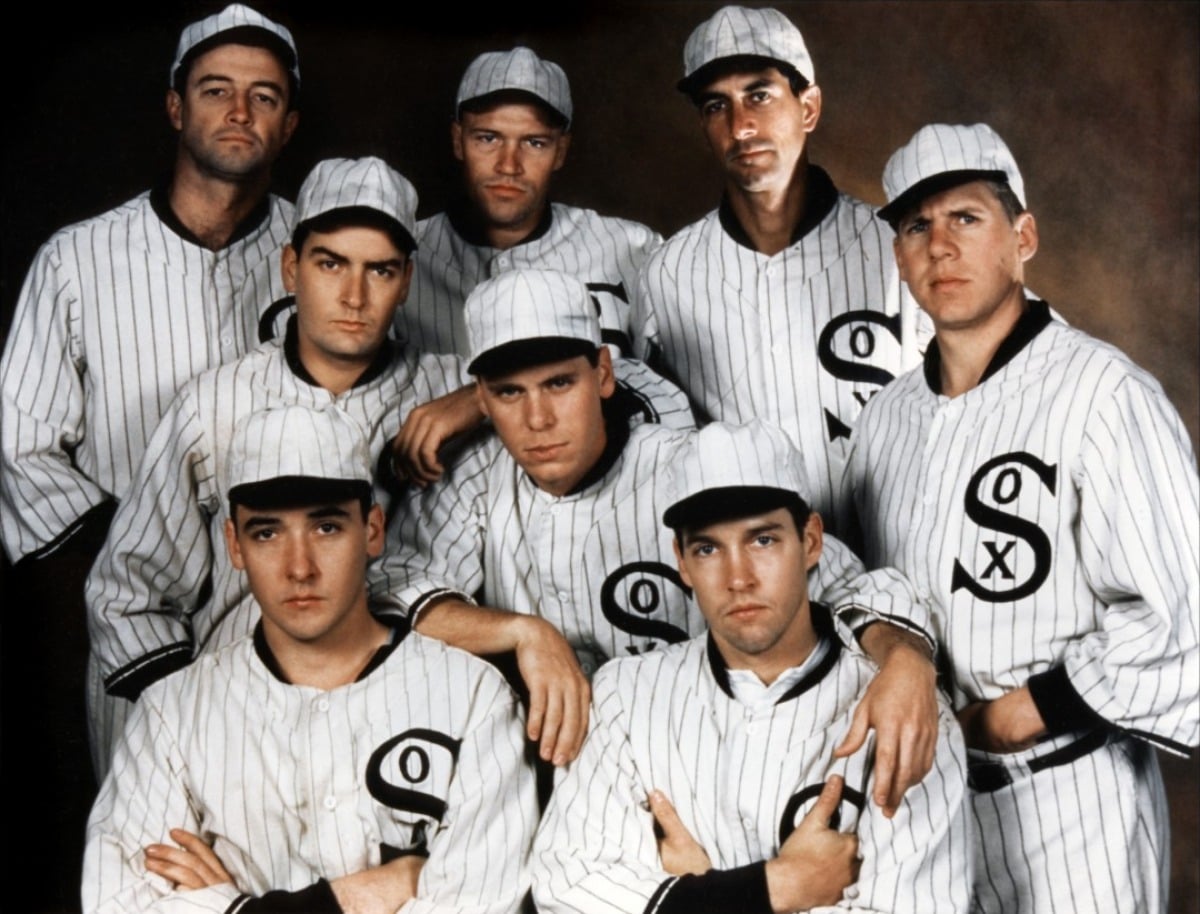 Hollywood's 'Eight Men Out' (1988)
The real McCoys
Director John Sayles bore such a striking resemblance to the real sportswriter Ring Lardner that he decided to play him in this most entertaining movie. Lardner was the father of Hollywood Ten writer Ring Jr, who was jailed along with the other nine for defying the House Un-American Activities (HUAC) in 1953. The real-life owner of the White Sox, penny-pinching Charles Comiskey, really did give his victorious team a 'bonus' of flat champagne, but that was after they beat the New York Giants in the 1917 World Series. Curiously, most historians believe the team was known as the Black Sox long before the scandal, on account of Comiskey refusing to pay for the laundering of their uniforms, a chore he left to the players themselves. They often played in dirty uniforms, hence the nickname. The debate rages today; would the players have thrown the series if Comiskey had paid them what they were worth?
Arnold Rothstein
Eight Men Out is about the 'throwing' of the 1919 World Baseball Series between the red-hot favourites, the Chicago White Sox, and the Cincinnati Reds. Even before the first of the nine-game series began, rumours were rife that it was going to be thrown by the White Sox. Wealthy New York gambler Arnold Rothstein promised six Chicago players $100,000 between them to deliberately lose the series. George 'Buck' Weaver, a third baseman, attended the initial meetings but refused to be a part of the fix. Another player, utility player Fred McMullin, overheard conversations about the plan and threatened to tell all unless he was included in the payout. All eight men would be ultimately banned for life after the Reds won the series. In fact, there were actually nine players banned for life because of the Black Sox scandal. Joe Gedeon was a pitcher for the St Louis Browns who found out about the 'fix' and placed bets on the Reds. He even went to Comiskey chasing a reward for telling him of the plot.
Joe Gedeon
Weaver spent the rest of his life protesting his innocence, but the Baseball Commission refused to relent, claiming he was as guilty as the rest because he knew of the plot and did not report it. He might as well have taken the money like the rest of them. Then again, very little cash reached the players anyway. In 1922 over 14,000 White Sox fans signed a petition to allow Weaver to return to playing. It was presented to Judge Kenesaw Mountain Landis who steadfastly rejected it. Star outfielder 'Shoeless' Joe Jackson and pitcher Eddie Cicotte confessed to receiving money, but both later recanted their confessions when their signed statements and other key evidence 'went missing' from the Cook County Courthouse. The trial, incidentally, ended in August 1921, two years after the scandal.
Buck Weaver
'Shoeless' Joe Jackson
In a pre-arranged signal to Rothstein that the fix was in, pitcher Eddie Cicotte hit the lead-off batter in the back with his second pitch in game one. The oft repeated story of Jackson being asked by a young fan to, 'say it ain't so, Joe', is almost certainly apocryphal, most likely a creation of writer Hugh Fullerton of the Chicago Herald and Examiner. It is believed he overheard a young boy ask Jackson, 'Say it didn't really happen Joe', and he employed a little poetic license, changing his words to something more memorable. Even though he was deeply involved in the entire scheme Rothstein was not indicted along with the players. In the mid-twenties he was also involved in numerous illegal enterprises. This was just one of them. He smuggled drugs in partnership with Charles 'Lucky' Luciano and Jack 'Legs' Diamond and acted as arbiter in disputes between feuding mobsters (for a hefty fee, of course). Ultimately, he would pay the price for his arrogance and greed.
In September 1928 he refused to pay a $320,000 gambling debt. 'I don't pay off on fixed poker', he said. Ironically, the man who had rigged scores of sporting events was shot to death in a Park Central hotel room, apparently, because he resented paying up on that particular fixed game. Win some, lose some, I suppose. There was one final slice of poetic license in Eight Men Out. The scene in which Lefty Williams was forced to 'throw' the final game as pitcher because a mobster threatened to murder his wife was invented by the writer, Eliot Asinof, on whose book the picture is based. It never happened.