David and Merle
At the Hollywood Criket Club
circa 1936
David Niven and the exquisite Merle Oberon were in the throes of their quite public affair when they starred together in the 1936 film Beloved Enemy. Merle was on the rebound from her romance with Leslie Howard, her co-star in The Scarlet Pimpernel. Niven had met her in London a few years earlier, before he was an actor and when she was a 'society girl' known as 'Queenie'.
A'Herne at left
Much of Hollywood believed the unknown Niven used the established Merle to further his career when they hooked up again in the movie capital. He did make The Charge of the Light Brigade in 1936, but he was quite a way down the credits and it was entirely Errol Flynn's picture. The rumours may have been true in the beginning, but David and Merle seemed to be clearly in love by then. They shared a mutual love of sex (especially with each other), but David's continued philandering had caused a rift in their relationship by the time they made Beloved Enemy. To spite him Oberon dived into an affair with co-star Brian Aherne, but it was short-lived. Before long the lovebirds were back together again, their romance lasting about a year before Niven moved on to other beauties. For a while he lived with Evelyn Keyes. Virginia Bruce and Norma Shearer came and went, as did Rita Hayworth, Loretta Young and many others.
His publisher wrote of Niven's reputation in a memo stating that it was 'common knowledge that he had practically every star in Hollywood'. Roddy Mann said of him: 'He had scores of girlfriends in the Thirties. He was notorious as a 'swordsman'. Claudette Colbert once asked Niven who he felt was the best lover he ever had, and he replied, 'you're black maid'. She could not ascertain if he was joking or not.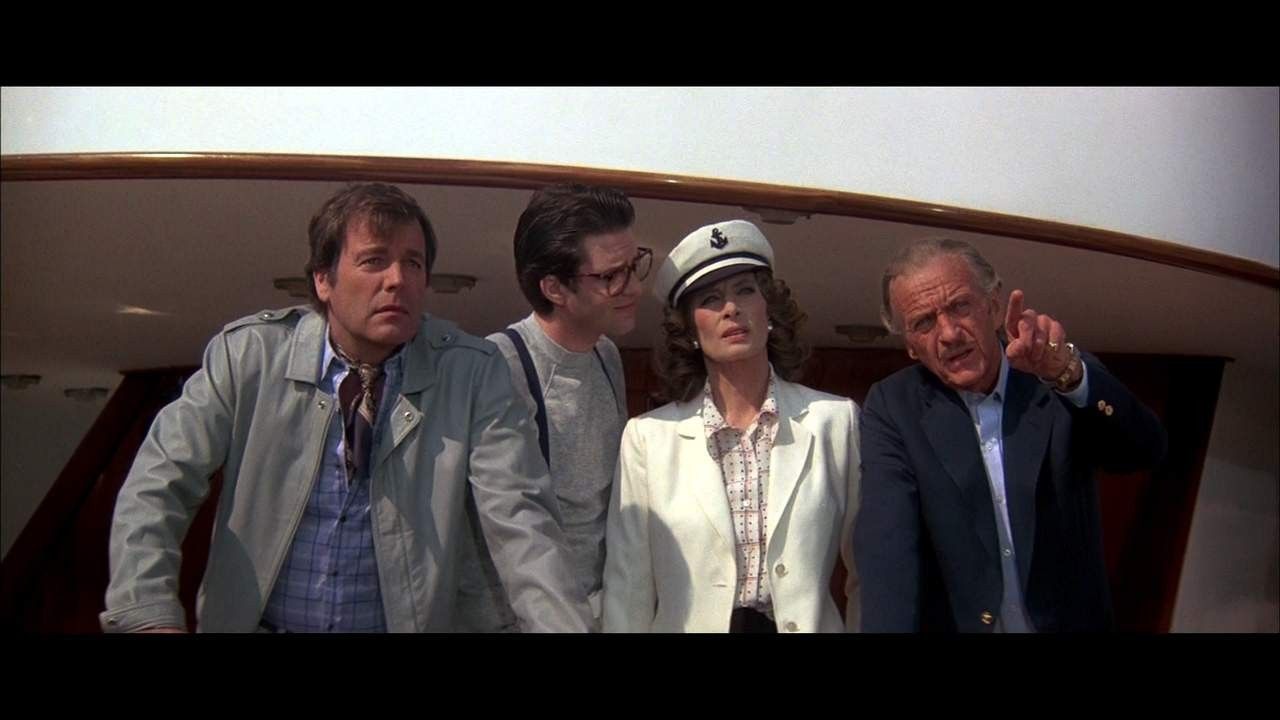 His final screen appearance
The Curse of the Pink Panther (1983) was David Niven's last film. His performance was so hampered by Motor Neuron Disease (also known as Lou Gehrig's Disease), that director Blake Edwards had no option but to utilise the talents of impressionist Rich Little to dub over all of the dying actor's lines. Little then made the mistake of telling the press and poor Niven was devastated. Sufferers of MND have been known to experience exaggerated outbursts of jollity at times and extreme melancholy at others. When Niven's long-time friend Princess Grace of Monaco was killed in September 1982 he could not bring himself to attend her funeral for fear he might break down uncontrollably or, worse still, burst out laughing. Eight months later he, too, was dead.
Although friends petitioned the British Government about awarding him a knighthood, it was not forthcoming. Ironically, his friend Douglas Fairbanks Junior was more fortunate, receiving one shortly before Niven's death, yet Fairbanks was not even British. Apparently, the government was still averse to knighting tax exiles and Niven had lived abroad for decades. Six years further down the track, however, another such exile Rex Harrison became Sir Rex. It was just as well Niven was no longer around to witness it because he could not stand the man.
Serving his country in WW2
In hindsight it is difficult to comprehend just why Niven was never so honoured. After all, he was the very first Hollywood actor to volunteer to return to England and fight against the Nazis. Not only was his career severely hampered by the war, but he gave outstanding service with his Phantom Regiment as well as handling several propaganda assignments thrown his way by the top brass. When we think of Sir Thomas Sean Connery (a Scot, and an outspoken one at that), Sir Rex Harrison (whose only real claim to fame was playing Henry Higgins in My Fair Lady), and Sir Michael Caine (who has made no bones about staying out of reach of the British tax man), it is puzzling why Niven, the quintessential Englishman, was never similarly acknowledged. Incidentally, he only ever said he was born in Scotland (his father was Scottish) because he thought it sounded more romantic. In truth he was a Londoner.
 Cary & Audrey on the banks of the Seine in
Charade (1963) 
For some reason a lot of movie-goers assume this terrific comedy/drama/mystery/romance is a Hitchcock film. It isn't. It was directed by Stanley Donen and Hitch had nothing to do with it whatsoever. Cary Grant and Audrey Hepburn got along famously, so well in fact that he was heard to say 'All I want for Christmas is to make another movie with Audrey Hepburn.' He was offered the Henry Higgins role in My Fair Lady (1964) but refused it, stating that he not only would not play Higgins, but if Rex Harrison was not cast he would not go to see it either. He then attempted to get Audrey for Father Goose, but she was unavailable and Leslie Caron got the nod instead. Cary and Audrey never did grace another picture together which was a great shame, for it is difficult to imagine two more charismatic players (regardless of the age difference) so perfectly suited to a romantic comedy.  
Cary was uneasy about having Audrey as his love interest in this picture because she was young enough to be his daughter. He was 59 and she had just turned 33. In fact, he initially rejected the role for that very reason. When screenwriter Peter Stone sent him a reworked script, however, he changed his mind at once. Stone had simply taken all the romantically aggressive lines from Cary's character and given them to Audrey's. Now, her character chased his, so Cary no longer came across as a dirty old man. Had he still refused the producers were ready to go with Warren Beatty and Natalie Wood. Stone, incidentally, is the guy wearing spectacles in the elevator, the one who complains about his boss being bluffed in a poker game.  His voice, however, is dubbed over by that of director Stanley Donen.
The delightful shower scene
Cary was approaching sixty years old when they shot Charade and his body was well and truly starting to show its age. Consequently, he was deeply concerned about his fans seeing that if he took a shower as per the script. He cleverly suggested to Donen that the scene would be a lot funnier if he took his shower with his clothes on. And he was right. It was one of the highlights of a movie chock full of highlights. Another was the very funny 'orange game' played out on the dance floor. The next time you watch this picture look for a glimpse of Audrey's real-life husband at the time, Mel Ferrer, sitting in the background smoking a cigarette.
Thomas Chelimsky as Jean-Louis
And today
The actor who played the little French boy, Jean-Louis, was Thomas Chelimsky, although his voice was dubbed by a French girl. Frankly, his performance was extremely annoying to me, and it comes as no surprise that he never acted in anything else. In fact, he became a noted neurologist who went on to the chairmanship of the Department of Neurology at the Medical College of Wisconsin in 2011.