1960-1
#5        THE REAL MCCOYS
#11      DENNIS THE MENACE
#13      MY THREE SONS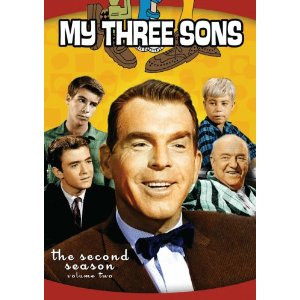 (1960-72). Fred MacMurray is widower Steve Douglas who raises his three sons with the help of his housekeeper 'Uncle Charlie'. The irascible William Frawley (above right) developed health issues and was replaced in 1965 after appearing in 165 episodes. He did not want to go. He particularly did not relish being replaced by William Demarest whom he hated in real life. In fairness to Demarest, Frawley hated a lot of people. His stint as Fred in I Love Lucy was marred by his dislike of Vivian Vance (Ethel). The feeling was mutual.
#18      THE FLINTSTONES
Fred with his voice Alan Reed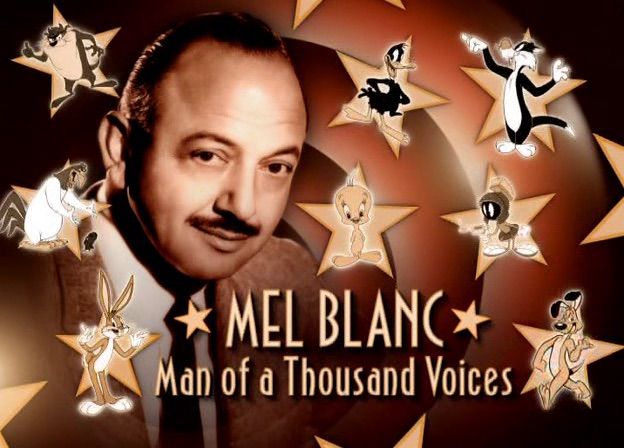 The voice of Barney Rubble
(1960-6). Most of season two was taped in Mel Blanc's bedroom! He provided the voice for Barney Rubble, but a near-fatal car crash in January 1961 saw him bedridden in a full body cast. As many as 16 people (plus equipment) would crowd into his bedroom to get the job done. After a suburban American family named the Flagstons threatened legal action, it was decided to change Fred and Wilma's surname from Flagstone to Flintstone. By the way, Wilma's maiden name was Pebble – hence their little girl was named 'Pebbles'.
#23      THE MANY LOVES OF DOBIE GILLIS

(1959-63). The Hanna-Barbera cartoon series Scooby Doo, Where Are You! (1969) was based on four characters in this show, Dobie Gillis, Zelda Gilroy, Thalia Menninger and Maynard G. Krebs. Bob Denver was a grade school teacher and postal worker before landing his first ever acting job as Maynard G. Krebs. He was drafted into the US Army during the fourth episode of season one and looked set for a tour of duty in Vietnam. Replaced by Michael J. Pollard for a short time, he returned to the series after being rejected by the US Army as '4F'. Warren Beatty briefly played Dobie's nemesis Milton Armitage, but he disliked the series and left it early on. Dwayne Hickman (Dobie) said later that he personally did not much like the actress Tuesday Weld who played his love interest in the first season.
1961-2
#4        HAZEL
(1961-6). Renowned character actress Shirley Booth portrayed Hazel, the maid and housekeeper to a lawyer, his wife and son. From 1925 until 1970 Shirley trod the Broadway boards in a career that was full of high points. She even won an Oscar for Come Back, Little Sheba in 1952. Burt Lancaster considered her to be the best actress in America.
#7        THE ANDY GRIFFITH SHOW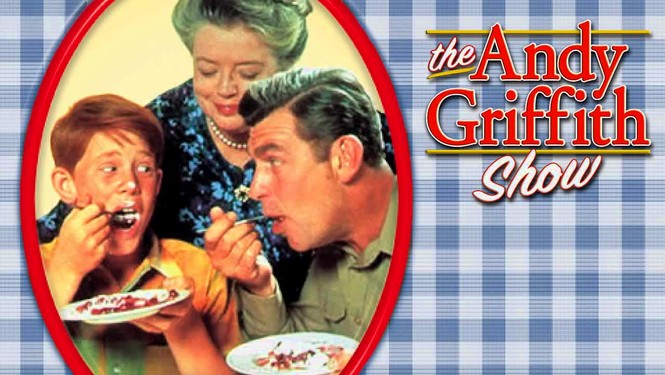 Opie, Aunt Bee & Sheriff Andy
(1960-8). The show revolves around widowed Sheriff Andy Taylor, his son Opie, Aunt Bee and his Deputy Barney Fife. Griffith and Frances Bavier (Aunt Bee) did not get along on the set. In fact, when Andy and young Ronnie Howard (Opie) visited her in her hometown of Siler City, North Carolina she turned them away! Griffith quickly recognized the popularity of Don Knotts after just a few episodes. For the good of the series he opted to play 'straight man' to Knotts from that time onwards. Howard, of course, would go on to great things as a director when he grew up.
#11      MY THREE SONS
#14      THE REAL MCCOYS
#15      LASSIE
#17      DENNIS THE MENACE
#20      CAR 54, WHERE ARE YOU?
(1961-3). Gravel-voiced Joe E. Ross played Officer Toody and Fred Gwynne was Officer Muldoon in this short-lived (two seasons) series about a couple of New York's finest operating out of the 53rd Precinct in the Bronx. Nat Hiken, the creator of Sgt Bilko, came up with the series. It would be his last. Ross passed away in 1982 and his will stipulated he should have a 'comical send-off'. Mostly comedians attended his funeral, and among those who spoke hilariously was his good friend Larry Storch (Corporal Agarn of F Troop).
#21      THE FLINTSTONES
#22      THE MANY LOVES OF DOBIE GILLIS
#29      THE DONNA REED SHOW
(1958-66). A large part of the success of The Donna Reed Show was due to the two youngsters who played her children – Paul Peterson as Jeff and Shelley Fabares as Mary. Carl Betz was good as her husband Dr Alex Stone as well. Shelley later married Mike Farrell (BJ Hunnicut in M.A.S.H.) and scored a #1 hit single 'Johnny Angel' in 1962. Paul had a moderately successful single as well called 'A Little Bit for Sandy' in 1968.
1962-3
#1        THE BEVERLY HILLBILLIES
Nancy Kulp as Miss Hathaway
(1962-71). Hayseed family the Clampetts hit it rich with oil on their country property and move to Beverly Hills to live in luxury. It is hard to believe that The Beverly Hillbillies rose to #1 on the Ratings charts faster than any series before or since – in just three weeks. And it was not that good (in my opinion). Equally hard to swallow was the widespread idiotic belief that Irene Ryan who played Granny was actually younger than Donna Douglas who played Elly May. For the record Irene was born in 1902, Donna in 1933. Max Baer Jr, the son of the former heavyweight champion Max Baer, played Jethro. Miss Hathaway was played by Nancy Kulp. In 1988 she came out of the closet as a lesbian.
#4        THE LUCY SHOW
(1962-8). The series was created in an endeavour to pull Desilu Productions out of the red. It starred Lucille Ball of course, but also featured Vivian Vance and Gale Gordon. Guests were generally disenchanted by Lucy's domineering, abusive demeanour. Joan Crawford called her a bitch. Richard Burton said he wanted to kill her and would never speak to her again, and Joan Blondell astonished the 'live' audience by reacting to Lucy's insults between takes by screaming: 'Fuck you, Lucille Ball!' The greatly loved Lucy was anything but that on her sets.
#6        THE ANDY GRIFFITH SHOW
#9        THE DICK VAN DYKE SHOW
(1961-6). Van Dyke played Rob Petrie and the then unknown Mary Tyler Moore played his wife Laura. Initially, he thought Mary was too young to play his wife (even though, unknown to anyone, she had already lied about her age to appear older), but the chemistry between them was tangible and they soon became very close. Years later, both said they held crushes on the other without acting on them. Many fans remained convinced they were real life husband and wife.
#15      HAZEL
#19      LASSIE
#28      MY THREE SONS
#30      THE FLINTSTONES
1963-4
#1        THE BEVERLY HILLBILLIES
#3        THE DICK VAN DYKE SHOW
#4        PETTICOAT JUNCTION
(1963-70). A large portion of this show's success probably occurred by association, for it was directly linked to both The Beverly Hillbillies and Green Acres. In fact, players from all three series often 'crossed over' in guest appearances on the others. Incidentally, the dog was named Higgins and was the same animal that starred as Benji in the film of that name in 1974.
#5        THE ANDY GRIFFITH SHOW
#6        THE LUCY SHOW
#10      MY FAVORITE MARTIAN
(1963-6). In case you ever wondered what 'Uncle Martin's' real Martian name was, here it is: he was known at home as Exigius Twelve and a Half. As a snippet of utterly useless trivia that just about takes the cake. Ray Walston always regretted taking the role of Uncle Martin because it typecast him and made it almost impossible for him to get decent movie roles afterwards.
#12      LASSIE
#16      THE DONNA REED SHOW
#18      THE PATTY DUKE SHOW
Patty and her son Sean Astin
(1963-6). Patty Duke was just 16 when this series first went to air. Because New York State had more flexible child employment laws (no Coogan Law for starters), the first seasons were shot in New York City, which suited New Yorker Patty perfectly. Even so, she was a most difficult young girl to be around at the pinnacle of her fame. It would be many years, however, before she would eventually be diagnosed as having been a long-time sufferer of bi-polar. Lord of the Rings star Sean Astin is her real life son.
#22      HAZEL
#23      MCHALE'S NAVY
Gary Vinson
(1962-6). Call me 'picky', but why would a Japanese (Fuji) say the Yiddish 'Oy vay!' whenever something went amiss? I suppose someone might have thought it funny – or clever – or both. 'Oy vay!' The entire Pacific Ocean naval base was constructed at Universal on the backlot and for years formed part of the studio tour. A minor character was George Christopher (played by Gary Vinson in 138 episodes). In 1984, faced with serious legal issues, he shot himself. He was 47.
#27      MY THREE SONS
#28      THE ADVENTURES OF OZZIE & HARRIET
(1952-66). It would be a pretty safe bet to say that The Adventures of Ozzie and Harriet owed its longevity to the remarkably successful singing career of one of their sons – Ricky Nelson. His teen idol looks were supported by a considerable musical talent that saw him churn out hit record after hit record for more than a decade. Millions of teenaged girls tuned in to the show just to drool over him.
Note: Part 3 will be posted on May 28.