To baby-boomers the name Honor Blackman conjures up two distinct and memorable images – Cathy Gale in all of the first 43 episodes of the hit TV series The Avengers –  and Pussy Galore in the 1964 James Bond classic Goldfinger. In August 2015, the wonderful Honor Blackman turned ninety years of age. Born in England in 1925, she was taught boxing by her brother and became proficient for her age, actually knocking out a boy at school and another in his family garden! During the Second World War she risked her life during the blitz as a dispatch rider carrying blood between hospitals. After the war, in 1947, she signed with the Rank Organisation. Her first husband was 12 years her senior and domineering. He also cleaned out her bank account before divorcing her, resulting in Honor suffering a nervous breakdown that institutionalised her for three weeks for psychiatric assessment.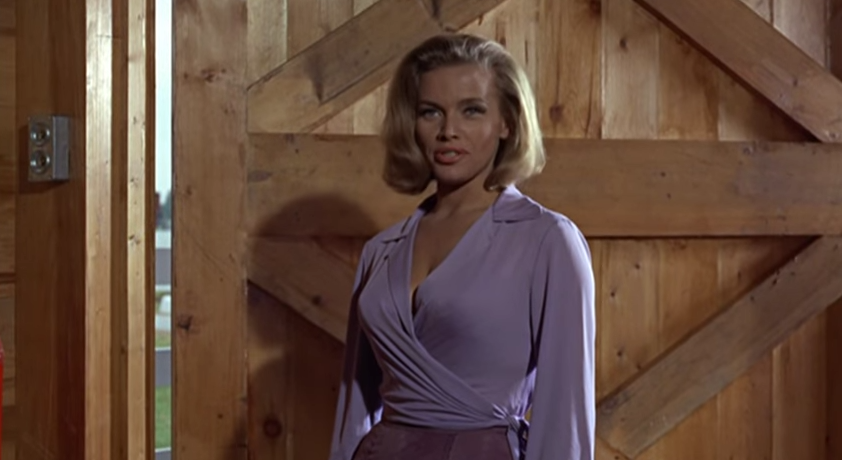 Honor as Pussy Galore in Goldfinger
Bond and Pussy
It was her second husband, actor Maurice Kaufmann, who encouraged her to audition for The Avengers, and the series would make her a household name worldwide. She got along very well with her Avengers co-star Patrick MacNeee, but her opinion of her Goldfinger co-star Sean Connery is somewhat mixed. 'He is, I think, the sexiest creature I have ever met. And he was fun, too.' (not that they indulged in any off-screen hanky-panky, I should add). That was simply not Miss Blackman's style. Not then, not ever. Today, however, she is a little critical of Connery who, she says, 'accepts a knighthood but never comes here, never pays tax here…' She was offered a CBE several years ago but declined it. 'Since I'm a republican, I thought it would be somewhat hypocritical to pop up to the Palace.'
When Clint Walker became involved in a dispute with Warner Bros over his contract for the hit series Cheyenne, the studio brought in Ty Hardin to take his place in the series. However, the dispute was settled and Hardin soon found himself the star of his own western series entitled Bronco. It ran for four seasons. Hardin never amounted to much in the film industry after the series folded. Before long he drifted into evangelism in the sixties before becoming a self-styled 'freedom fighter' in the seventies. He led a radical right-wing group called 'The Arizona Patriots', a bunch of anti-sematic, anti-Catholic, anti-black, anti-immigrant and anti-government crazies who stock-piled weapons and baited public officials.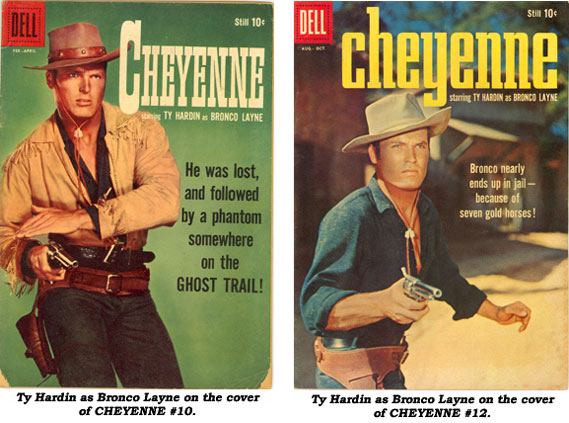 Hardin's brief stint as Cheyenne
Clint Walker, the REAL Cheyenne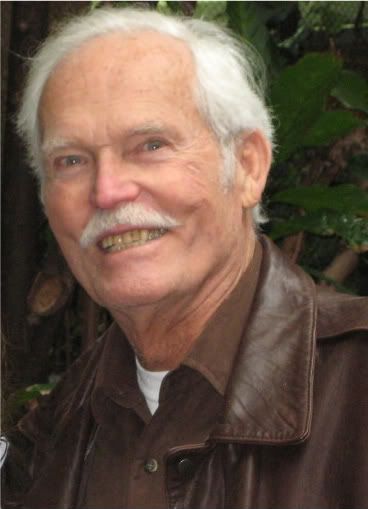 Hardin in later years
He also opened a 'tax protest' school he called the Common Law Institute. In the eighties he edited 'The Arizona Patriot', a publication that called for 'Christian Patriots' to band together. In 1986 the FBI moved in on the group and confiscated their weaponry, putting them out of existence. While all this nonsense was going on Ty somehow found time to marry eight women and divorce seven of them. One of his exes was a German girl named Marlene Schmidt who was crowned Miss Universe in 1961. He turned 85 in January 2015.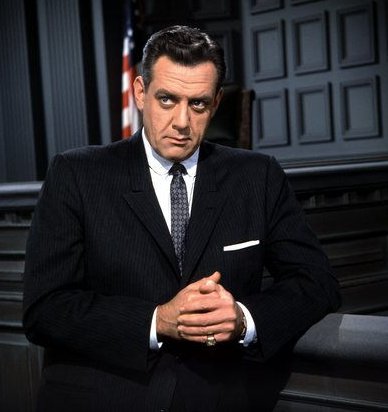 Raymond Burr as Perry Mason
and as Ironside
In the history of television there have not been many stars with a bigger or more faithful following than fifties and sixties icon Raymond Burr, the star of Perry Mason and Ironside. Completely unbeknown to his fans, Raymond was one of Hollywood's open secrets, a gay man who was deeply in love with the same partner, a man named Robert Benevides, for over thirty years. In fact, they were married in a gay ceremony on Burr's ranch in 1963 at the height of Raymond's popularity. Hollywood gossip columnist Hedda Hopper knew Burr was gay, but the actor was a close friend of her son William, so she uncharacteristically kept the information out of her column. In the first volume of Hollywood Warts 'n' All, I incorrectly stated that Burr was wounded in action on Okinawa during World War Two. It has since come to light that his self-professed war record, just like his claim to have married three women, was completely fabricated, all part of his life-long attempts to create for himself a macho image in consort with the heroic characters he played.
Jim Backus on Gilligan's Island
as the one and only Thurston Howell III
the unmistakable voice of Mr Magoo
Jim Backus, the man who memorably gave us the voice of Mr. Magoo, also achieved lasting television fame as Thurston Howell III on Gilligan's Island. Very few performers can claim to have done what he did, and that was to achieve success on radio, on Broadway, in movies, television and cartoons. He even reached the US Pop Charts Top 40 in 1958 with a novelty recording entitled 'Delicious'. It featured Jim and Phyllis Diller sipping champagne and getting drunker and drunker as they slur their words and fall about laughing.
Jim's grade school teacher Margaret Hamilton
as the Wicked Witch of the West in The Wizard of Oz
Born in Cleveland, Ohio in 1913, it is interesting to note that one of his teachers in grade school was none other than Margaret Hamilton, the lady who would one day find celluloid immortality playing the Wicked Witch of the West in the 1939 classic The Wizard of Oz. At the Kentucky Military Institute one of his classmates was future beefcake star Victor Mature. When Backus was doing radio back in the thirties one of his characters was named Hubert Updyke III and would provide the inspiration for his Gilligan's Island character Thurston Howell III. His assessment of the series was succinct. 'The critics assassinated it, but the kids flipped for it. I've been watching the re-runs, and confess I'm hooked on it myself.'
Barbara as Agent 99 in Get Smart
Actress Barbara Feldon (Agent 99 in Get Smart) won $64,000 on the $64,000 Question Challenge. She told an interviewer that she spent three months memorizing a book of Shakespeare's plays which enabled her to win. There seems no reason to doubt her. At the time she was working on Broadway in a fifties version of The Ziegfeld Follies when TV reps came looking for a pretty, leggy contestant to adorn their show. Barbara was chosen and decided to do as much as possible to perform well. Blessed with a strong memory she chose Shakespeare's plays and did very well. The $128,000 question that eliminated her was a loaded one. She was shown three different facsimiles of 'the Bard's' signature and asked to match all three with historical documents he had supposedly signed. She could not do it. 'I think they wanted to get rid of me', she said. Perhaps, the public had tired of Shakespearian questions, so the powers that be decided it was time for a change.
Agent 86 Maxwell Smart
Somehow it is hard to imagine that the little guy who played Agent Maxwell Smart could ever be involved in anything as serious as a World War. Yet he was. During the Second World War Don Adams served as a US Marine on Guadalcanal. Some sources say he was the only survivor of his platoon. He also contracted malaria during the fighting.
Dan Blocker's High School picture
as Hoss Cartwright in Bonanza
the Cartwrights (L to R) Adam, Little Joe, Ben & Hoss
For those who grew up watching the nine seasons of Bonanza on television, the name of Dan Blocker was well known. He played the iconic 'gentle giant' 'Hoss' Cartwright in the series. When he was born in Texas in 1928 he weighed in at fourteen pounds! At the age of 12 he was already 6 feet tall and over 200 pounds. While Bonanza remained in the top five TV shows in America for nine successive seasons, Blocker's weight ballooned to as much as 365 pounds. 'I remember breakfast when I ate a dozen eggs, two loaves of bread, and drank two quarts of milk', he told an interviewer. 'Now I eat like a normal guy and I'm always hungry.' In 1972, at the age of 43, he suddenly died from a pulmonary embolism. Without him Bonanza failed to survive another season.