David Niven's first wife, Primula Rollo, (known as Primmie) died in a tragic household accident several months before he made The Bishop's Wife in 1947. The couple had been married since 1940 and were visiting Tyrone Power's home when a game of 'hide and seek' was suggested by someone. In the dark Primmie opened what she thought was a closet door, but happened to be one leading to the basement, and fell down the stairs, striking her head on the concrete floor below. She died soon afterwards. Utterly distraught by her loss, Niven sought solace in the beds of as many young starlets and established actresses as he could find. These purely physical encounters failed to assuage his grief and alienated many of his friends. His good friend Clark Gable tried to help him over his loss, having experienced the early death of his beloved Carole Lombard, but Niven was bent on rampaging from bed to bed. One particular morning he awoke alongside a 20 year-old recent divorcee who would one day find fame as Marilyn Monroe. Ava Gardner, then 23, was another overnight fling, followed by a lengthier affair with Rita Hayworth whom he described to friends as his 'super love goddess'.
Primmie Niven during WW2
A year after making The Bishop's Wife, Niven was sent to Britain to make the abominable Bonnie Prince Charlie. Once back in the old country he proceeded to cut a swathe through its female population, many of whom he did not even have to chase. The recently widowed 40 year-old Dutchess of Kent, Princess Marina, added him to her list of conquests; a list that included Danny Kaye, Douglas Fairbanks Junior and bandleader Edmundo Ross. It seems certain David also bedded Princess Margaret who, like the Duchess of Kent at the time, was known to 'put it about'. It was about this time that Niven and his pal Fairbanks posed as 'beards' for the Duke of Edinburgh. Emulating the time-honoured Hollywood custom, they would pretend that the Duke's women were their women as he studded his way around the clubs, in particular London's Thursday Club. The usual practice was for the two actors to turn up at a function or party in the company of a couple of beautiful, willing women who would later be secluded at a pre-destined rendezvous for the Duke's pleasure. When the Duke of Argyll presented Polaroid evidence of his sexually voracious wife's infidelities with no fewer than 88 lovers, Fairbanks (as well as Secretary of State for Defence Duncan Sandys) were identified as two men being fellated by the lady in some shots. Since then it has come to light that Niven had seduced her when she was the 15 year-old Margaret Whigham, that he had impregnated her, and that her family had insisted she terminate the pregnancy. She had carried a torch for David ever since, hence she was a surprise mourner at his funeral twenty years later. Until then few people outside her family were even aware she had even met Niven.
Douglas Fairbanks Jr during WW2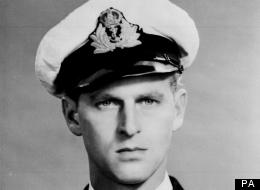 Duke of Edinburgh WW2
David Niven and Deborah Kerr met and fell in love on the set of Bonjour Tristesse in 1958, and the two were together for several years. She also had an affair with Burt Lancaster when they played lovers in From Here to Eternity. Although she often played prim and proper English ladies Deborah was a fun-loving joy to know. She succumbed to Parkinson's disease in 2007, one of the truly great ladies of the screen. Like most actors and actresses, Niven knew how to play the fame game. He told the press that he and his wife Hjordis had discussed it and agreed to adopt a child. Hjordis especially wanted a Swedish daughter, he confided. So, they adopted a little Swedish girl named Kristina. What the press and public did not know (but Hjordis certainly did) was that the child was Niven's own, the product of an affair he had with 18 year-old Swedish model Mona Gunnarson. After 32 years of marriage he had this to say about his wife: 'She isn't good company, and she can't do anything. What she can do is make herself look very good, and she can arrange flowers. But that's all.'
Close friends – Niven and Sir Roger Moore
Niven admitted being 'besotted' with Hjordis when he met and married her in 1948, but the union turned sour quickly when she realized that being married to a movie star did not automatically give her celebrity status or fame. She was merely Mrs. David Niven, nothing more. Before long her drinking bacame a problem. So did her obvious disdain for her husband. In short, she became a cold, haughty drunk, intensely disliked by his entire family and all his friends. Sir Roger Moore positively detested her, especially after his friend was stricken with MND and Hjordis did nothing whatsoever to ease his suffering or to even sympathize with it. On the day he died she turned up at the house, extremely drunk, to face the media gathered inside. Sir Roger greeted her at the car door. 'Here for the press, are you?' She sneered. Moore, who is not a blasphemer at all, barely contained his fury. 'Just get in the fucking house', he told her. Hjordis would pass away in 1997 at the age of 78. Few mourned her. Her will specifically stated that her remains were not to be interred next to her husband's.
Niven and Kerr in Bonjour Tristesse (1958)
with Hjordis – a marriage not made in heaven
The Curse of the Pink Panther (1983) was David Niven's last film. His performance was so hampered by Motor Neuron Disease (also known as Lou Gehrig's Disease), that director Blake Edwards had no option but to utilise the talents of impressionist Rich Little to dub over all of the dying actor's lines. Little then made the mistake of telling the press and poor Niven was deeply hurt. Sufferers of MND have been known to experience exaggerated outbursts of jollity at times and extreme melancholy at others. When Niven's long-time friend Princess Grace of Monaco was killed in September 1982 he could not bring himself to attend her funeral, afraid he might break down uncontrollably or, worse still, burst out laughing. Eight months later he, too, was dead. Although friends petitioned the British Government about awarding him a knighthood, it was not forthcoming. Ironically, his friend Douglas Fairbanks Junior was more fortunate, receiving one shortly before Niven's death, yet Fairbanks was not even British. Apparently, the government was still averse to knighting tax exiles and Niven had lived abroad for decades. Six years further down the track, however, another such exile Rex Harrison became Sir Rex. It was just as well Niven was no longer around to witness it because he could not stand the man.
In hindsight, it is difficult to comprehend just why Niven was never honoured with a knighthood. After all, he was the very first Hollywood actor to volunteer to return to England and fight against the Nazis. Not only was his movie career severely hampered by the war, but he gave outstanding service with his secret Phantom Regiment (operating behind enemy lines), as well as handling several propaganda assignments thrown his way by the top brass. When we think of Sir Thomas Sean Connery (a Scot, and an outspoken one at that), Sir Rex Harrison (whose only real claim to fame was playing Henry Higgins in My Fair Lady), and Sir Michael Caine (who has made no bones about staying out of reach of the British tax man), it is puzzling why Niven, the quintessential Englishman, was never similarly acknowledged.
his grave in Switzerland
Incidentally, he only ever said he was born in Scotland (his father was Scottish), because he thought it sounded more romantic. In truth, his mother was visiting a specialist in London the day he was born. He passed away in 1983 at the age of 73. At his funeral, the note attached to a wreath from the Porters at Heathrow probably summed up David Niven as well as any: 'To the finest gentleman who ever walked these halls. He made a porter feel like a king.' One of his many humorous anecdotes recounted the reason for his always feeling superior to other boys as a child. For several years (he said) he believed that The Lord's Prayer referred specifically to his family: 'Our Father, who art a Niven…' Now that's funny.