Richard Schickel's biography of director Elia Kazan tells how Marlon Brando was tricked into accepting the role of Terry Malloy in On The Waterfront (1954). Kazan had actor Karl Malden direct a scene featuring a young unknown from the Actors Studio speaking Malloy's lines, knowing full well that Brando's competitive spirit (and his pride) would see him intervene. And he did. The 'unknown' was none other than Paul Newman, yet to find his niche in the industry. Another unknown, Joanne Woodward, played Edie to Newman's Malloy. Four years later, as we know, the two unknowns became man and wife.
Paul Newman & Joanne Woodward
starting out.
the wonderful Eva Marie Saint
Producer Sam Spiegel was equally devious. He listed Eva Marie Saint as a Supporting Actress, even though her character, Edie Doyle, was clearly the leading female in the picture, hoping to get her nominated for a Supporting Actress Oscar. And she was. Furthermore, she won. The passenger liner you sea sailing down the Hudson River is none other than the ill-fated S.S. Andrea Doria. Two years later (July 26, 1956) she would collide with the Stockholm, capsize and sink off Martha's Vineyard. Rescued from the stricken liner would be actresses Ruth Roman and Betsy Drake, wife of Cary Grant. Ruth became separated from her three year old son Dickie and was photographed on the pier awaiting news of him. Happily, the boy survived. Also rescued was songwriter Mike Stoller of the team of Jerry Lieber and Mike Stoller (Jailhouse Rock, Hound Dog, Stand by Me, Spanish Harlem and many more). Photographer Gardner McKay, who was soon to star in his own TV series Adventures in Paradise, published photos, syndicated worldwide, that were taken from the lifeboats of the stricken liner.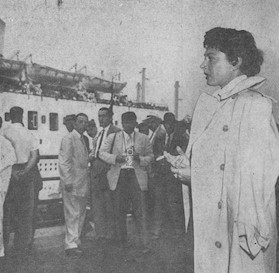 Ruth Roman awaits news of her son
Arthur Miller, the future husband of Marilyn Monroe, was asked to write the screenplay for On the Waterfront, which he did. However, when the FBI and studio bosses insisted he make the gangsters Communists, he withdrew his screenplay from the project. A former close friend of Kazan's, he had been openly critical of the man naming names to the House Un-American Activities Committee (HUAC). This was Kazan's attempt to get even for his criticism. It may come as a surprise to learn that the main characters (some of them) were based on real life individuals. Terry Malloy was supposed to be longshoreman whistle-blower Anthony De Vincenzo; Father Barry was based on waterfront priest John Corridan, and Johnny Friendly was, supposedly, New York mobster Albert Anastasia. Anastasia was the Luciano crime family's top enforcer on the Hoboken docks. De Vincenzo sued Spiegel over the use of his past as part of Malloy's character, and picked up a cool $25,000 in an out of court settlement.
Arthur Miller & Elia Kazan
The part of Terry Malloy was originally written for John Garfield, but he died before the picture could be made. Grace Kelly was offered the female lead, but opted to make Rear Window with Jimmy Stewart instead. Elizabeth Montgomery (later Samantha in TV's Bewitched), was also a strong contender, but was considered too 'well-bred' to appeal to Brando's rough character. The picture was also the debut of Fred Gwynne, later to achieve small-screen immortality as Herman in The Munsters.
1940s Jane Russell
For a time in the 1950s two movie stars epitomized sex appeal to men of the western world. One was Jane Russell, the other Marilyn Monroe. Jane was brunette, voluptuous, world-weary and predatory. Marilyn was blonde, voluptuous, dumb as dishwater (usually), and vulnerable. The combination worked very effectively in Gentlemen Prefer Blondes (1953) which was a smash hit. Marilyn went on to even bigger things until her early death at 36, but Jane only made a handful of pictures after the sixties, preferring instead to devote her time and energy to her church and to charitable organizations. When most people in the industry found Marilyn difficult and frustrating, Jane actually liked her, probably because she took the time to understand her. 'She was just scared', Jane recalled, who would 'collect' Marilyn each morning on the way to the set. 'I think if there had been someone to do that on a lot of other films she would never have been late.' Jane, it would appear, was a very nice, understanding person.
Gentlemen Prefer Blondes
Jane Russell was born in Minnesota in 1921 to a mother who was a lay preacher. Despite coming from a religious home, Jane was a pretty wild teenager who drank heavily and later admitted to having undergone a 'backyard' abortion at eighteen. The abortion left her unable to bear children and, seemingly, influenced her lifetime decision to become a pro-life activist, steadfastly opposed to abortion for any reason, including rape and incest.
Promoting The Outlaw'.
Her movie career began in 1941 when Howard Hughes made The Outlaw and put her in the leading female role. The picture was released in San Francisco in 1943, but then shelved until its general release in 1946. It is not a good movie, not by a longshot, but the hype around a cantilever bra supposedly worn by Jane and invented by Hughes caused a sensation. 'Yes, Howard Hughes invented a bra for me', said Jane years later. 'Or, he tried to. But I never wore it in The Outlaw. And he never knew. He wasn't going to take my clothes off and check if I had it on. I just told him I did.' Added to the 'bra' story, Hughes had shots taken of his voluptuous star draped across a bale of hay, accompanied by the tag line: 'How'd you like to tussle with Russell?' As usual, the focus was on her breasts. Even scientists and cartographers found it impossible to ignore them. In Alaska, believe it or not, there exists a pair of mountains named 'The Jane Russell Peaks'.
John Payne
1942 saw Jane heavily involved with actor John Payne until she suddenly realized that she was still in love with her high school boyfriend, a football player named Bob Waterfield whom she wed in 1943, a union that lasted 25 years. Their World Adoption International Fund (WAIF) has placed 51,000 children with adoptive families. The Waterfields themselves adopted three. Jane Russell passed away in 2011 at the age of 89, just one month prior to the demise of another icon Elizabeth Taylor.
Growing Pains was a highly successful family sitcom that ran from 1985 until 1992, but it was not without its problems. The teenage heartthrob of the show was the good-looking, personable Kirk Cameron who played the Seaver family's oldest son Mike. At the peak of his popularity he was making $50,000 an episode and receiving upwards of 10,000 fan letters a week. In 1987, however, he had a complete change of attitude. At 17 years of age he found God (with the help of his first girlfriend's family), and began to criticize the content of the show, demanding to have an input into the scripting and the weekly concepts. He was especially critical of anything that so much as hinted at premarital sex, or indeed anything that suggested risqué innuendo in his eyes.
Kirk Cameron
Julie McCullough
Chelsea & Kirk, man and wife
His refusal to participate in any scene he felt was not as 'wholesome' as it should be (in his eyes) caused numerous arguments and rewrites that disrupted the atmosphere on the set. This reached a head when he insisted that the network dismiss actress Julie McCullough (who played Mike's former girlfriend in 10 episodes from 1989-90), because she had once been a Playboy Magazine centrefold. She was let go; replaced by his real-life girlfriend Chelsea Noble whom he would later marry. Cameron claimed he was 'outraged' over Julie's Playboy past, so much so that he accused ABC of promoting pornography! A decade later he would apologize to most of the cast for his zealous attitude – but not to Miss McCullough. He never did, in fact. 'He thinks if I read science books that I'm going to Hell,' she said. 'Kirk thinks people like me are going to Hell. If I do, then at least I'll go well informed and well-read.'
Tracey Gold as Carol
Another major issue concerned Tracey Gold's escalating weight problem. She played Mike's sister Carol in the series, and by season four 'fat' jokes were being inserted in episodes at her expense. This eventually got to her, and she started on crash-diet programs that saw her lose dangerous amounts of weight far too quickly. By 1991 her weight had dropped from 133 pounds to 80! Photos of her emaciated torso appeared in the tabloids and she became one of the first celebrities to be outed as anorexic. The boy who played young Ben Seaver, Jeremy Miller, was having his own trials and tribulations, but these were not revealed until he reached adulthood. In 2014, 38 year-old Jeremy publicly announced that he had been drinking alcohol since he was four, and had suffered from alcohol abuse for years until he had an implant that released the drug Naltrexone into his system.