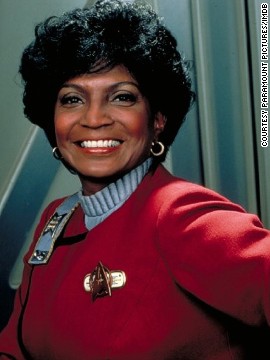 Nichelle Nichols as Lt. Uhura in Star Trek: The Original Series            
The name Nichelle Nichols is well-known to fans of Star Trek: The Original Series (1966), in which she played Lt. Nyota Uhura. It might surprise her fans to learn that she was discovered in her mid-teens by band leader Duke Ellington and toured both with him and Lionel Hampton as a lead singer and dancer. In fact, she can be seen and heard singing in several Star Trek episodes. In 1992, aged 60, she returned to her singing roots, starring in a one-woman musical show called 'Reflections', in which she became twelve separate song legends. In her autobiography, Beyond Uhura: Star Trek and Other Memories, she admitted to having had a close, personal relationship with the creator of the Star Trek series, Gene Roddenberry.
Gene Roddenberry
Even more surprisingly, Nichelle was employed by the National Aeronautics and Space Administration (NASA), from the late seventies until 1987; placed in charge of astronaut recruits and hopefuls. Most of those recruits she launched represented minority groups (different races, ethnicities), of both genders. Among them were Guion Bluford (the first African-American male astronaut); Sally Ride (America's first female astronaut), and Judy Resnik and Ron McNair, (both of whom perished in the Challenger disaster in 1986). During her time at NASA, Nichelle resided in Houston, Texas.
Racial harassment, coupled with the studio withholding her fan mail, resulted in Nichelle resigning from the Star Trek series, and opting to work in theatre. At an NAACP fundraiser, however, she was introduced to an avid Star Trek fan who begged her to return to the series. The fan turned out to be none other than Dr Martin Luther King Jr, who told her that her role as fourth in command of the USS Enterprise made her a positive role model for African-Americans everywhere. It was a breakthrough part most important to African- Americans, both men and women, he assured her. Inspired, she returned to the series. Sadly, she has been suffering from advanced dementia for several years now. She will be 88 in December 2020.
Penny Edwards
Pretty actress Penny Edwards became romantically involved with Ronald Reagan, in 1949, soon after his divorce from Jane Wyman in July of that year and prior to his marriage to Nancy Davis in 1952. Penny was twenty-one years old and a devout Seventh Day Adventist. Ronnie was seventeen years her senior. Her religious upbringing eventually brought about an end to their relationship. Ronnie then met Nancy and they wed in March 1952. Seven months later she gave birth to his daughter, Patti Davis. Nancy always insisted their daughter arrived two months prematurely but that was not the case. Nancy was two months pregnant when she and Reagan tied the knot.
Judith & William Campbell
William Campbell was the first actor ever to sing with Elvis Presley in a motion picture. That was in Elvis's first movie when they played brothers in Love Me Tender (1956). Mostly appearing in television series through the sixties, seventies and eighties, Campbell nevertheless found himself occasionally in significant movies, including Hush…Hush…Sweet Charlotte (1964), Battle Cry (1955), Escape From Fort Bravo (1953), The High and the Mighty (1954), and, of course, Love Me Tender. Despite a reasonably successful screen career, however, he will more than likely be remembered as the first husband of beautiful Judith Campbell Exner, the lover of both President John F. Kennedy and mob boss Sam Giancana. Twenty-six year-old Judith once described her mobster lover thus: 'Sam was one of the nicest, kindest people I knew. I didn't know he was a murderer. I wouldn't have believed it.' Was she really as naïve as all that?
In a People magazine interview in 1988, Judith admitted she had arranged ten meetings between JFK and Giancana. She also acted as their courier, carrying plain manila 9×12 envelopes between them and another mobster Johnny Roselli of New Orleans. In 1975, she was even called to testify before the Senate Intelligence Committee. 'It finally dawned on me that I was probably helping Jack orchestrate the attempted assassination of Fidel Castro with the help of the Mafia', she said to People. She had been introduced to both men by another of her former lovers, Frank Sinatra.
Lee Remick & Gregory Peck in The Omen (1976)
We often hear of actors taking a salary cut or even waiving their salary altogether and opting instead for a percentage of the film's gross. Not a percentage of the nett profits, mind you, (for creative accounting had a tendency to turn massive profits into losses), but A slice of the gross returns. Gregory Peck, for example, took a huge cut in his salary to star in The Omen (1976), preferring a 10% slice of the picture's gross returns instead. It was a very wise decision indeed, for the movie grossed over $60 million in the USA alone! And it was a hit around the world as well.
In 2005, thieves stole Greg's 'Hollywood Walk of Fame' star, when they utilised a cement saw to cut it out of the sidewalk! As extraordinary as it might seem, this was not the first such theft. In fact, his was the fourth star to be stolen from 'The Walk of Fame'. Those honouring Jimmy Stewart and Kirk Douglas went missing years earlier after being removed for re-construction, although they were later recovered by police. Gene Autry's also vanished during a construction project and remains missing to this day.
Good friends – Michael Jackson, Liz Taylor & Greg Peck
Peck was a man of integrity who held firm opinions and beliefs, and he was not afraid to stand up for them. In 1947, at the beginning of the anti-communist investigations in Hollywood, he signed a letter deploring the witch hunts, despite being warned that doing so could hurt his career. Contrarily, in 1999, he supported the decision to award director Elia Kazan an honorary Oscar for lifetime achievement despite the man having 'named names' to the HUAC back in the fifties. Kazan's testimony had resulted in the destruction of several careers but, rightly or wrongly, Peck believed that a man's work should be assessed separately from his life. His own son was serving in Vietnam, yet he publicly and vocally opposed the Vietnam War; frequently attending protest rallies with his close friend actress Jane Fonda. For the last 25 years of his life Peck was a close friend of Michael Jackson and even wrote letters defending him, in 1993, when the singer was under investigation during the Jordan Chandler scandal.
Mary Pickford (L) & Lillian Gish
Mary Pickford knew the Gish sisters, Dorothy and Lillian, from childhood back home in Canada. However, she endeavoured never to be left alone with Lillian if it could possibly be avoided, because she believed wholeheartedly in her mother's superstition that 'the good die young'. Consequently, Mary was in constant fear that Lillian might suddenly drop dead at any moment!