Sarah Bernhardt
Paris-born star of the French stage, Sarah Bernhardt, had an unspectacular, (in comparison to her illustrious stage career), venture into the movie-making business, developing a kind of sporadic love/hate relationship with it. Her screen debut was in Le duel d'Hamlet (1900), after which she promptly declared she detested the medium. The 'Divine Sarah', as she was known, was in her mid-fifties at the time. Nevertheless, nine years later she appeared in La Tosca. On seeing the results she demanded that the negative be destroyed. Her third film, Camille (1912), however, was a critical and popular success. In all she made just nine movies (all silent, of course) and Camille, despite her playing Marguerite Gauthier at the age of 68, was the best of them. Her leading man, Lou Tellegen, a strikingly handsome 30 year-old Dutchman, was her lover both on-screen and off.
Lou Tellegen
Sarah happily proclaimed that she had taken over one thousand lovers during her lifetime. Few doubted her. Then, she injured her knee on-stage in South America in 1906 and refused proper treatment there. It would prove to be a costly decision. The limb troubled her for years until, in 1914, doctors discovered it had turned gangrenous and they were left with no alternative but to amputate. Even after losing her leg she found the determination to make two more films, one in 1915; the other in 1917. In 1923, when she was 79, her hotel room was converted into a studio to enable her to appear in the film The Clairvoyant (1924), but she died before it could be completed.
Vivien Leigh & Lee Marvin in Ship of Fools (1965) 
Lee Marvin was not a sentimental man by nature. In fact, he kept just four mementos of his acting career: One was his Best Actor Oscar for his hilarious performance in Cat Ballou (1965). Another was the citation he received from the National Cowboy Hall of Fame for his terrific portrayal of Liberty Valance in the 1962 western The Man Who Shot Liberty Valance. The third keepsake was his most unexpected Gold Record for his best-selling song 'Wandering Star' from the musical Paint Your Wagon (1969). Oddly enough, the fourth was the high-heeled shoe that Vivien Leigh beat him with in 1965's Ship of Fools. He and Vivien bonded on the set of that film and she appeared to be enchanted by him.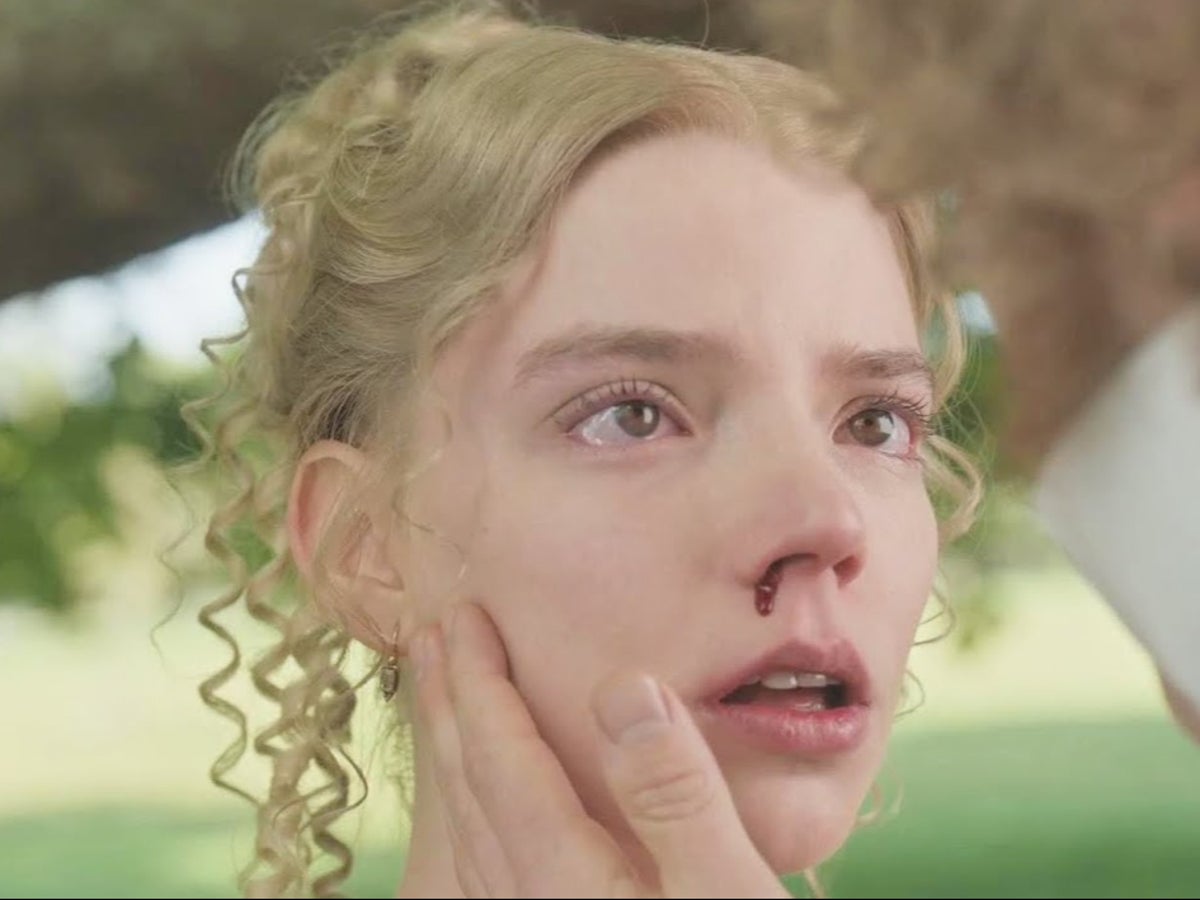 Anya Taylor-Joy (nosebleed and all) in Emma (2020)
In one of the later scenes in the 2020 version of Emma, actress Anya Taylor-Joy has a nosebleed when she is being proposed marriage. There is no explanation for this and cinema-goers were no doubt confused by the scene. Evidently, the film's director, Autumn de Wilde, often gets nose-bleeds herself and asked the screenwriter, Eleanor Catton, if it was possible to include one in the picture. Miss Taylor-Joy also gets nose-bleeds in real life and was able to produce one on cue for the scene, an 'accomplishment' she publicly described as a proud moment for her. Indeed, she considered the scene to be a favourite moment of the entire shoot. Odd.
 Andrew Prine & Brenda Scott
Television actress Brenda Scott (67 credits) has not had a dazzling career, although it has spanned more than forty years. She has, however, the unique distinction of having, (between December 1965 and October 1978), married and divorced actor Andrew Prine no fewer than three times! Their first marriage lasted only two months; the second eleven months, and the third five years. There were no children from any of these unions. Happily, her fourth journey down the aisle (in April 1979, to TV producer Dean Hargrove) is still going strong after forty-two years.
Annette Bening/ Gloria Grahame
The biopic titled Film Stars Don't Die in Liverpool (2017), focuses on the final years of Hollywood Oscar-winning actress Gloria Grahame and her love affair with 28 year-old English actor/writer Peter Turner as she fights a losing battle with stomach cancer. Gloria was fifty-seven when she passed away in 1981. Turner was not yet thirty. When this picture was made in 2017, sixty-five year-old Turner has a cameo in it. Towards the end of the film he plays Jack the stage manager who brings out two chairs for Gloria (Annette Bening) and Peter (Jamie Bell) to play a scene from Shakespeare's Romeo and Juliet. It was Turner who wrote the book (of the same title) on which this movie is based.
Carmen Miranda
Despite her birthplace being in Marco de Canavezes, Portugal, Carmen Miranda always considered herself to be a Brazilian deep down (she grew up there), and became the first performer from Brazil to have his or her hand and footprints placed in the forecourt of Grauman's Chinese Theatre in Los Angeles. It might surprise fans to learn that, for a while in the 1940s, she was the highest paid performer in the United States! Carmen refused to wear panties when performing her musical numbers so her cameramen had to take special care when filming her. Her contract with 20th Century Fox specified that there would be no cutting away from her, not for reaction shots nor dialogue from other players, while she was performing her musical numbers. When a heart attack took her suddenly in 1955 at just forty-six, her body was flown back to Rio de Janeiro, as per her wishes, for interment.
William Bowers in The Godfather Pt ll (1974)
The name William Bowers is probably not well known to movie fans. He was primarily a writer of screenplays, including several fine westerns. His face, however, may ring a bell for fans of The Godfather Part II (1974), in which he portrayed the Senate Committee Chairman. He was Oscar-nominated twice, both times unsuccessfully, for his screenplays. The first of these was for the Gregory Peck feature, The Gunfighter (1950); the second for The Sheepman (1958) that starred Glenn Ford. He was also most unlucky to miss with his Writers Guild of America (WGA) nomination for his fabulous screenplay for the 1969 hit Support Your Local Sheriff that starred James Garner.
Richard Widmark in The Law and Jake Wade (1958)
Bowers also penned the screenplay for Night and Day (1946), although it was not his finest work. I was particularly impressed, however, by his screenplay for another western, 1958's The Law and Jake Wade. The characterization of the 'heavy' portrayed by Richard Widmark was exceptional. I have long been a fan of Widmark and this picture is worth watching simply to enjoy the intelligently written character he plays so wonderfully well. Smart, articulate bad guys have always been thin on the ground in westerns, so it is a great pleasure to experience one who is (for once) the intellectual equal of the hero.