Audrey Meadows – glamour shot
I have been watching television since the mid-1950s, several hundred series, many of them sitcoms, yet I still rank The Honeymooners (1955-56) very near the top of the heap. Like most viewers, I appreciate witty, sharp scripts above anything else, yet the more I watch my collection of this remarkable series, the more I realise that its appeal lies not so much in exceptional writing, but in exceptional performances from its stars. And I do not mean only Jackie Gleason and Art Carney. Audrey Meadows is their equal in scene after scene. In fact, I consider her to be my all-time favourite female television performer, yet she only landed the role of Alice Kramden by the skin of her teeth. Gleason thought she was far too pretty for the role when he rejected her, so Audrey promptly hired a photographer to take shots of her dressed in frumpy clothes, devoid of make-up, with her hair in curlers and sporting a world-weary look on her face. When Jackie received the photos he did not recognize Audrey at all and insisted the studio hire the girl in the pictures.
Jackie Gleason, Art Carney & Audrey – The Honeymooners
Audrey was the daughter of missionaries, her father being an Episcopal minister. 'For fourteen years my family lived in China, in a city called Wuchang', she said. 'We four children spoke Chinese before we spoke English. We left when the communists came, in the early 1930s. I was about five years old.' She was the youngest sister of actress Jayne Meadows. Fans of City Slickers might recall Jayne playing the mother of Mitch (Billy Crystal).
Wilma & Fred Flintstone based on Alice & Ralph Kramden
Audrey's shrewd manager anticipated the prospect of reruns, even in the earliest days of television, and convinced her to have a residual payments clause included in her contract when she was picked up for the series. Consequently, any future reruns of The Honeymooners would see her paid royalties throughout her life. She was the only member of the cast to do this. The series was filmed in front of a 'live' audience of 1,400 at the Adelphi Theatre, edited and shown later. Whenever Gleason forgot his lines he would pat his stomach and be fed them by a prompt. Audrey loved working with him and was disappointed when he refused to make a second season in spite of the show's enormous popularity. He felt the writers had exhausted all humorous ideas for the series. Incidentally, the four main characters became the prototypes for The Flintstones animated series.
Ralph outside the Port Authority Bus Terminal, NYC
In August 2000, the TV cable channel in New York City paid for a statue of Ralph Kramden to be erected as a tribute to Jackie Gleason and The Honeymooners. Today, visitors passing through the Port Authority Bus Terminal may view it and its inscription, which reads: 'Jackie Gleason as Ralph Kramden – Bus Driver – Raccoon Lodge Treasurer – Dreamer. Presented by the people of TV Land.'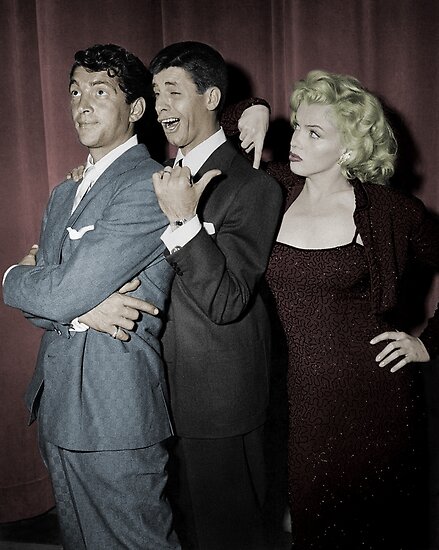 Dean Martin, Jerry Lewis & MM
Because so many of those who worked with Marilyn Monroe have written negatively about her tardiness on the set, her selfishness, her reliance on her voice coach and her general all-round lack of co-operation, I thought it would make a welcome change to reiterate something positive about this remarkable woman for once. In his international best-seller Dean & Me: A Love Story, Jerry Lewis spoke most highly of her. He and Dean Martin met her for the first time at a Photoplay Magazine Awards Night and thought she was 'magnificent'. 'She had the capacity to make you feel that she was totally engaged with whatever you were talking about', he wrote. 'She was kind, she was good, she was beautiful, and the press took shots at her she didn't deserve. They got on her case from day one – a textbook example of celebrity bashing.' He added that, even though she had recently parted from her husband Joe DiMaggio, 'she had a delicious sense of humour, an ability not only to appreciate what was funny but to see the absurdity of things in general.' Marilyn and Jerry had a brief affair.
Lovely Susan Harrison with Tony Curtis in Sweet Smell of Success (1957)
One of my all-time favourite films is the 1957 drama Sweet Smell of Success. Although Burt Lancaster received top billing, it was Tony Curtis who, as the morally defunct Sidney Falco, had the most screen-time and on whom the storyline centred. And he was brilliant. For that matter, so was Burt whose character, JJ Hunsecker, was a thinly disguised version of real life columnist Walter Winchell. The wonderful character actor Emile Meyer was memorable as Lt. Harry Kello, a character loosely based on real life NYPD detective Eddie Egan, a man immortalised by Gene Hackman as 'Popeye' Doyle in The French Connection (1971). The lovely and sensitive Susan Harrison made her screen debut as JJ's sister and she, too, was terrific. Disappointingly, her screen career only extended to seven credits and was over by 1963. Sweet Jeff Donnell had just divorced Aldo Ray when she landed the role of Falco's secretary Sally, and was short-changed when her big romantic scene with Curtis was extensively cut. Barbara Nichols, Martin Milner and Lawrence Dobkin all added to the quality of this exceptional film.
Judy Geeson in To Sir with Love (1967) – what a knockout!
There were few young men who were not taken by an 18 year-old English actress named Judy Geeson back in 1967, when she portrayed Pamela Dare opposite Sidney Poitier in the iconic film To Sir with Love. She was not only beautiful, but a fine actress as well, one who went on to play opposite some other big names in the industry. First, there was the B-feature Berserk! (1967), alongside an aging Joan Crawford; then Prudence and the Pill (1968), with David Niven and Deborah Kerr; The Executioner (1970), co-starring with George Peppard and Joan Collins and 10 Rillington Place, with Richard Attenborough a year later. She even made a film (Brannigan) with the legendary John Wayne in London in 1973. Judy was also scheduled to make Educating Rita in 1982, but had to withdraw through illness.
Judy & husband Kristoffer Tabori
Her personal relationship with Irish set designer Sean Kenny ended after four years with his untimely death in 1973. In the early eighties she visited California, fell in love with actor Kristoffer Tabori and married him in 1985. They divorced four years later, but Judy remained in California and opened an antiques shop named 'Blanche' in Los Angeles in 1999. It closed ten years later. A very private person, she has not been photographed or spotted dating anyone since her divorce in 1989.