Before Rod Taylor arrived in Hollywood in the fifties there had been other Australians who had made their marks on the American movie industry. In fact, even before Rex 'Snowy' Baker's short, uneven movie career sputtered to a halt, a little lady named Enid Bennett tasted silent movie stardom in Hollywood opposite the biggest names in the business.
Guildford Grammar School
The Bennett House coat of arms
Enid was born in York, Western Australia in 1893. Her father, Frank Bennett, became the very first Headmaster of the newly established Guildford Grammar School, built on the outskirts of Perth in 1896, but he was killed two years later. One of the school's eight houses is named for him to this day. Frank's widow married the new headmaster. Later, in 1912, after Enid had joined the travelling Fred Niblo-Josephine Cohan Touring Company as a protégé actress, the family moved to Sydney where Enid starred in two small Australian silent films, Get Rich-Quick Wallingford and Officer 666, both directed by Niblo. It was 1915 and Fred was honing his craft Down Under. His wife Josephine was the sister of the legendary vaudevillian George M. Cohan. When the company returned to America, Enid went with them as far as New York. She only landed one role there, (at the George M. Cohan Theatre), so she decided to try her luck in Hollywood. The two Australian-made films were released in 1916. Three reels of Officer 666 still exist in the National Film and Sound Archive.
Josephine and her brother George M. Cohan
When Enid hit Hollywood she landed a part in a 1917 film called The Little Brother. During rehearsals of a fight scene between her and Thornton Edwards she became frustrated by his reluctance to get close enough for her to throw a convincing punch at him. In exasperation little Enid, (she was only 5'3"), pulled him into range and landed an uppercut on the astonished man's jaw. Big-time producer Thomas Ince was impressed by her performance in the picture and signed her to a movie contract with Triangle Film Corporation. He would later meet his death (some say under mysterious circumstances) aboard William Randolph Hearst's yacht, but that is another story.
Fred Niblo & his wife Enid Bennett
Ince starred Enid in Princess of the Dark in 1917. It was the start of her top flight career in the silent era. By 1918 something equally significant took place in her life. She renewed her friendship with Niblo, it blossomed into love, and culminated with the up and coming director and the little girl from the Western Australian bush becoming man and wife (Josephine had died young). Between then and 1921 Enid starred in no fewer than 23 silent movies and became a star of the first magnitude. Her most famous role was as Maid Marian in the 1922 smash hit Robin Hood opposite the world's number one action star Douglas Fairbanks. 'I had a wonderful time playing Maid Marian', she told an interviewer. 'Of course, the part was not too demanding, I just walked through it in a queenly manner. Douglas Fairbanks was wonderful, inspiring.'
Robin Hood (1922)
Douglas Fairbans and Enid
Two years later Fred put his wife in another big film, Red Lily, this time opposite gay heart-throb Ramon Novarro. Fred had been going from strength to strength as a director. He starred Fairbanks in The Mark of Zorro in 1920, then scored a similar success the following year by directing him in The Three Musketeers. He directed Rudolph Valentino in Blood and Sand in 1922, then became the principal director of the 1925 version of Ben-Hur: A Tale of the Christ. Fred would pass away in 1948, still married to Enid. Their 30 year marriage produced three children.
Fred Niblo (center) and cast from Ben-Hur: A Tale of the Christ (1925)
Towards the end of the twenties Enid was in her thirties and roles started to dry up. She made a few talkies, usually playing a married woman in a supporting role, and ended her career in 1941 with an uncredited spot in the Marx Brothers comedy The Big Store. She remained single for fifteen years after Fred's death, until she met and married another successful director, Sidney Franklin in 1963. Among his achievements were Waterloo Bridge (1940), Random Harvest (1942), Madame Curie (1943), The White Cliffs of Dover (1944), and his biggest box-office smash Mrs. Miniver (1943). He and Enid were together a month shy of six years before Enid passed away in 1969 at the age of 76.
Director Sidney Franklin, 
Enid's second husband.
Enid's sister Marjorie was three years younger than her. In her early years in Hollywood Enid became very homesick and missed her family terribly, so Marjorie was urged to go to America and stay at her sister's home for a while. Enid was making The Girl, Glory in 1917, so a small part was found in it for her sister. It was the beginning of a most unusual movie career for Marjorie. After appearing in just four silent pictures between 1917 and 1918, she disappeared from the screen for thirty years before re-appearing in 1947 in Chaplin's Monsieur Verdoux playing a maid. From that time until her death in 1982, Marjorie racked up an additional 203 movie and TV credits as a character actress, many of them uncredited and miniscule, but she still found plenty of work. She was in Limelight (1952), Sabrina (1954), Young at Heart (1954), No Name on the Bullet (1959), Ocean's 11 (1960), 101 Dalmations (the voice of Duchess) (1961), Whatever Happened to Baby Jane? (1962), 4 for Texas (1963), and My Fair Lady (1964). Fans of Mary Poppins (1964) will recall her playing Miss Lark, the old woman in the park.
Marjorie Bennett as Miss Lark
in Mary Poppins (1964)
Another sister, Catherine, was 8 years younger than Enid, and she too took a crack at Hollywood, albeit a brief one. Between 1923 and 1925 she appeared in four movies (one of them opposite Laurel & Hardy, and seven shorts, usually opposite Monty Banks. And that was it. She stayed on in California where she passed away in 1978 aged 77.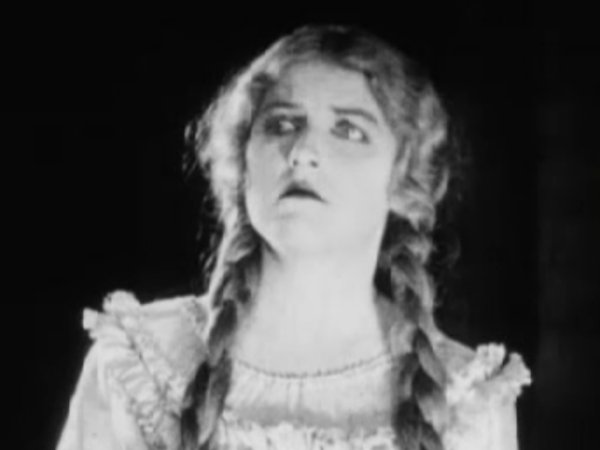 Catherine Bennett
Today, most Australians have probably never even heard of Enid Bennett, much less her sisters. Ironically, if movie buffs were to recall any of the Bennett sisters, they would probably, vaguely remember Miss Lark in Mary Poppins, although it is doubtful they would be aware that the little old lady portraying her hailed from the tiny country town of York in Western Australia. Her far more accomplished sister Enid has, sadly, drifted off the pages of movie history as well, known only to connossieurs of the silent era or to die-hard fans of Douglas Fairbanks. Shortly, no fewer than eleven Australians will turn up at the Oscars as nominees for Academy Awards in 2016. We have come a long way in the last 100 years, but little Enid did it first. By all accounts she was a delightful human being as well. Take a bow Enid.