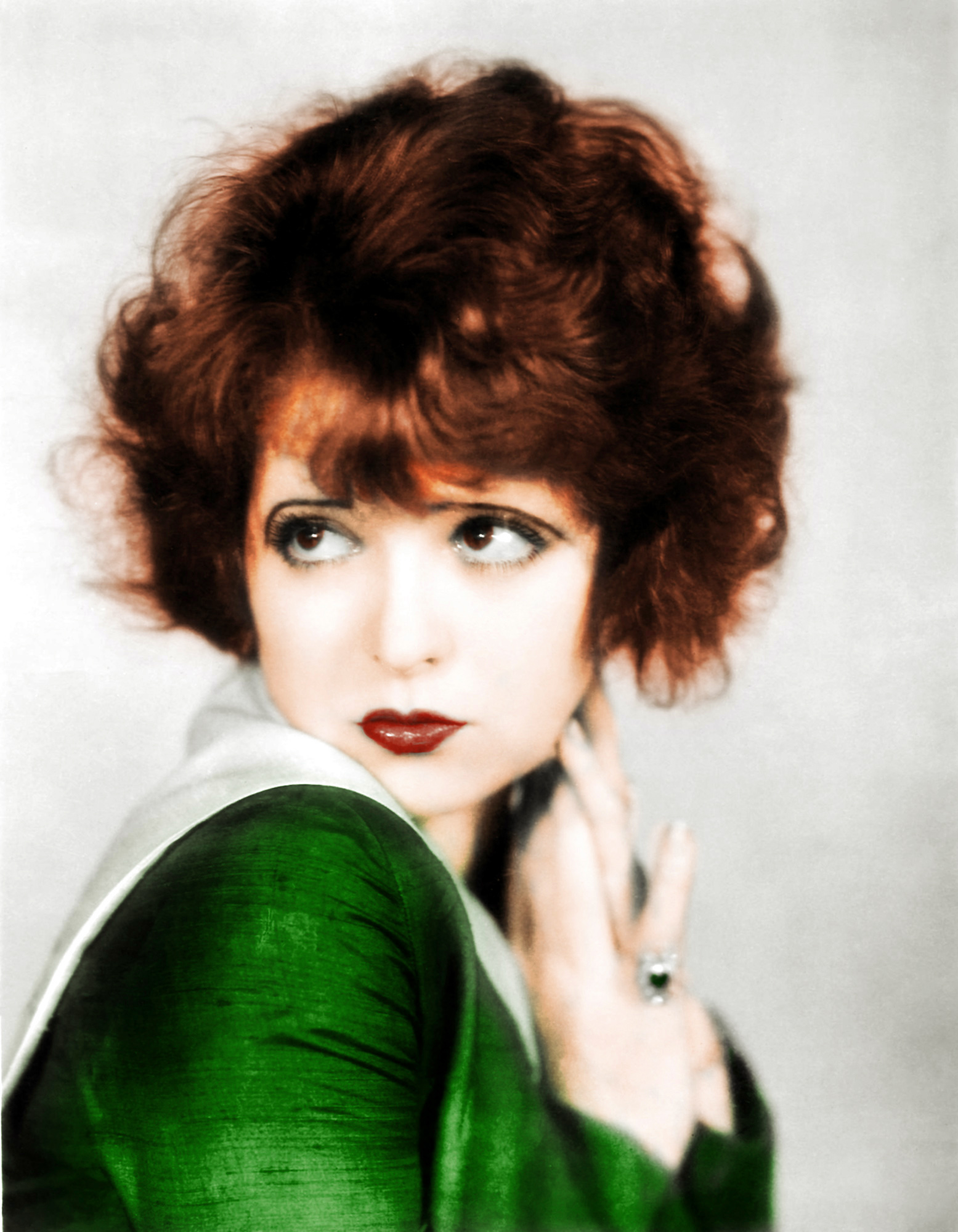 CLARA BOW (1905-65)
Much has been written about Clara Bow in this website and elsewhere, so it is suffice to say that she became an enormous star of the twenties because of her great beauty and vivacious personality. She indeed possessed that special quality that major stars had, something that made the camera kind of fall in love with them. In Clara's case there was a word for it. She was known to cinema-goers everywhere as 'The It Girl', although nobody really seemed to know what 'it' was. Her many lovers included Gary Cooper and Gilbert Roland. Sound put paid to her career, just as it did with many lesser stars. There was just no way to overcome her broad Brooklynese accent, so she wed cowboy star Rex Bell and retired to from the screen.
ELINOR FAIR (1903-57)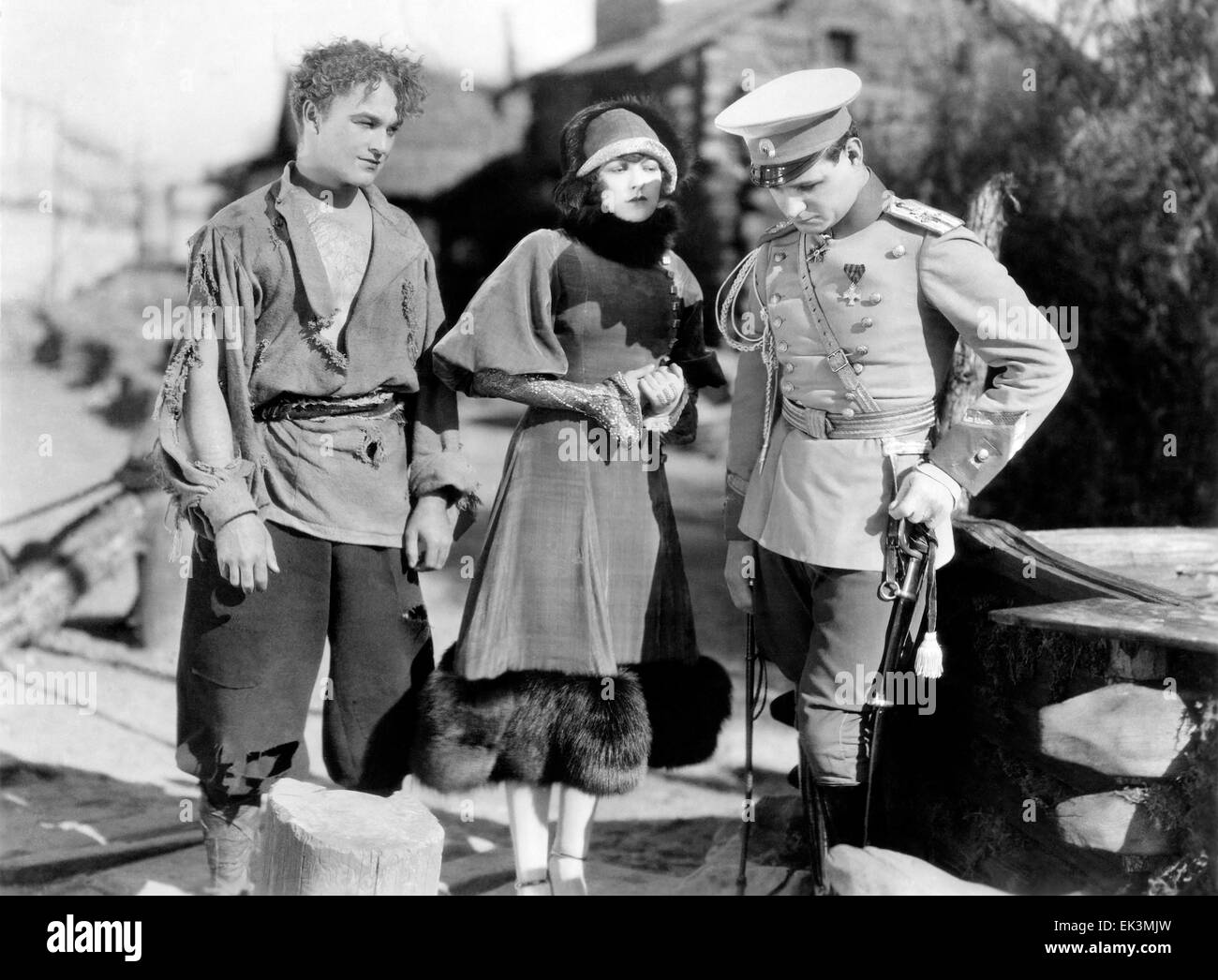 William Boyd (L) & Elinor in
The Volga Boatman (1926)
Elinor was already an established actress by the time she was named a WAMPAS Baby Star in 1924. She worked quite often for Cecil B. DeMille and would go on to marry actor William Boyd in 1926. Years later he would become a household name as Hopalong Cassidy. His proposal to Elinor was unique, for it took place while the couple was acting out a similar scene in a 1926 DeMille film called The Volga Boatman. It was a silent movie, of course, so Boyd's proposal to his co-star was for real. Lip-readers must have been amused by it all. Like Clara Bow (and many others), the arrival of sound curtailed Elinor's career and it was over by 1934.
CARMELITA GERAGHTY (1901-66)
Carmelita (L) & Carey's wedding day.
Carmelita started out as a Mack Sennett bathing beauty, as did a great many beautiful young girls. At least one critic wrote that she had 'very pretty eyes', and it was true. Alfred Hitchcock chose her for his very first feature, a 1925 film called The Pleasure Garden, and she played golfer Jordan Baker in the 1926 version of The Great Gatsby. For 28 years, (1928-62), she was married to writer Carey Wilson, whose credits included the screenplay for Mutiny on the Bounty (1935). The union ended with his death. Carmelita fell victim to a heart attack just four years later.
GLORIA GREY (1909-47)
Gloria Grey's name is generally unremembered today, yet she managed to chalk up 33 films in the silent era from 1923 until 1929, and five more in Argentina during the Second World War. Sadly, she contracted an undisclosed illness in South America during the war and was invalided home. Five months later she passed away in California. She was just 38.
RUTH HIATT (1906-94)
Ruth Hiatt was a native of Cripple Creek, Colorado, and made her screen debut at the age of eleven during World War One. She could dance, was pretty, and she was funny. Soon she was working with Mack Sennett at Keystone. Her first feature film role was a small one in Douglas Fairbanks' 1922 blockbuster Robin Hood. She made the transition to sound and racked up an impressive 110 screen credits by the time she called it a day in 1941.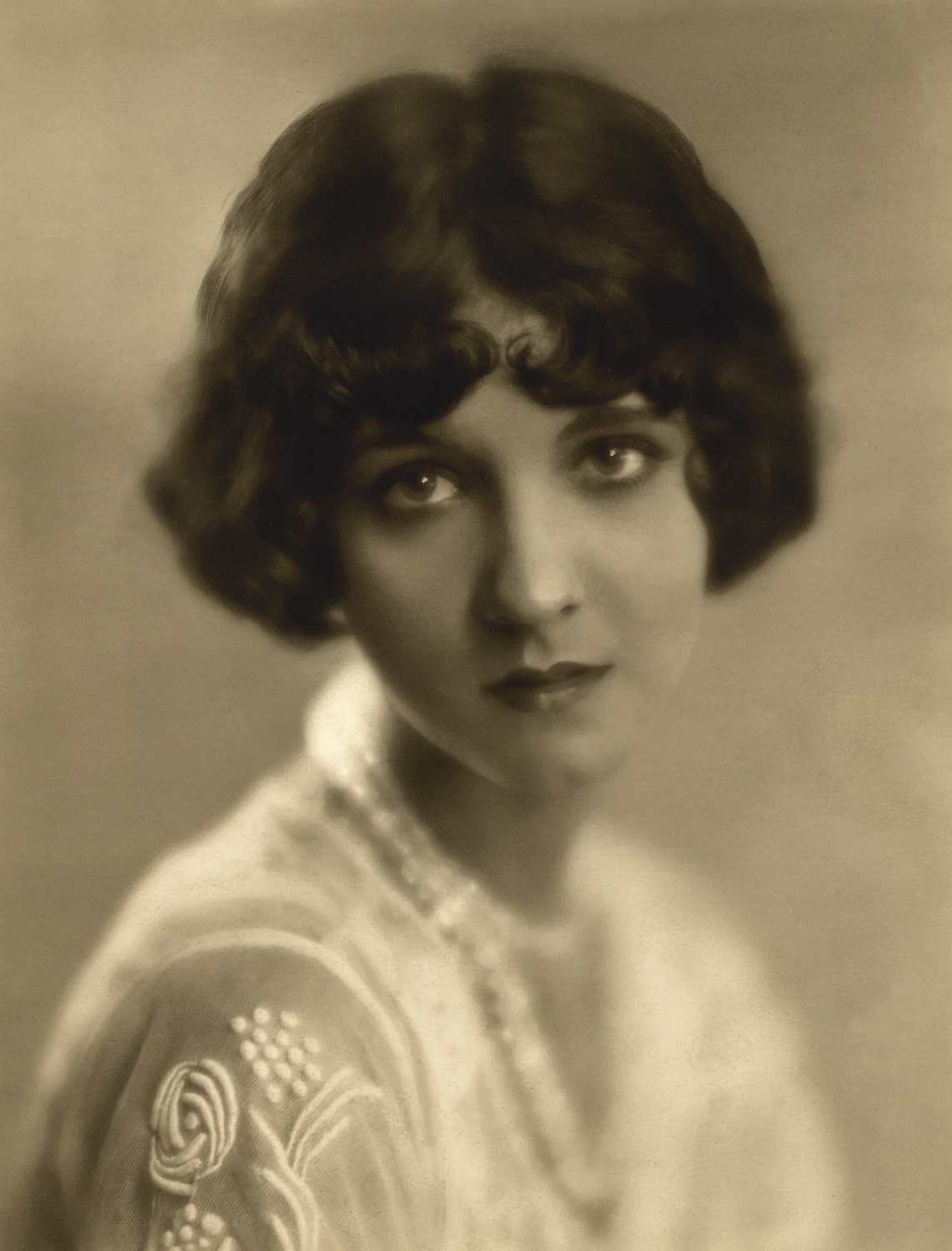 JULANNE JOHNSTON (1900-88)
with Fairbanks in The Thief of Bagdad
Julanne Johnston's career never really amounted to much, which is surprising for she was quite beautiful. She appeared in 43 movies between 1917 and 1934, her most prominent role being that of 'The Princess' in Douglas Fairbanks' The Thief of Bagdad in 1924. She was one of the guests aboard William Randolph Hearst's yacht Oneida on November 15 that same year when producer Thomas Ince is believed to have been mysteriously shot dead, possibly by Hearst himself. Julanne's acting career ended suddenly in 1934 when she stopped off at Grosse Pointe, Michigan to visit friends on her way to New York, and met her future husband.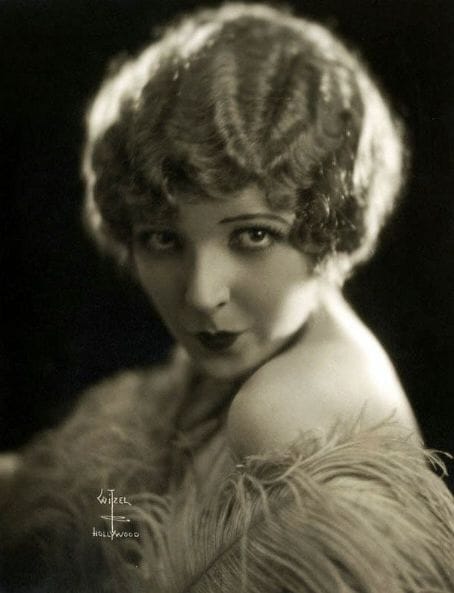 HAZEL KEENER (1904-79)
After winning a national beauty contest run by the Chicago Tribune, stunning Hazel Keener was off to Hollywood. In 1923, she was dubbed Miss Hollywood, the prettiest girl in a town full of pretty girls; voted for by painters, sculptors, writers and composers. For 44 years she would pop up in movies, even a little television in the sixties, yet would only accumulate a meagre 48 screen appearances over that time, about half of which were 'uncredited'.
DOROTHY MACKAILL (1903-90)
with Jack Lord in Hawaii Five-0 (1980)
The stunning Dorothy was born in Hull, Yorkshire, England in 1903. A rebellious teenager, she ran away from her father, to London and the theatre. From there she went to Paris where she landed a spot in the Ziegfeld Follies in New York. Once in the states she befriended Ziegfeld star Marion Davies. After making movies for most of the big studios through the twenties and thirties, Dorothy suddenly retired in 1937 to care for her invalid mother. Later, she moved to Hawaii where, in 1976 and 1980, she briefly came out of retirement to appear in two episodes of Hawaii Five-O. Of all the WAMPAS Baby Stars she was possibly the most beautiful.
BLANCHE MEHAFFEY (1907-68)
Blanche Mehaffey was yet another actress who got her start in the Ziegfeld Follies in New York. Florenz Ziegfeld stated that he believed she had 'the most beautiful eyes in the entire world.' She made her silent film debut for the Hal Roach Studios in 1923's Fully Insured. By 1938, however, her career had ground to a halt.
MARGARET MORRIS (1898-1968)
Margaret Morris was the great-niece of former US President Benjamin Harrison. Her acting career was anything but significant and was over by 1938. It consisted mostly of minor roles in silent pictures and the advent of sound proved to be fatal for her. Her final role was an uncredited one in 1937's The Toast of New York.
MARIAN NIXON (1904-83)
The exquisite Marian Nixon's first substantial role was opposite Buck Jones in Cupid's Fireman (1923). Other leading lady parts included Riders of the Purple Sage (1925) and Hands Up! (1926). She made the transition to sound comfortably, playing opposite Al Jolson in Say it with Songs in 1930, Rebecca of Sunnybrook Farm (1932), and Winner Take All, in which she co-starred with Jimmy Cagney. She married boxer Joe Benjamin in 1925, but they divorced two years later. The last of her four marriages was to former silent star Ben Lyon in 1974.
LUCILLE RICKSEN (1910-25)
Ten year-old Lucille won a contract with Samuel Goldwyn in 1920. At 13 she gained the lead in The Rendezvous, the studio publicity claiming she was 16. The press dubbed her, 'the youngest leading lady in the movies'. In an endeavor to make her appear older, Lucille's mother urged her into relationships with older men. Producer Sydney Chaplin (25 years her senior) and director Marshall Neilan became very close to her, and rumors abounded that she may have secretly married one or the other and undergone an abortion. She always looked older than her actual age. In 1924 she made nine films and, one day, fell ill on the set. Doctors diagnosed tuberculosis. Her mother kept vigil at the girl's bedside, but suffered a massive heart attack and died a couple of days later. Two weeks later Lucille also died. She was still just 14 years old.
ALBERTA VAUGHN (1904-92)
Voted 'the prettiest girl in Kentucky', Alberta arrived in Hollywood as a teenager and was soon working as an extra at Mack Sennett's Studios. Buster Keaton introduced her to Sennett and she quickly became one of his Bathing Beauties. Over the next 14 years she appeared in a hundred and forty shorts and features, sometimes alongside Harry Langdon or Stan Laurel. The coming of sound soon found her out, however, and she retired from the screen in 1934.