ROAD TO PERDITION (2002)                    
This superb movie looks at organized crime from a different perspective. Tom Hanks portrays the 'hero', Mike Sullivan, a man with a heavy reputation who works as an enforcer for mob boss John Rooney (played by Paul Newman). Rooney has raised him since Mike was orphaned as a boy, and treats him like a son. However, Rooney also has his own son, Connor, (portrayed by Daniel Craig), to contend with. He, too, is an enforcer for his father's crime group and is resentful of the attention his father shows towards Mike. The situation alters drastically when Mike's young son witnesses his father and Connor commit murder. This results in the murder of Mike's wife and youngest son, which sets Mike and his older boy on a trail of revenge. Set in 1931, this movie focuses on the cross-country exploits of father and son (Tyler Hoechlin) as they implement a plan to have the killer delivered into Mike's hands, whilst staying one step ahead of a contract killer, Maguire, (Jude Law) with instructions to eliminate them both. Incidentally, the story is loosely based on actual events involving a real enforcer for mobster John Looney, who was betrayed by him. Tyler landed the role of Michael Sullivan Jr. after more than two thousand young hopefuls had been tested.
Tom Hanks as Mike Sullivan
Tom Hanks demonstrates his incredible versatility as Mike Sullivan. He carries the picture on his back and really should have been Oscar-nominated for his performance. Newman was nominated for Best Supporting Actor (unsuccessfully) but Hanks was overlooked. So was director Sam Mendes, despite him being flavour of the month following his successful debut at the helm of American Beauty (1999). The Best Director Oscar this time went to Roman Polanski for The Pianist. Polanski was, of course, absent, having fled the country back in 1978 to avoid incarceration on sex offences against a minor. Harrison Ford accepted the statuette on his behalf and reportedly delivered it personally to him in France. Clearly, it was not Ford's daughter who had been violated decades earlier.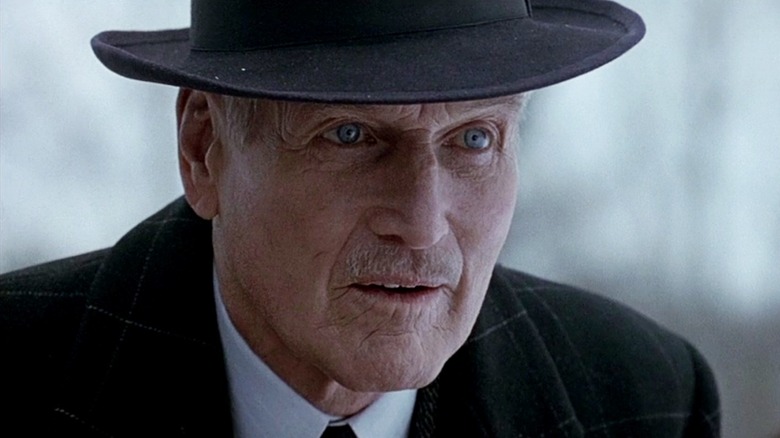 Paul Newman as John Rooney
In an early scene in the film the Newman and Hanks characters perform a duet on the piano at a wake. The piece was actually played by the two actors. Seventy-six year old Newman walked on his hands between takes to amuse the crew on the set. He and cinematographer Conrad L. Hall had worked together several times before, most notably in Cool Hand Luke (1967). Road to Perdition would be the final live-action feature film for both men. Hall would posthumously win an Oscar for Cinematography for it and Newman would pass away in 2008.
Jude Law as Maguire
The Maguire character was based on a real-life photographer named Arthur 'Weegee' Fellig. He was a famous crime scene photographer in the 1920s and 1930s, who was licensed to own a 'scanner' radio, which enabled him to listen in on police and fire department frequencies. This enabled him to arrive at crime scenes and fires, sometimes even ahead of the authorities. There were those who believed he might have had telepathic powers, hence his nickname, 'Weegee', which was a corruption of 'Ouija'. The man sold his photos of the dead to tabloid newspapers. Some of those in Maguire's apartment were authentic crime scene shots from Fellig's own files. The Maguire contract killer character, however, was not in the original graphic novel. He was created by writer David Self.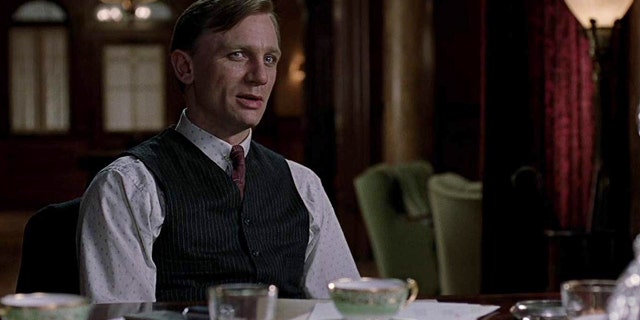 Daniel Craig as Connor Rooney
Stanley Tucci initially did not want to play mobster Frank Nitti here, fearful of being typecast, but changed his mind because he dearly wanted to be in a Sam Mendes film. Historically, Nitti and Al Capone were sent to gaol for tax evasion in the fall of 1931. Nitti received a shorter sentence than Capone so, upon his release, he became the head of the Chicago mob. Australian actor Anthony LaPaglia filmed a scene in which he played Capone, but it was decided to leave Capone off-screen, and so his scene was deleted. LaPaglia is listed first in the 'Special Thanks' section of the credits.
Stanley Tucci as Frank Nitti
When Mike pays a visit to Chicago and asks Nitti for a job as an enforcer, he requests just one condition, that Nitti allow him to exact revenge on the man who murdered his wife and son. When Nitti refuses him Mike decides to force the mobster's hand by staging bank robberies at branches that hold mob money, money that was 'off the books'. The following confrontation between Mike and one of the bank managers explains how it was to work:
Bank Manager: 'Well this is a pleasant surprise. I wasn't expecting another deposit until the end of the month.'
Mike (pulling his gun): 'Actually, I'm making a withdrawal. And I want dirty money only, everything you're holding for Capone that's off the books. Open the safe.'
Bank Manager: 'You're insane. You know they'll find out who you are.'
Mike: 'The name's Sullivan. You want me to spell it?'
(Mike takes Capone's money and gives a wad of notes to the bank manager). Mike: 'That's for you. Call it a handling charge. Tell Chicago I took it, but if I read about this in the papers, if I read about the savings of some innocent farmers being wiped out by a heartless bank robber, I won't be happy. Good afternoon.'
Road to Perdition is set in grim times and involves persons who are both ruthless and determined, but it does have its lighter moments. After Mike teaches Michael Junior how to drive their car, in order to make their getaways from the banks Mike robs, there is a 'tongue-in-cheek' scene between father and son that takes place when they stop for a meal. The boy has spent a considerable time learning how to drive and figures he is due compensation:
Michael Jr.: 'So when do I get my share of the money?'
Mike: 'Well…how much do you want?'
Michael Jr.: 'Two hundred dollars.'
Mike: 'Okay. Deal.'
[The boy stops eating and thinks for a while]
Michael Jr.: 'Could I have had more?'
Mike: 'You'll never know.'
Road to Perdition is a beautifully crafted film; well-directed, acted superbly by a fine cast, impressively written, and strikingly photographed. I find it mystifying how a far inferior film such as Bonnie and Clyde (1967) can be showered with accolades, while this one has gone by virtually un-noticed.