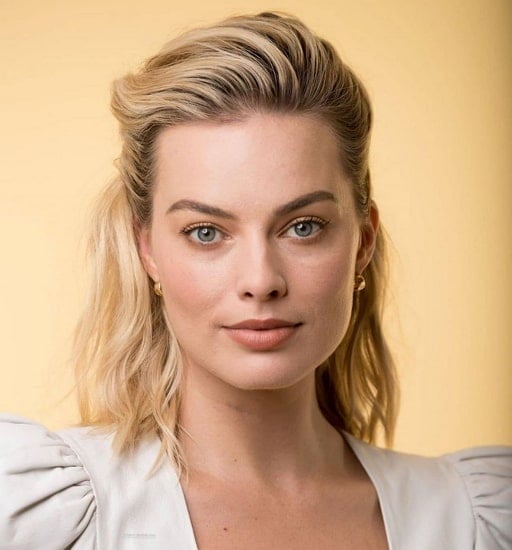 Margot Robbie
Nothing much changes in Hollywood movies, or so it appears, when it comes to depicting sexual attraction between lovers of differing age. Take three of Australian-born actress Margot Robbie's films for instance: Alexander Skarsgard was thirteen years older than her when she played his romantic counterpart in The Legend of Tarzan (2016); Leonardo DiCaprio was fifteen years her senior when he bedded her in The Wolf of Wall Street (2013), while Will Smith was more than twenty years older than her when she played his love interest in Focus (2015). Elderly or middle-aged men sleeping with beautiful young women has been par for the course in the movie business, (on-screen and often off as well), since the industry began.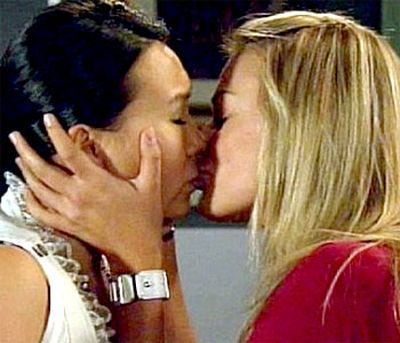 Hany Lee & Margot Robbie in Neighbours
Margot's role as Donna Freedman on the Aussie soap opera Neighbours, was only intended to be a guest role, but she was so impressive that she quickly became a series regular, appearing on the show from 2008 until 2011. Her character was one of the first bisexuals portrayed on Australian television. She even shared an on-screen kiss with female co-star Hany Lee. Needless to say, the Australian Family Association collectively gave birth to a litter of kittens over the issue, criticizing the actresses and the series for 'normalizing same-sex relationships'. Upon leaving Neighbours to try her luck in the states, Margot wanted her character to be killed off in a dramatic way, but the series writers chose instead to send Donna off to college, thereby giving Margot the option to return to the series if her shot at the big time in Hollywood proved unsuccessful.
Margot & husband Tom Ackerly (Slytherin insert)
English producer/director Tom Ackerley met Margot on the set of Suite Francaise (2014) and they married in Byron Bay, New South Wales, in 2016. When Margot appeared on The Graham Norton Show in 2020, she revealed that her husband had once played a Slytherin student in the 2004 film Harry Potter and the Prisoner of Azkaban. His one scene sees him pushed aside by Draco (played by Tom Felton) when the students first meet 'Buckbeat'. Margot admitted being a huge fan of the 'Harry Potter' franchise. 'Had [he] told me sooner', she vowed, 'we would have married very quickly.'
Leo McKern as Rumpole
Australian-born actor Leo McKern (Horace Rumpole of Rumpole of the Bailey fame), often enjoyed his party piece at the local Chinese restaurant in Nottingham, in the days when he formed part of the Nottingham company of players early in his career. Leo had a glass eye which he would take great delight in removing from its socket and placing it one of the freshly served dishes. The waiter would be called back to the table and Leo and his dining companions would watch the man's horrified expression as he suddenly encountered an eye staring at him from among a dish of prawn balls!
Lindsay Lohan
Lindsay Lohan has been flying high for some time now as Hollywood's answer to Paris Hilton, a party animal from the right side of the tracks, a spoilt little rich girl used to doing as she pleases. That may or may not have something to do with her parents' influence. Lindsay's mother is Dina Lohan (nee Donata Sullivan), a former Wall Street analyst, who now helps manage her daughter's career. Her father is Michael Lohan, a long-time Wall
Street trader who developed his family's multi-million-dollar pasta business, then sold it to pursue the funding and development of major studios and independent Hollywood projects. Based on her movies, albums and other works, she has a nett worth herself in excess of seven million dollars. In December 2006, the twenty year-old actress was attending Alcoholics Anonymous meetings and entered rehab the following month.
When it comes to sentencing miscreants, it appears there is a set of rules for the rich and a different set for the poor or not so rich. On April 21, 2011, Lindsay was convicted of stealing a $250,000 necklace three months earlier and sentenced to 120 days in jail at the Lynwood Correction Facility. After serving just five hours in custody, she was released on $75,000 bail and ordered instead to serve 480 hours community service. On May 26, having broken her parole, she turned herself over to the authorities at Lynwood, where she was fitted with an electronic tag on her ankle, prior to being sent to spend thirty-five days under house arrest at her Venice, California home. Tough gig. When she violated her probation a second time she was ordered to attend 90 days of lock down rehab, 18 months of psychiatric counselling and community service.
Uhura & Kirk – that kiss!
On November 22, 1968, an episode of Star Trek: The Original Series, titled 'Plato's Stepchildren', was aired. It featured a scene in which Lt. Uhura (played by Nichelle Nichols) and Captain Kirk (William Shatner) share an inter-racial kiss. Well, at least it appears that they do. Both actors have since claimed that NBC exerted pressure to forbid lip contact, through the use of a clever camera technique that concealed the 'separation'. Looking closely, it appears that the actors' lips are not touching; the angle only makes it look like they might be slightly touching. Even so, network executives, fearful of an outraged response from parts of America's Deep South, ordered director David Alexander to shoot a 'take' where Kirk and Uhura did not kiss, just so it would be available if needed. However, Shatner crossed his eyes at the camera, making the 'take' useless.
Nancy Sinatra & Sammy Davis Jr – a year earlier
Incidentally, contrary to popular belief, this was not the first inter-racial kiss on American network television anyway. The first involved Nancy Sinatra kissing Sammy Davis Jr on the musical special Movin' with Nancy (1967). On Star Trek it was even suggested that the kiss should be between Spock and Uhura, 'to make it less of a problem for the southern audience', the poor dears.
Julian & Dannii's wedding day
Julian McMahon portrayed Cole Turner in the popular TV series Charmed in forty-seven episodes between 2000 and 2005. He was born in Sydney, New South Wales, Australia, in 1968, to Sonia and Billy McMahon. His father was sixty years old when Julian entered this world. Sonia was thirty-six. In March 1971, Billy McMahon became the Liberal Party Prime Minister of Australia, a position he held until December 1972 when the Labour Party under Gough Whitlam swept into power.
Sonia & Billy McMahon
Julian has been married three times, the first of which was to Australian actress Dannii Minogue, sister of singer Kylie Minogue, from January 1994 until their divorce in August 1995. He was also briefly married to Brooke Burns (December 1999 to January 2002), a Texan beauty who played Jessie Owens in forty-six episodes of Baywatch from 2000-2001.