THE DUCHESS (2008)                   
This film looks at the marriage of Georgiana Spencer to William Cavendish, 5th Duke of Devonshire, in 1774, the unique marital arrangement she endured throughout much of the union, and the impact she had on British fashion and the nation's politics during her time as the Duchess of Devonshire. Her charisma, beauty, love affairs, socializing and gambling, combined with her high fashion sense and political acumen made her one of the most exciting and influential women of the age.
The late Diana, Princess of Wales was, in fact, a direct descendant of Georgiana's family and this movie was shamelessly promoted with that fact in mind. The late princess's image was even displayed in the trailers along with the tagline: 'there were three people in her marriage', a not too subtle use of a quote attributed to Diana. Keira Knightley who plays Georgiana, came out strongly against the linking of Diana's unhappy marriage to that of the character she was portraying, stating that the Duchess of Devonshire was interesting enough without the need to draw comparisons. The book, by Amanda Foreman, on which the film is based, makes no mention of any connection to Princess Diana. In reality, Georgiana was the great-great-great-great aunt of Diana.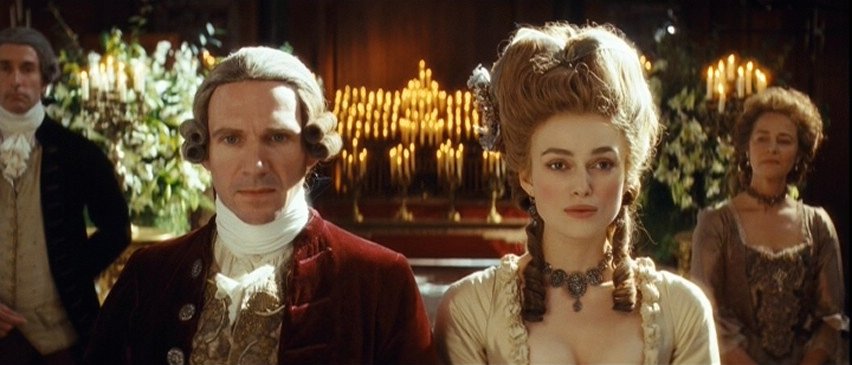 Ralph Fiennes & Keira Knightley as the Duke & Duchess of Devonshire
Curiously, the producers of The Duchess seemed unwilling to focus on Georgiana's obsessive gambling addiction, one that racked up enormous debts during her lifetime. The lady was hopelessly addicted. The real Duke was twenty-five when he wed seventeen year-old Georgiana. However, the age difference between Ralph Fiennes, the actor who portrays him here, and Keira is fully twenty-three years! There is an age issue with the opening scene, set in 1774, also. Although the real George Grey was seven years younger than Georgiana, in the scene in which he races other noblemen in front of her he is a grown man. She was seventeen at that time and he would have been just ten.
Unbeknown to Georgiana, her husband had fathered an illegitimate daughter (Charlotte) to a milliner several years before their marriage. After Charlotte's mother passed away he fully expected his wife to raise the girl as her own. Despite the circumstances, Georgiana took the child under her wing and treated her no differently than she treated her own offspring. In fact, she became quite enamoured of the good-natured girl.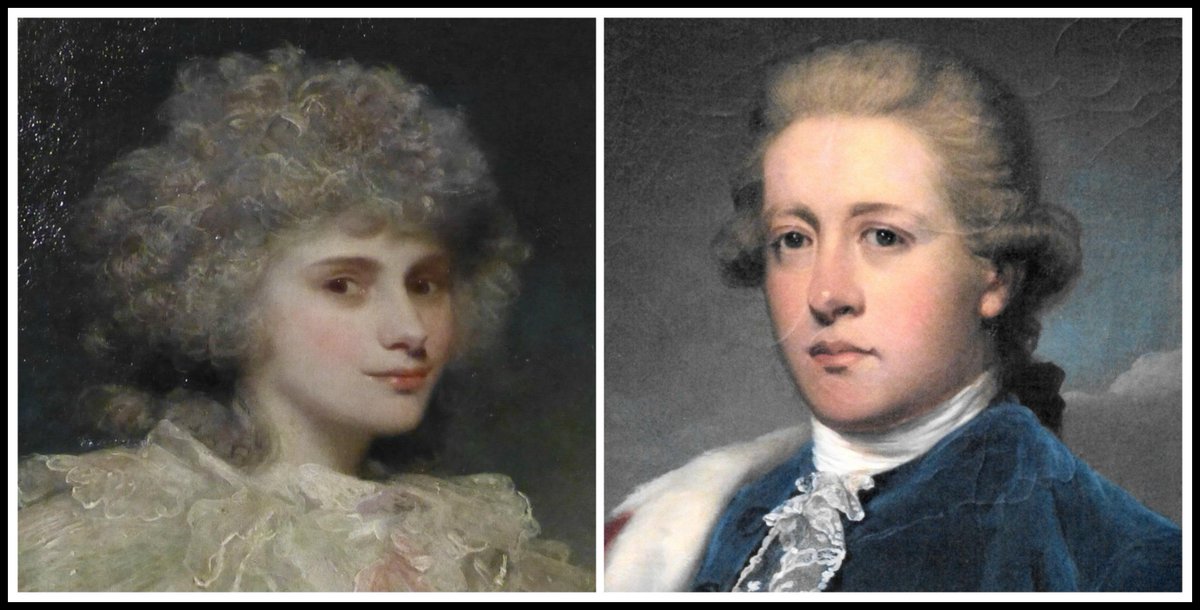 Lady Elizabeth Foster & her husband the Duke
In 1782, Georgiana met and befriended Lady Elizabeth Foster (known to all as 'Bess'), a mother whose beastly husband had taken their children and deserted her. The Duchess kindly convinced the Duke to allow Bess to live under their roof. He agreed but was soon involved sexually with the lady. There has always been speculation about whether or not there was a sexual element to the friendship between Georgiana and Bess as well, but there is no evidence of this ever having taken place. Although it was not uncommon in that age for upper-class males to take mistresses; it was most unusual to find a mistress invited to live with the married couple. The arrangement suited the Duke right down to the ground, of course. He would occasionally forcibly exercise his marital 'rights' with Georgiana as he endeavoured to help her produce a male heir (she eventually did); and he could bed Bess whenever the urge took him. Even though Bess took lovers anyway whenever the opportunity arose, she managed to bear him two illegitimate children.
The Duchess's first pregnancy produced a daughter, Georgiana, (known as 'Little 'G') in July 1783. Her second pregnancy produced another daughter, Harriet, (known as 'Harry-o), and the Duke was far from impressed. Contemporary norms dictated that a wife, (even if her husband was philandering his brains out), was not permitted to take a lover until she had first provided a male heir for her spouse. In May 1790, Georgiana did just that. A son, the Marquess of Hartington, was born to her and she was free to take a lover if she so wished. There is no evidence of when her affair with George Grey (later Earl Grey, Prime Minister of England) began, but she had his daughter, Eliza, in February 1792. Forced to give up the girl to Grey's family, Georgiana, nevertheless, was granted permission to visit her from time to time. Following demands by the Duke, she was compelled to give up Grey in exchange for being allowed to see her children again. Grey, however, was not Georgiana's only extra-marital affair. Her somewhat dissipated lifestyle (gambling, alcohol and drugs) took its toll on her health and psychological well-being, a situation not helped by her taking several lovers. The bachelor Duke of Dorset is believed to have been numbered among them.
The Duke of Devonshire was one of the richest men in Britain. As such he was able to cover his wife's enormous gambling debts, sums that escalated, along with her emotional instability as she grew older. She flatly refused to tell the Duke of her debts, but he found out anyway and repaid them. She once even asked the Prince of Wales (in confidence) for a loan! In 1796, her face was scarred by medical treatment for an eye infection, and by her early forties her health had declined alarmingly. She was thought to be suffering from an abscess on the liver.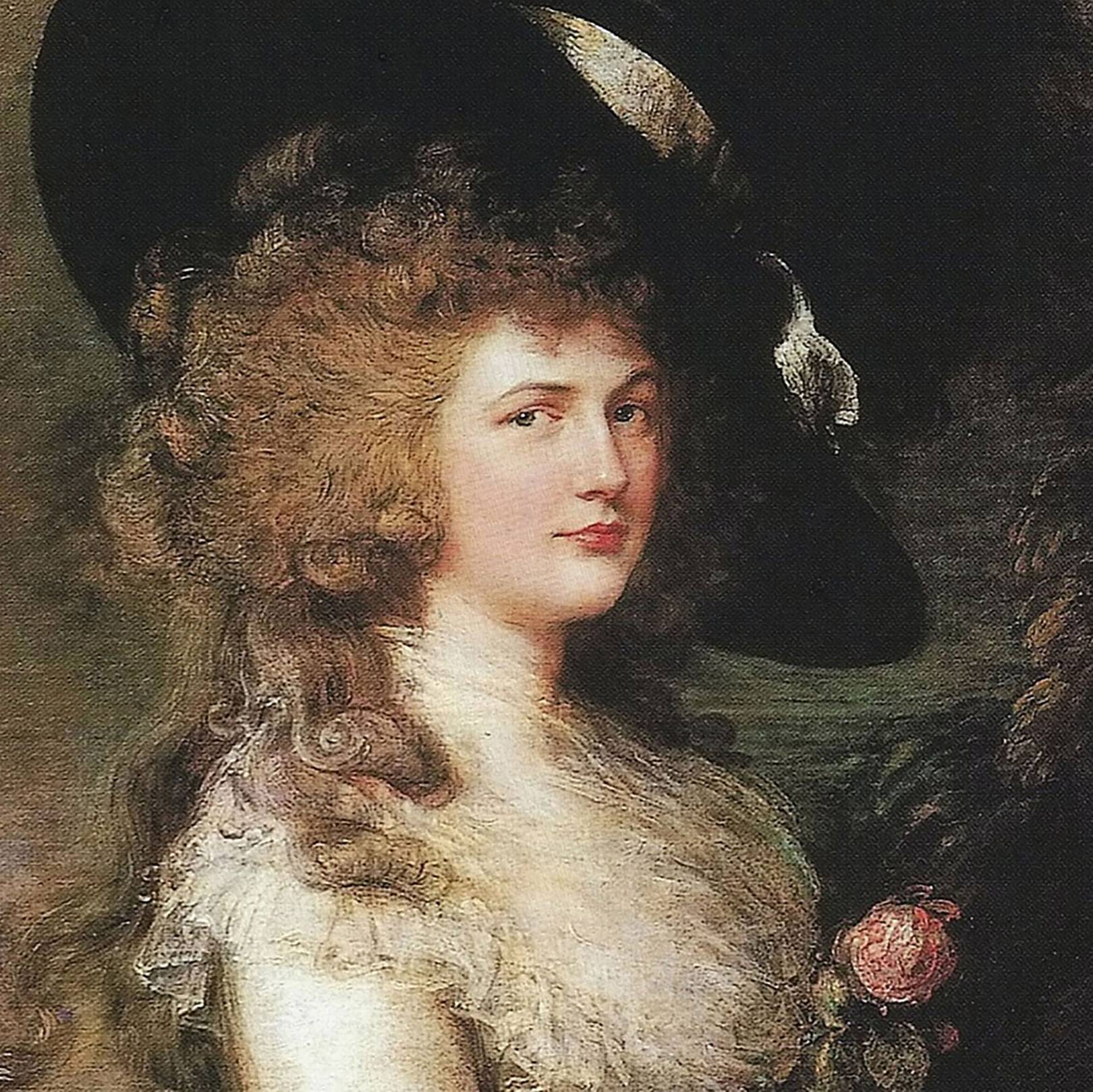 Georgiana, Duchess of Devonshire
On March 30, 1806, the Duchess of Devonshire died at the age of forty-eight. By all accounts, the Duke was genuinely upset by her passing. No-one could recall him ever showing such emotion before in his entire life. The Prince of Wales commented: 'The best-natured and best-bred woman in England is gone.' More than a century before women's rights and suffrage would start to emerge, Georgiana had emerged as the first of her gender to become a political activist, a woman who often appeared on the front line of the political scene. She was indeed a unique individual.
The Duke's tears may well have dried up quickly following Georgiana's death. Although he had repaid the debts she had accumulated that he knew of, the full extent of her gambling addiction was soon apparent and he must surely have winced. He immediately wed Bess, making her the new Duchess of Devonshire, but Georgiana's children were discontented with the marriage. It appears they all detested their new step-mother. When the Duke died in 1811, the Marquess of Hartington replaced him as the 6th Duke of Devonshire. He refused to acknowledge any legitimate claims on the Cavendish name from Bess or her children. She fought tooth and nail on their behalf until, eventually, she was paid off and dismissed.
Chatsworth House today
Today, there are over a thousand personal letters, written by Georgiana, Duchess of Devonshire, in existence. They are housed in the historical archives at Chatsworth, the Duke of Devonshire's seat. Artwork representing the Duchess and placed on canvas by reputable artists of the Georgian era, also remain to this day. These include a striking portrait, once feared lost, by the famed Thomas Gainsborough.