THE RESTLESS GUN (1957-9) 78 EPISODES                
The Restless Gun was actually based on a former radio series named 'The Six-Shooter' that starred James Stewart. John Payne was cast as the star, his character's name altered from Britt Ponset to Vint Bonner. The series rated at #8 in its first season but was less successful after that. Filmed in black and white episodes of thirty minutes each, it was dropped after 78 episodes.
Newlyweds Payne & Anne Shirley 1937
In his youth the series star, John Payne, wrestled as 'Alexie Petroff, the Savage of the Steppes' and boxed as 'Tiger' Jack Payne during the 1930s, as he tried to make ends meet until his ship arrived. He even sang on New York City-based radio programmes. His first role in Sam Goldwyn's Dodsworth (1936) presented him as an affable, handsome character actor and his movie career was suddenly up and running. Contracts at Warners and 20th Century Fox scarcely advanced his career, but working on independent productions saw him fare much better. His performance as the educated, common sense gunfighter in The Restless Gun brought his face into living rooms across America.
Payne & wife #2 Gloria DeHaven 1944
In 1961, he was badly injured when struck by a motor vehicle in New York City. It took him two years to recover. His personal life saw him wed twice; first to actress Anne Shirley (1937-42), then to actress Gloria DeHaven (1944-50). Other romances included Eleanor Powell in 1936 and Coleen Gray in the 1950s. He passed away at 77, in 1989, from congestive heart failure.
THE RIFLEMAN (1958-63) 168 EPISODES                     
Perhaps, a large part of the success of The Rifleman resided in it being the first network television series to portray a single parent raising a child. Lucas McCain (Chuck Connors) is a widower who lives with his son, Mark, (Johnny Crawford), on a ranch near North Fork, New Mexico in the 1880s. McCain owns a specially modified 1892, 44.40 Winchester rifle that can fire a round in three tenths of a second. Gun buffs would immediately detect the anachronism here, of course. Lucas is making use of a weapon that has not yet been invented. Those of us who are not gun buffs just went along for the ride.
Paul Fix as Marshal Torrance (L) & Chuck Connors as Lucas
Connors was initially thought to have been miscast as a 'good guy' and loving father. He had just come off portraying the despicable Buck Hannassey in The Big Country (1958) and his image was anything but a positive one. Anyway, the real star of the series is arguably his Winchester rifle. Lucas has a high moral code, however, and only uses it when there is no alternative. He never uses a six-shooter and could fire his Winchester one-handed – right or left! Why he would choose to do this is never explained. Town Marshal Micah Torrance (Paul Fix) often calls upon him to help maintain order in the nearby town of North Fork.
One gets the distinct impression that Lucas's high moral code is for show only. In one episode he is asked what he has against six-shooters. He replies: 'I'm a rancher. I use my gun for hunting animals, not men!' Uh-huh. In the introductory scene we see him fire about a dozen shots as he walks the town street! In pretty much every episode he ends up shooting a man (or men), yet we hardly ever see him shooting an animal. In fact, it has since been ascertained that, on average, he killed two and a half men per episode! But each instalment ended with him giving Mark a 'heart to heart' talk about the evils and futility of violence! 'The warm father-son relationship was the heart of the program', Connors told interviewers, 'and the viewers would forget the fact that I had killed three people during the show, because of the tender epilogue with Mark.'
Connors with friends Leonid Brezhnev & Richard Nixon in the 70s
It was Connors' interaction with child actor Tommy Kirk in the movie Old Yeller (1957) that convinced the series producers that he would be ideal for the role, even though he had initially turned it down because he considered the salary to be far too low. When the figure was re-adjusted he finally accepted the part. Curiously, The Rifleman was one of very few American TV series to be aired in the Soviet Union (beginning in 1973, a decade after it had finished in the USA). Connors was a staunch supporter of the Republican Party and a regular guest at the White House during the administration of his close friend President Richard Nixon. Soviet Premier Leonid Brezhnev had met the actor at a party in California, hosted by Nixon, the previous year, and the Soviet Premier and 'the Rifleman' established the beginning of a lifelong friendship.
Lucas was shown smoking a cigarette just once in the series (season one, episode one). In spite of Connors' three packs a day of Camels habit, (60 cigarettes), his character would not be seen smoking again in the entire five-year run of the series. Chuck was still smoking three packs a day until the 1970s. Three weeks before his death from lung cancer at 71, in 1992, he was hospitalized. Even as late as 1987, the habit had a hold on him and he was still smoking a single cigarette each day.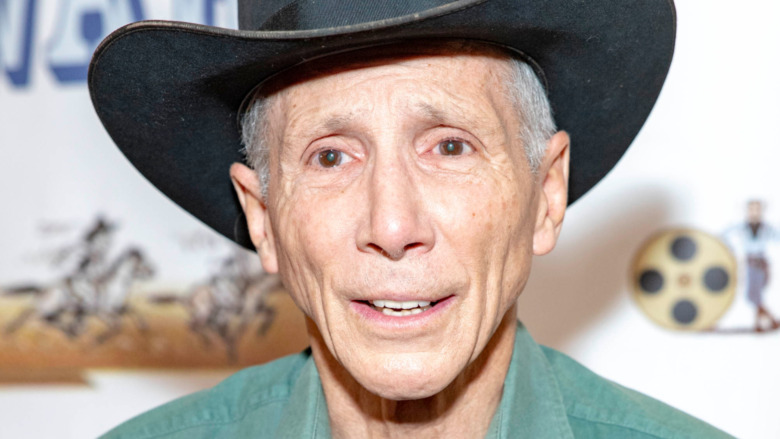 Johnny Crawford in his final years
Johnny Crawford was one of Walt Disney's original Mouseketeers in 1955. Like his mentor and close friend Connors, he was a lifelong supporter of the Republican Party. 'He was my hero', said Johnny. 'I enjoyed being with him. He wasn't as stern as he was on camera. He was like a kid around me.' After the series concluded Crawford pursued his musical interests and headed his own orchestrated band. When Connors passed away in '92, Johnny was one of his pall-bearers. In February 2019, he announced that he was suffering from Alzheimer's disease. Dementia claimed him at the age of 75 in April 2021.
New Yorker Paul Fix (Marshal Torrance) is said to have been the man who taught his lifelong friend John Wayne his distinctive rolling gait. The Duke wanted something to set him apart from other actors and Fix came up with his famous walk. Paul's only daughter, Marilyn, would wed Harry Carey Jr. Fix appeared in between 300 to 400 films and TV shows, although many of his early pictures were shot in less than a day during the 'silent' era. Even so, he will probably be best remembered as the Marshal of North Fork on The Rifleman. Kidney failure took him in 1983.